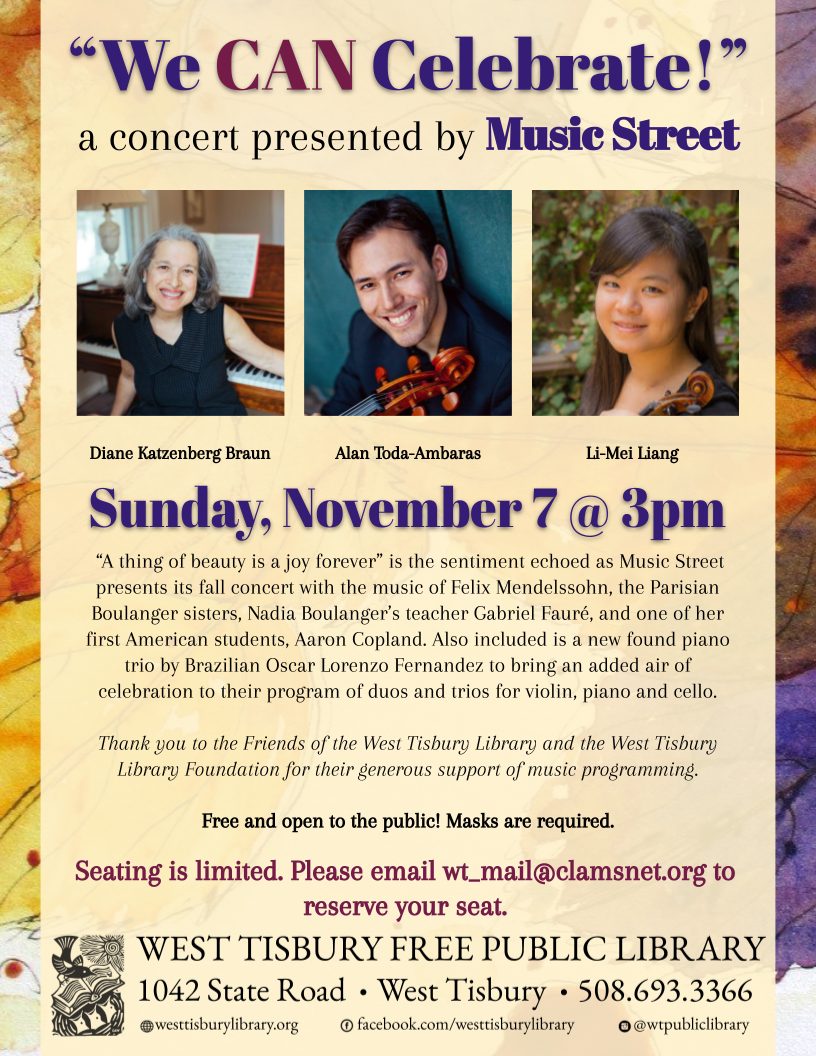 EVENT FULL: "We CAN Celebrate!" A Concert Presented by Music Street
Registration for this event is full.

"We CAN Celebrate!"
A Concert Presented by Music Street
On Sunday, November 7th, at 3pm, the West Tisbury Library will host a live, in-person concert featuring Music Street musicians. This concert will feature pianist Diane Katzenberg Braun, cellist Alan Toda-Ambaras, and violinist Li-Mei Liang. "A thing of beauty is a joy forever" is the sentiment echoed as Music Street presents its fall concert with the music of Felix Mendelssohn, the Parisian Boulanger sisters, Nadia Boulanger's teacher Gabriel Fauré, and one of her first American students, Aaron Copland. Also included is a new found piano trio by Brazilian Oscar Lorenzo Fernandez to bring an added air of celebration to their program of duos and trios for violin, piano and cello. This event is free and open to the public. Masks required. Seating is limited, so please contact wt_mail@clamsnet.org in advance to reserve your seat.
Thank you to the Friends of the West Tisbury Library and the West Tisbury Library Foundation for their generous support of music programming.
About the musicians:
– Recipient of the Prize for Most Promising Contestant at the 2005 Rostropovich International Cello Competition in Paris, Alan Toda-Ambaras is active as both a soloist and a chamber musician.  He has performed with Midori; Yo-Yo Ma, Sandeep Das, and other members of the Silk Road Ensemble; the Borromeo Quartet; the Parker Quartet; and has appeared twice as a soloist with the North Carolina Symphony.  Recent appearances include performances in Tokyo's Ohji Hall, Osaka's Phoenix Hall, National Academy of Music in Vietnam, Massachusetts State Hall, Chamber Music Society of Lincoln Center, the Taos Music Festival, Harvard University's Paine Hall, and the New England Conservatory's Jordan Hall.  He has been featured on French television and in several European documentaries due to his participation in the Rostropovich Competition; he has also been heard on NPR's From The Top program, New York's WKCR Classical station, and Boston's Neighborhood News Network.  
Alan has a B.A. in History of Art and Architecture from Harvard and an M.M. from the New England Conservatory, where he studied with Laurence Lesser.  He is a co-founder of the Eureka Ensemble, a new social action-oriented Boston music organization. 
– Praised for her "first rate and thoroughly engaging" playing, Taiwanese violinist Li-Mei Liang's recent performance was described as a "powerhouse" by the Boston Musical Intelligencer. An active performer, Liang has appeared in renowned concert halls worldwide. She tours with the renowned East Coast Chamber Orchestra (ECCO) regularly, and has served as the associate concertmaster of the Orchestra of Indian Hill since 2013. Liang is a committed educator in both music theory and violin practice. She was appointed as a full-time music theory faculty at the New England Conservatory (NEC) after receiving her Doctorate of Musical Arts in violin performance, with a minor in music theory, from the same institution. She is also a violin and music theory instructor at NEC's Preparatory School, and teaches private violin lessons at the Arlington Public Schools. In previous years, she has taught at the University of California, Irvine and Harvard University. 
– Music Street founder Diane Katzenberg Braun grew up in Baltimore, Maryland where she graduated from the Peabody Preparatory program and studied with teachers from the Peabody Conservatory and Goucher College. At the age of 16 she was invited by Argentinian violinist and Yehudi Menuhin protégée Alberto Lysy to study chamber music in Italy for the summer. She is a graduate of Oberlin College where she majored in Sociology, having spent one year in the Oberlin Conservatory. Ms. Braun also did post graduate work in music theory and history at Brandeis University. After 25 years of teaching piano privately and at the Groton School and Indian Hill Arts, she returned to school in 1999 graduating with honors from the New England Conservatory, earning a Master of Music degree in Collaborative Piano. Her piano teachers there were Irma Vallecillo and Kayo Iwama. Working with numerous singers and instrumentalists, she performed in masterclasses for Warren Jones, Pierre Vallet, Dianne Richardson, Bruce Yeh, Paul Katz, James Buswell, Ben Zander, Karl Paulnak amongst many others. Past teachers have included Renaldo Reyes, Emil Danenberg, Victor Rosenbaum and the Apple Hill Chamber Players.
Ms. Braun was the long time assistant to renowned mezzo soprano D'Anna Fortunato in her studio at the New England Conservatory, coaching and accompanying students in their performances.  Collaborating with talented young players at the Walnut Hill School in Natick, Massachusetts, at the New England Conservatory, with Project Step in Boston, with Lowell House Opera singers, with Harvard University instrumentalists, she has partnered with a large assortment of instrumentalists. Ms. Braun has premiered works of composers Curtis Hughes, Howard Frazin, Thomas Oboe Lee and Stephanie Ann Boyd. She is a current staff collaborative pianist at the New England Conservatory, performing a wide range of repertoire from winds to brass to strings, as well as accompanying in voice studios.
As the founder and Artistic Director of Music Street Ms. Braun aims to share the joy and innovation of unique musical programs as a means of connecting to audiences in the many venues where they perform. She especially values annual visits to the homeless shelter Rosie's Place in Boston and the two Spaulding Rehab Hospitals. Music Street has an enthusiastic audience for their lively narrated concert series at the West Tisbury Library on the island of Martha's Vineyard. All Music Street musicians are award winning graduates of Boston's New England Conservatory and have national and international performing careers.