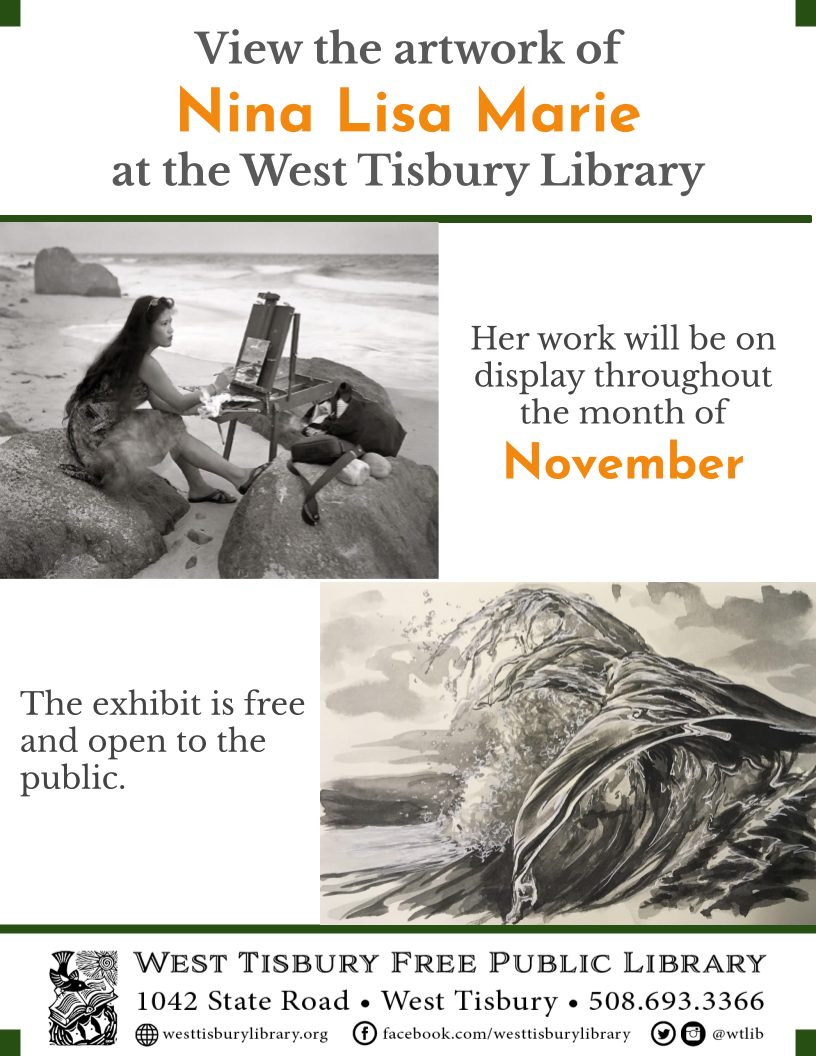 November 2021 – Nina Lisa Maria
November's exhibition in the West Tisbury Library community room gallery features the artwork of Nina Lisa Maria, a local artist and owner of the Cobalt Gallery. You may also know her as Nina Gomez Gordon, who sells delicious kombucha. The West Tisbury library is excited to host Nina's plein air paintings of Vineyard landscapes, and pen and ink drawings of people, animals and vistas.
"My plein air paintings convey a sense of a place rather than a specific moment," says Nina. "I return to familiar haunts repeatedly until I am done. Those who have been to the locations recognize the feeling of being there rather than the literal; those who have not been there often feel as if they had."
Nina has been painting and drawing Martha's Vineyard for over 25 years. This body of work shows intimate moments of island life, from Vineyard musicians to pebbles on the beach. Nina has a BA in fine art from Bowdoin College, and has studied painting, drawing, sculpture, printmaking, and art history at Bowdoin, the School of the Art Institute of Chicago, and Maine College of Art.
Nina says, "I have been painting the figure and the beauty of Martha's Vineyard for over ten years and have yet to tire of the shifting light, color, and texture." She invites you: "Come see what I see."
—–
The West Tisbury Library hosts monthly art exhibits in the beautiful Community Program Room. Art exhibits are arranged by the West Tisbury Library Art Committee. If you are interested in scheduling an exhibit, please contact the Art Committee Chair at artwtfpl@gmail.com.