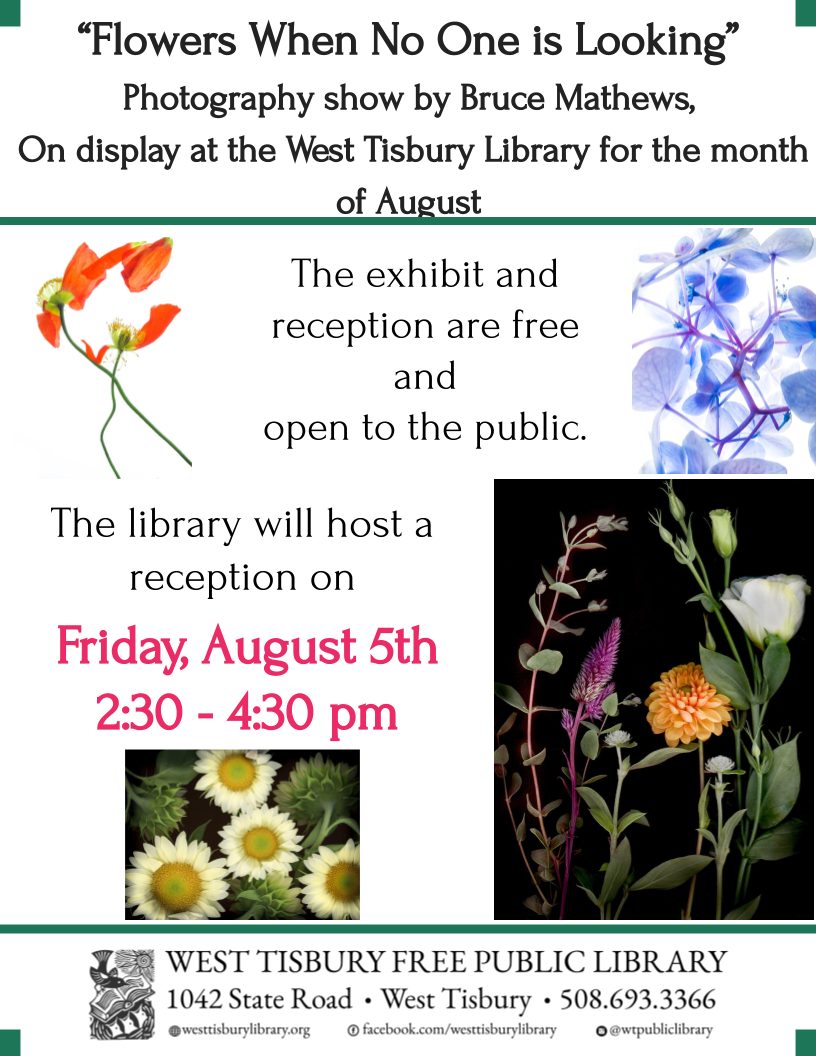 August 2022 – "Flowers When No One is Looking"
Photography Show by Bruce Mathews
The unique shapes and colors of flowers, caught by fine art photographer Bruce Mathews of Vineyard Haven, will be on display for the month of August in the West Tisbury Library Community Room gallery.
Bruce had a twenty five year career in New York City as a photographer specializing in corporate work for clients such as AT&T, American Express, Citibank, and JP Morgan. His move to the Vineyard has been focused on capturing the natural world with his camera, in particular the floral series on display:
As John Zeaman, art critic for The Record writes, "Mathews often treats his subjects as still life objects, more akin to pressed flowers than those rooted in the backyard garden. He finds ingenious  ways of manipulating flowers – suspending them in water, freezing them, tugging apart their blossoms or seed pods – even flattening them out on a car windshield and shooting them against a luminous sky. In so doing, he brings out unexpected qualities of color, translucency and structure"  
The art show is free and open to the public during library hours, which are from 10 a.m. to 6 on Monday through Thursday, 10 to 5 on Friday and Saturday. 
A reception will be held Friday, August 5th, 2:30 pm to 4:30 pm and is open to the public.
—–
The West Tisbury Library hosts monthly art exhibits in the beautiful Community Program Room. Art exhibits are arranged by the West Tisbury Library Art Committee. If you are interested in scheduling an exhibit, please contact the Art Committee Chair at artwtfpl@gmail.com.