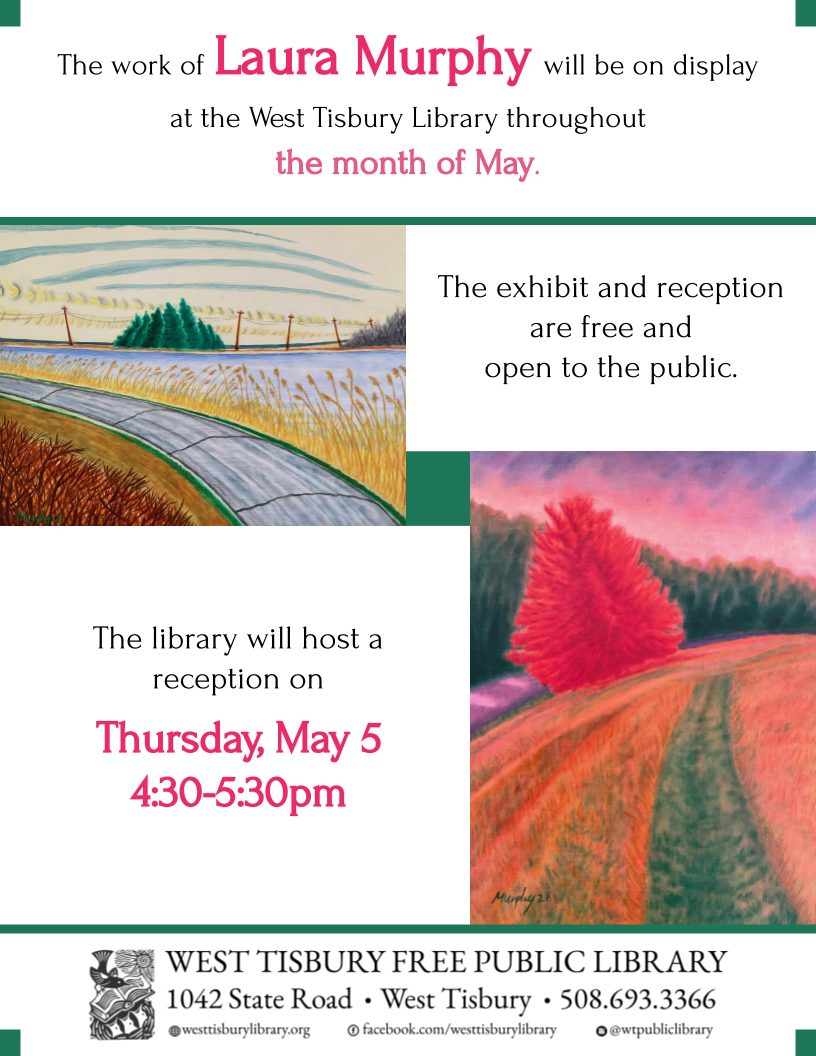 May 2022 – Laura Murphy
Paintings by Laura Murphy, West Tisbury resident, will be on display in May in the West Tisbury Library Community Room gallery.
Laura Murphy grew up in the lively communities of West Tisbury and Chilmark in the 1950s. Her art education began early, thanks to the paintings and drawings hanging in her childhood home, the South Road farmhouse located in front of what is now Grey Barn.
Her parents, Stan and Polly Murphy, were Laura's biggest creative influence. The art she made as a child was encouraged, within an atmosphere of her parents' daily discipline of painting and writing, and discussions about art and culture among the friends and family who frequently visited. Laura recalls that when she was about 20, her father volunteered to be her instructor/guide for 6 months. She says, "This was an outstanding experience, although it was surprisingly lonely work, and clearly not sustaining."
Laura did not pursue professional art training. Most of her life, she has worked as a Certified Nurse Midwife in Pennsylvania and Massachusetts, and later was the VNA Public Health Nurse for the sIx island towns.  After retirement a few years ago, Laura was able to explore painting again, thanks to studio space on Music Street offered by Dianne Powers.
The paintings here are mostly from 2018–2022. Laura lists her current artistic influences to include local and city museums and galleries, library books, the work of many local artists, and Felix Vallatton, Henri Matisse, Emily Carr, Wolfe Kahn,Milton Avery, Mary Cassatt, and Mark Rothko.
The art show is free and open to the public during library hours, which are from 10 a.m. to 6 on Monday through Thursday, 10 to 5 on Friday and Saturday, and noon to 4 p.m on Sunday. A public reception for the artist will  be held Thursday, May 5 from 4:30 to 5:30 p.m.
—–
The West Tisbury Library hosts monthly art exhibits in the beautiful Community Program Room. Art exhibits are arranged by the West Tisbury Library Art Committee. If you are interested in scheduling an exhibit, please contact the Art Committee Chair at artwtfpl@gmail.com.