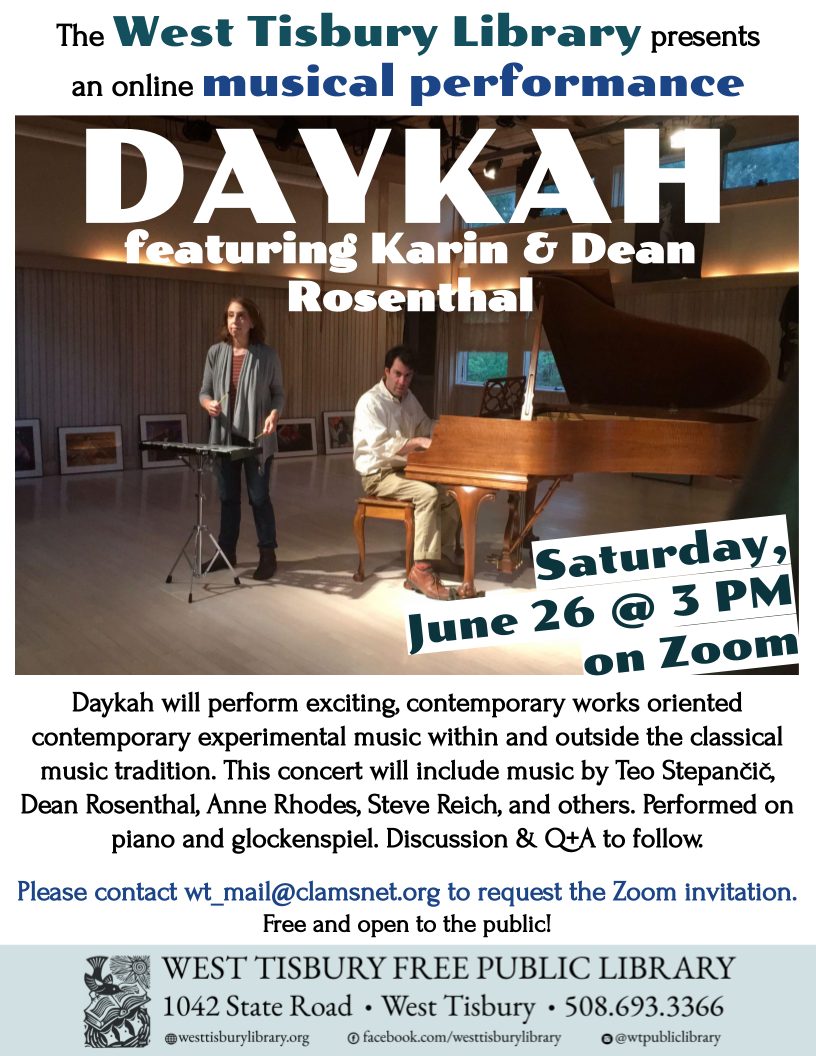 Virtual Concert: Daykah
On Saturday, June 26 at 3pm, the West Tisbury Library invites you to join us on Zoom for a concert featuring Daykah. Musicians Karin and Dean Rosenthal will perform exciting, contemporary works oriented contemporary experimental music within and outside the classical music tradition. Part of the Living Music Series on Martha's Vineyard, the concert will include music by Teo Stepančič, Dean Rosenthal, Anne Rhodes, Steve Reich, and others. Each piece is unique and different, and the concert will be performed on piano and glockenspiel. Also heard will be an exclusive work devoted to the life of Vivian Perlis. The event will include brief discussion of the pieces and an audience Q & A for those interested in learning more. The purpose of this concert, held annually, is to perform music by living composers and share the music on Martha's Vineyard, where it is seldom heard.
This special online event is free and open to the public. Please email wt_mail@clamsnet.org to request the Zoom invitation.
Daykah (Karin and Dean Rosenthal) is a contemporary music duo that performs music oriented in contemporary classic and experimental music. They have performed throughout New England, in NYC, LA, and have presented or recorded their collaborations in Europe and America. Locally, they have performed at Pathways, The Studio, and have been heard in interviews and broadcasts on WMVY.