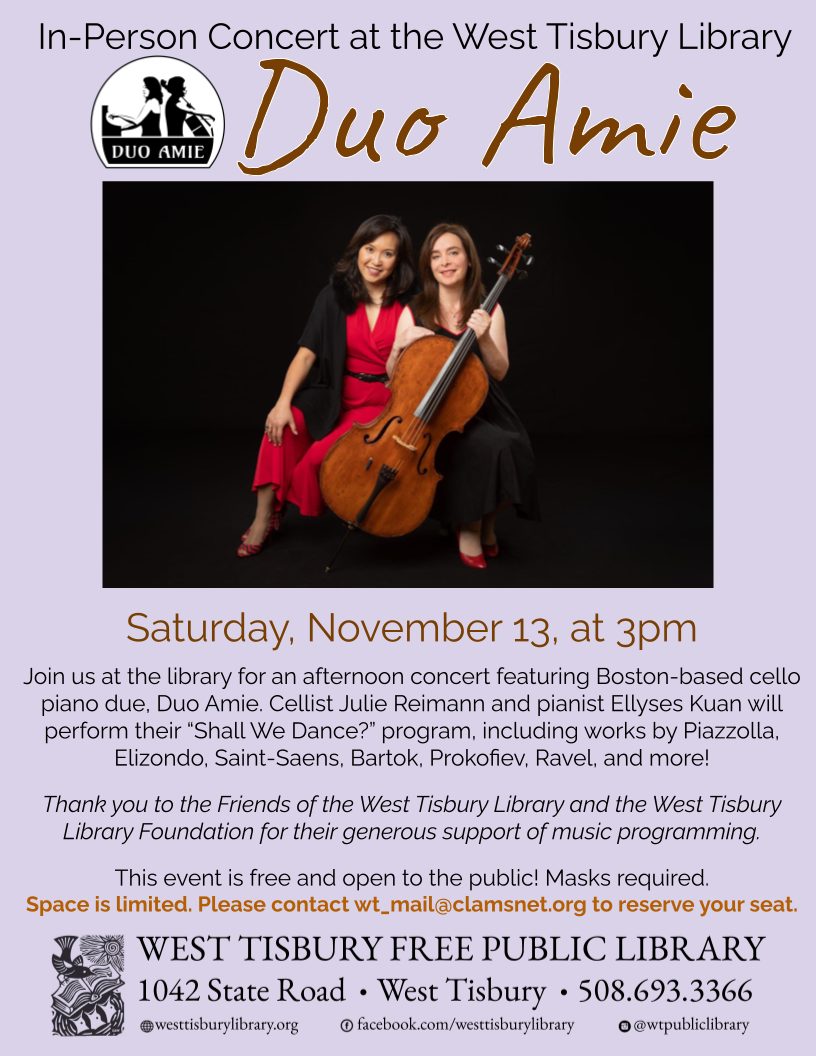 EVENT FULL: "Shall We Dance?" Concert Presented by Duo Amie
Registration for this event is full.

Concert Featuring Duo Amie
At the West Tisbury Library
On Saturday, November 13th, at 3pm, the West Tisbury Library will host a live, in-person concert featuring Duo Amie, a cello piano duo based in Boston. Cellist Julie Reimann and pianist Ellyses Kuan will perform their "Shall We Dance?" program, including works by Piazzolla, Elizondo, Saint-Saens, Bartok, Prokofiev, Ravel, and more! This event is free and open to the public. Masks required. Seating is limited, so please contact wt_mail@clamsnet.org in advance to reserve your seat.
Thank you to the Friends of the West Tisbury Library and the West Tisbury Library Foundation for their generous support of music programming.
About the musicians:
– Born and raised in Connecticut, Julie Reimann started playing the cello at age 9, and began studying with Aldo Parisot (Yale School of Music and Juilliard School), at age 13. Under his tutelage Julie performed throughout the United States, Canada, and Brazil, and won a number of music competitions, including Gold Medal in the New Haven Youth Symphony Young Artists Competition, First Prize in the Connecticut Chamber Orchestra Young Artists Competition, and Second Prize in the Fischoff National Chamber Music Competition Junior Division. Julie earned her Bachelor of Music degree in 1992 from Curtis Institute of Music where she was a student of David Soyer of the Guarneri String Quartet. During her four years at Curtis, Julie was an invited performer in the Nationale Academie de Violoncelle in Paris, France, as well as the Banff Music Festival, Rencontres Musicales d'Evian, Musicorda Music Festival, and Norfolk Chamber Music Festival, and performed in the United States, Canada, and Europe. She won First Place in the Alliance Auditions National Music Competition in 1991, and was Principal cellist of the Curtis Symphony Orchestra in her senior year. Julie graduated from Bryn Mawr College's Post- baccalaureate Premedical Program in 1994, where she received the Horace Alwyn Prize for the student who contributed the most to musical life on campus. Julie continued to perform solo and chamber music recitals while pursuing her M.D. and Ph.D. in Biophysics at Stanford University (including in the Fortnightly Chamber Music Series in Palo Alto and the Soiree Musicale Chamber Music Series at Villa Montalvo), and during her residency and fellowship in Boston. She continues to perform chamber music as well as solo recitals locally in  various venues, including as a soloist with the Waltham Symphony Orchestra (with whom she also served as Principal Cellist) in 2016, as a soloist with the Longwood Symphony in 2018, and with the Boston Civic Symphony as principal cellist in 2020-21. She is a founding member of DuoAmie (www.duoamie.org), with an active regional performance schedule and online presence.She has also performed as a guest artist with the Boston Music Institute, as a workshop artist at the Lyra Music Festival, and as a member of the Ellipsis Chamber Players. Julie is also a practicing dermatopathologist in the Boston area.
– A native of Hong Kong, Ellyses Kuan began playing piano at age 3. She received a full scholarship for her master's degree, studying Piano Performance with Barry Snyder at the Eastman School of Music, and was selected to represent Hong Kong at the International Kirishima Music Festival in Japan. Among her other major teachers were Dr. Siu-Wan Chair Fang and Paul Odette. She has also performed in master classes by John Perry, Dang Thai Son, Malcolm Bilson, Alan Chow,Andrew Cooperstock and Jane MaGrath. As a soloist and collaborator, she has performed in the Greater Boston area, New York City,, San Diego, Salt Lake City, De Pere,Greensboro, Toronto, Japan and Hong Kong, and in 2017 performed at the 42nd Annual Classical Music Festival at Esterhazy Schloss (Austria). In addition to performing as a soloist, Ellyses is enthusiastic about chamber music, collaborates with artists from all over the world, and is a founding member of the Boston-based piano cello duo, Duo Amie(www.duoamie.org). Ms. Kuan also organizes and hosts house concerts at the Alida House Concert Series in the South Shore area and is a partnering artist with Lyra Music Festival. Aside from being an active solo and chamber music performer, Ellyses is founder and music director of EKS Music School, located in Quincy, MA. Her goal is to build community, promote performing arts awareness, and support local young musicians through advocacy, inspiration,and performances (including through a music scholarship fund for students in need, at her school). In 2014, she was an invited panelist on the Boston Guitar Fest Roundtable on Entrepreneurship and Making a Career in Music Work, and her music school was featured in the Boston Globe the same year. In 2017, she was invited to speak at the Piano Seminar Teacher's Roundtable at the Classical Music Festival Eisenstadt Summer Academy. She received a Steinway & Sons Top Music Teacher award in 2017, 2018 and 2020 and was named Teacher of the Year in 2020 as well by the Massachusetts Music Teacher Association (MMTA). Ellyses is currently the Immediate Past President of MMTA, an affiliation of the National Music Teacher Association.