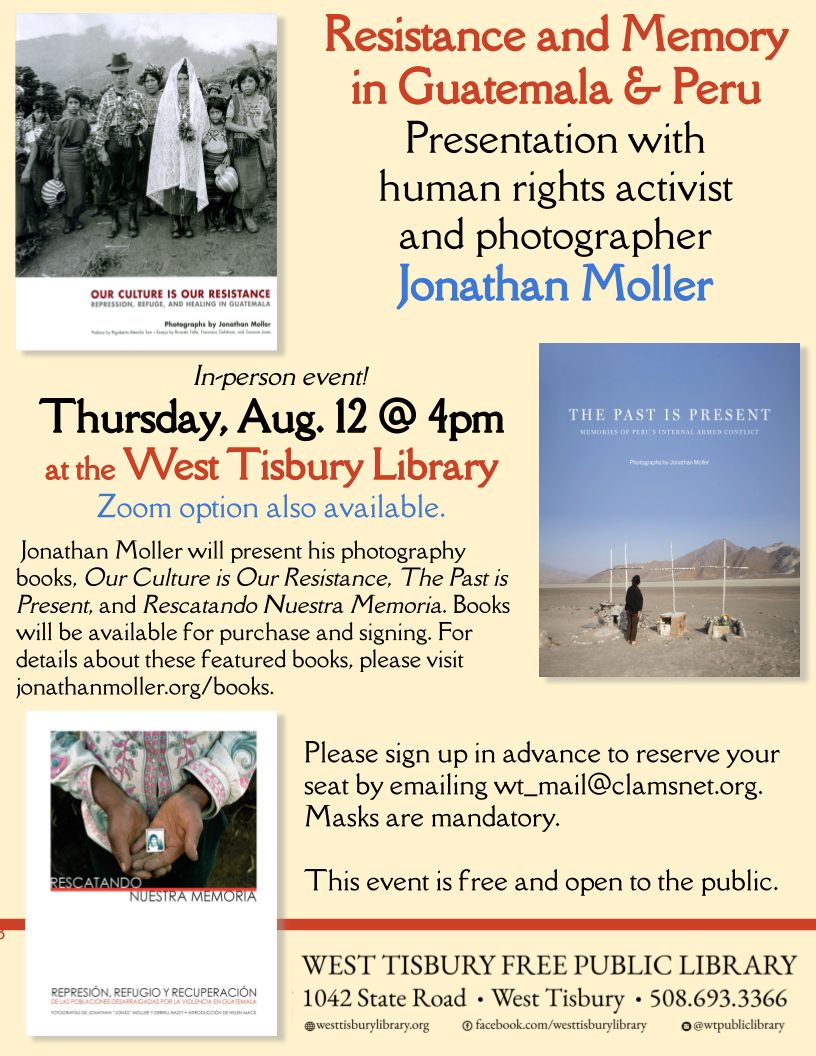 Resistance and Memory in Guatemala & Peru: Presentation with Jonathan Moller
In-person event!
Join us at the West Tisbury Library on Thursday, August 12 at 4pm for a presentation with photographer and human rights activist Jonathan Moller. Jonathan will present his photography books, Our Culture is Our Resistance, The Past is Present, and Rescatando Nuestra Memoria. Books will be available for purchase and signing. For details about these featured books, please visit jonathanmoller.org/books. This event is free and open to the public.
Attendance will be limited to 20 people to allow for social distancing. Please sign up in advance to reserve your seat by emailing wt_mail@clamsnet.org. Masks are mandatory for all. A Zoom option will also be available. Please email us to request the Zoom invitation.
About the presenter:
Jonathan "Jonás" Moller is an award-winning documentary photographer and human rights activist. Since 1991 Moller has worked mostly in Central America (primarily Guatemala), as well as in Peru and Cuba. He is the author of two books on Guatemala, a book about Peru, and his most recent book about the diversity of young Cubans.
Moller's work is in numerous public and private collections, among others the San Francisco Museum of Modern Art, Museum of Fine Arts Boston, the Museo Reina Sofía in Madrid, Museo Nacional de Bellas Artes in Buenos Aires, Museo de Arte de Lima, Museum of Fine Arts Houston, Los Angeles County Museum of Art, Museo de Antioquia in Medellin, Colombia, Casa de Las Americas in Havana, and the George Eastman Museum.
He has exhibited and spoken widely in the United States, Latin America and Europe, in places as varied as the International Museum of Photography in Rochester, NY, McGill University in Montreal, the European Parliament in Brussels, the University of Granada, Spain, the Biblioteca Nacional del Peru, and the Memorial José Martí Museum in Havana. He has been a member of Impact Visuals and Swanstock and his photographs have appeared in numerous magazines and periodicals, including the LIFE 2001 Album: The Year in Pictures, Photo District News, Photo Italia, DoubleTake, and the Cultural Survival Quarterly.
Moller's photographs have been used by many NGOs in Latin America, the US and Europe for educational and advocacy purposes, from grassroots human rights and solidarity organizations in Central America and the U.S., to the Soros Foundation, Amnesty International and Human Rights Watch.