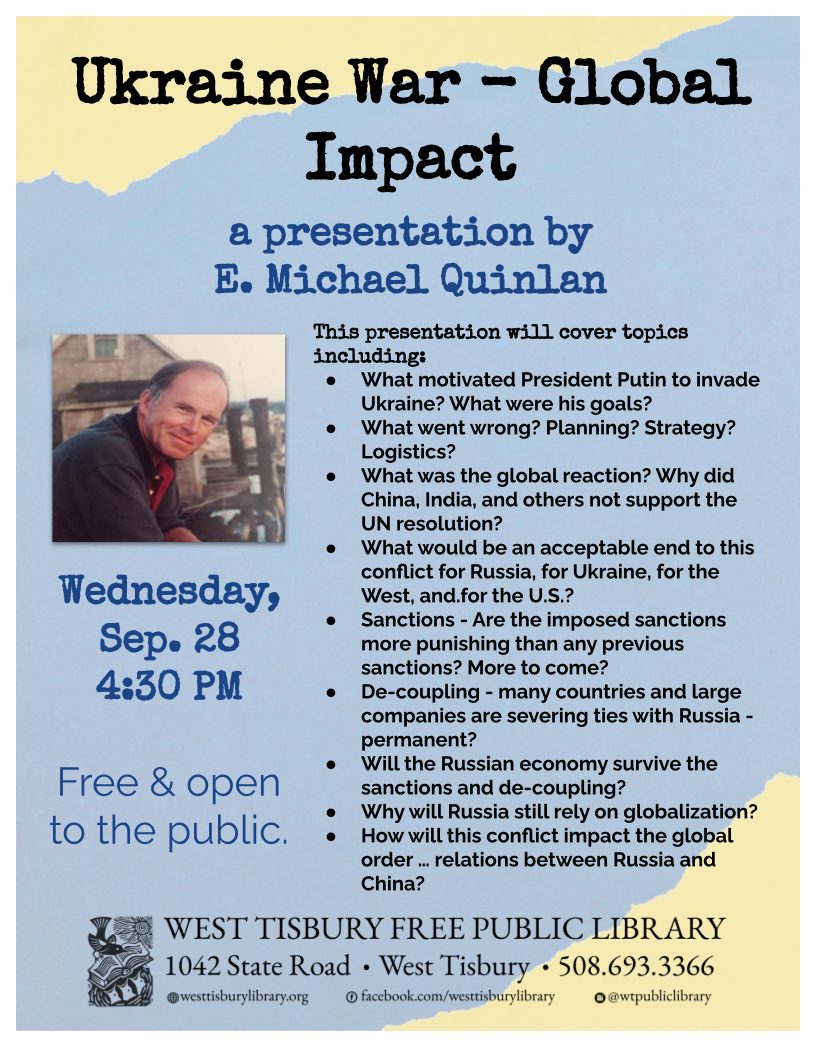 Presentation: Ukraine War – Global Impact
On Wednesday, September 28th, at 4:30pm, come to the West Tisbury Library for a presentation by E. Michael Quinlan about the global impact of the Ukraine war. Free and open to the public. This presentation will cover topics including:
What motivated President Putin to invade Ukraine? What were his goals?

What went wrong? Planning? Strategy? Logistics?

What was the global reaction? Why did China, India, and others not support the UN resolution?

What would be an acceptable end to this conflict for Russia, for Ukraine, for the West, and.for the U.S.?

Sanctions – Are the imposed sanctions more punishing than any previous sanctions? More to come?

De-coupling – many countries and large companies are severing ties with Russia – permanent?

Will the Russian economy survive the sanctions and de-coupling?

Why will Russia still rely on globalization?

How will this conflict impact the global order … relations between Russia and China?
About the speaker:
Michael Quinlan founded EDM Publishers, reporting on a wide range of topics including first responder legal matters, land use, construction permits, and human resource conflicts in public workplaces. Mr. Quinlan, an attorney, has over 40 years of legal publishing experience and served as president of Quinlan Publishing Group which was sold to West Thomson (now Reuters). At Quinlan Publishing, Mr. Quinlan launched over 40 legal bulletins, references, and other publications, both print and digital. The topics ranged from public funding for education and local government projects to several human resources publications, and legal bulletins related to law enforcement, workers' compensation, and land use. Mr. Quinlan was a board member of the Newsletter Publishers of America. In recent years, Mr. Quinlan has been lecturing on critical and timely subjects that have a profound impact on world affairs.