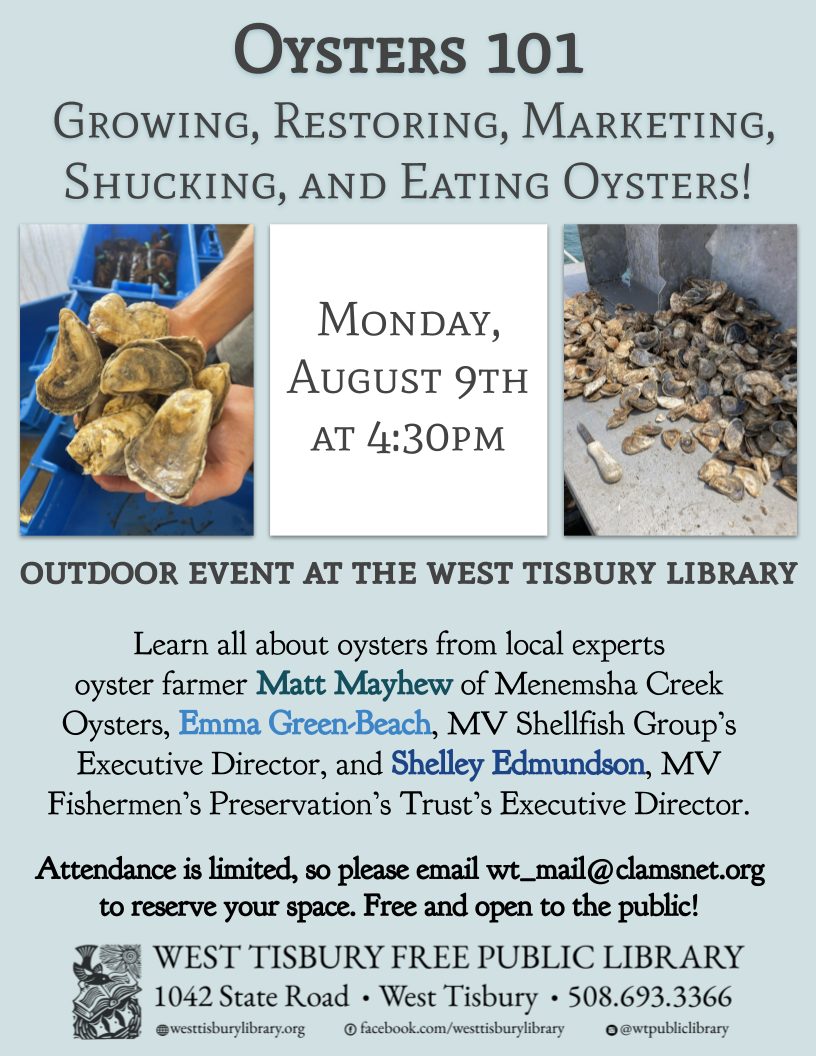 EVENT FULL! Oysters 101: Growing, Restoring, Marketing, Shucking, and Eating Oysters!
EVENT FULL!
On Monday, August 9th at 4:30pm, come to the West Tisbury Library for an outdoor event all about Growing, Restoring, Marketing, Shucking, and Eating Oysters! ​Learn how oysters are grown on MV from local oyster farmer, Matt Mayhew of Menemsha Creek Oysters.
Learn from Emma Green-Beach, MV Shellfish Group's Executive Director, about how they restore sustainable oyster fisheries and ecological balance in the island's Great Ponds.
Hear from Shelley Edmundson, MV Fishermen's Preservation's Trust's Executive Director, about their new wholesale seafood market, the MV Seafood Collaborative, and their plan to increase the market for island oysters. 
The team will demonstrate the best method to shuck an oyster and all attendees will get to sample fresh Menemsha Creek Oysters, described as "crisp briny start with a sweet finish!" and learn about more ways you can get involved and support oyster farmers through up-coming events.
Attendance will be limited to allow for social distancing. Please sign up in advance to reserve your space by emailing wt_mail@clamsnet.org. Masks are mandatory if you are inside the library building. This event is free and open to the public.