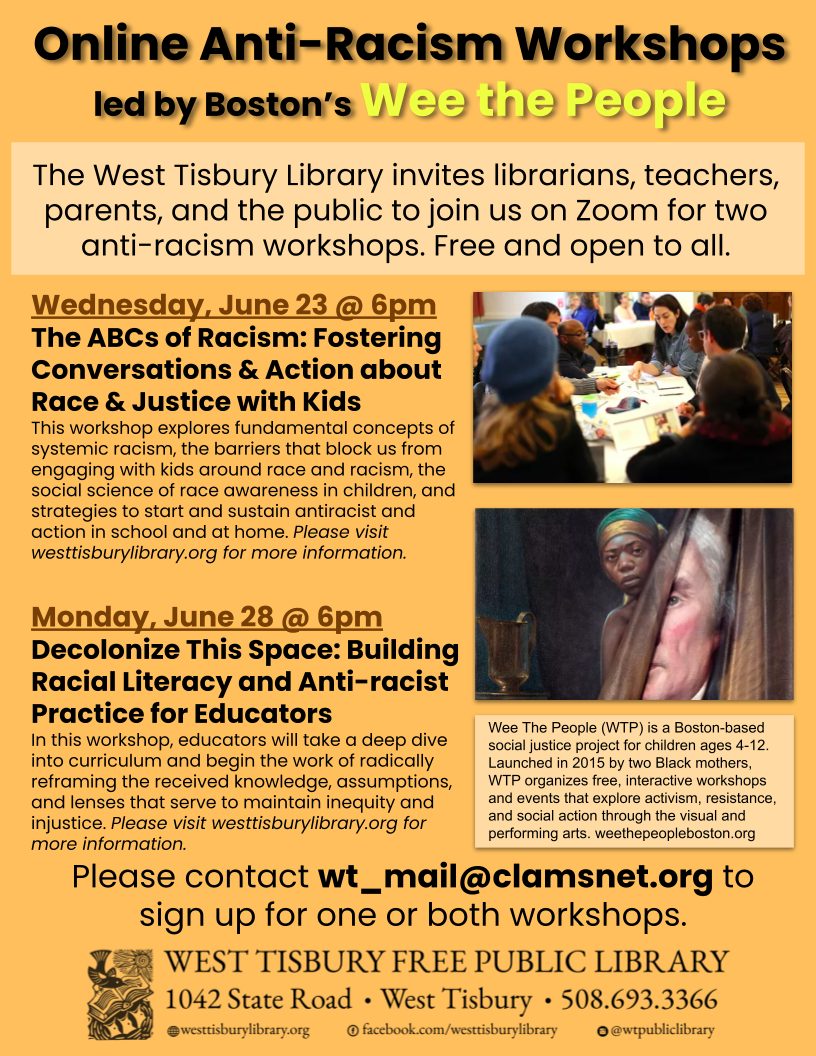 Online Workshop – The ABCs of Racism: Fostering Conversations & Action about Race & Justice with Kids
Online Anti-Racist Workshops with Boston's Wee the People
The West Tisbury Library invites you to join us on Zoom for two anti-racist workshops presented by Boston's Wee the People. These workshops are free and open to all, and are recommended to librarians, teachers, parents, and anyone who works or interacts with children across the Island. Please email wt_mail@clamsnet.org to sign up for one or both workshops and receive the Zoom invitation to join.
Wednesday, June 23 from 6-8pm
The ABCs of Racism: Fostering Conversations & Action about Race & Justice with Kids
From cradle to grave, by every metric of well-being we can measure — education, employment, health, housing — research tells us that deep racial disparities persist in our society. Research also tells us that children begin to notice and assign meaning to skin color by the age of 2. This makes racial literacy a critical part of preparing our children to lead lives as engaged, equity-minded problem-solvers in the world.
Geared for white or multiracial audiences, this workshop explores fundamental concepts of systemic racism, the barriers that block us from engaging with kids around race and racism, the social science of race awareness in children, and strategies to start and sustain antiracist and action in school and at home.
Monday, June 28 from 6-8pm
Decolonize This Space: Building Racial Literacy and Anti-racist Practice for Educators
More and more, education leaders are awakening to the urgent need to teach for racial equity. But for the vast majority of US schools, this poses an enormous challenge: It requires teachers to adopt approaches and build content knowledge that they themselves were never taught, either as children or as adults. And it requires them to unlearn dominant narratives that have long distorted history and devalued people of the global majority.
In this workshop, educators will take a deep dive into curriculum and begin the work of radically reframing the received knowledge, assumptions, and lenses that serve to maintain inequity and injustice.
About Wee The People:
Wee The People (WTP) is a Boston-based social justice project for children ages 4-12. Launched in 2015 by two Black mothers, WTP organizes free, interactive workshops and events that explore activism, resistance, and social action through the visual and performing arts. WTP also organizes workshops and training seminars for parents, caregivers, and educators. Partnering with public institutions, community organizations, and Boston-based artists, WTP seeks to create high-impact, celebratory experiences that promote uncomfortable conversations parents often avoid with young children. Please visit weethepeopleboston.org for more information.