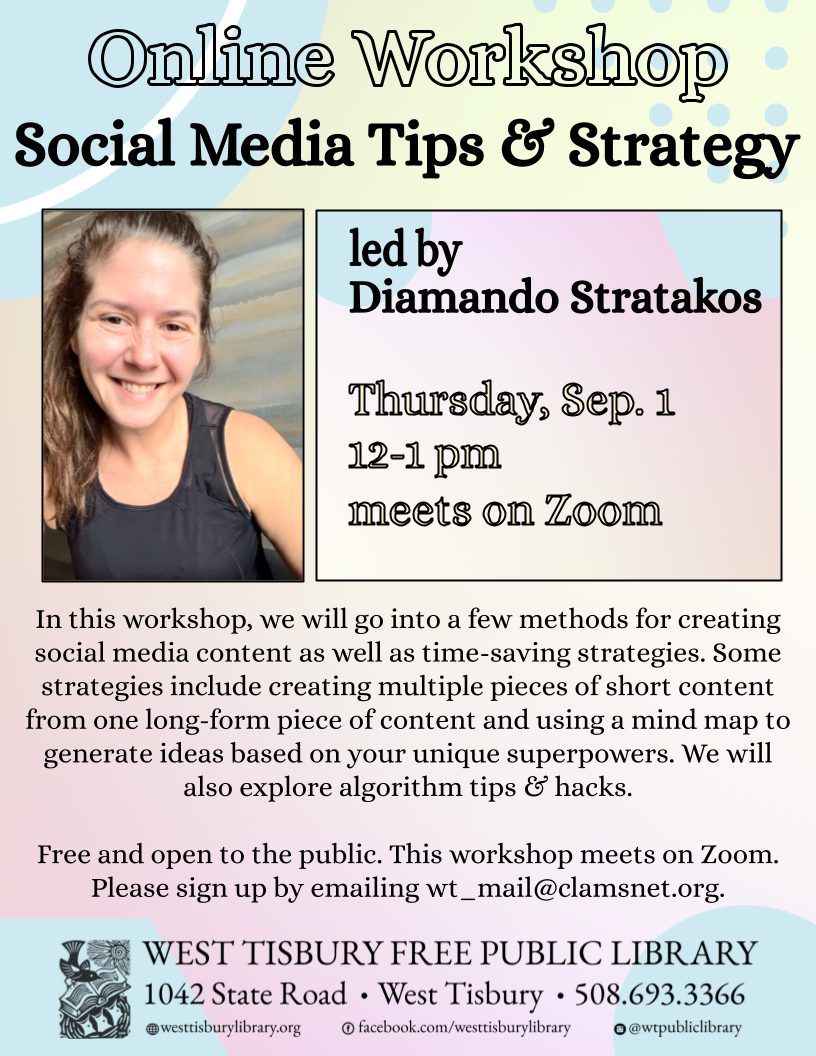 Online Workshop: Social Media Tips & Strategy
On Thursday, September 1st, from 12-1pm, the West Tisbury Library presents an online "Social Media Tips & Strategy" workshop led by Diamando Stratakos. In this workshop, we will go into a few methods for creating social media content as well as time-saving strategies. Some strategies include creating multiple pieces of short content from one long-form piece of content and using a mind map to generate ideas based on your unique superpowers. We will also explore algorithm tips & hacks. Free and open to the public.
This workshop meets on Zoom. Please sign up by emailing wt_mail@clamsnet.org.
About the instructor:
Diamando Stratakos is a business artist, committed to helping people connect to their own superpowers in a creative and uniquely productive way. 
Through multiple businesses of her own and over two decades consulting with others in businesses ranging from wellness to neuroscience to hospitality, she has established herself as a motivating idea incubator. 
Her background in the creative arts has led to a passion for content creation on various social media platforms. She prides herself on making social media accessible to all and helping people save time in the process so they can devote more of their precious moments to the things they truly love. 
Though this is her first summer on the island, she has been immediately taken with its charm, sense of community and aura of collaboration. She is already in conversation with various centers about hosting nature and wellness retreats for entrepreneurs on Martha's Vineyard in the future. www.golivespartan.com