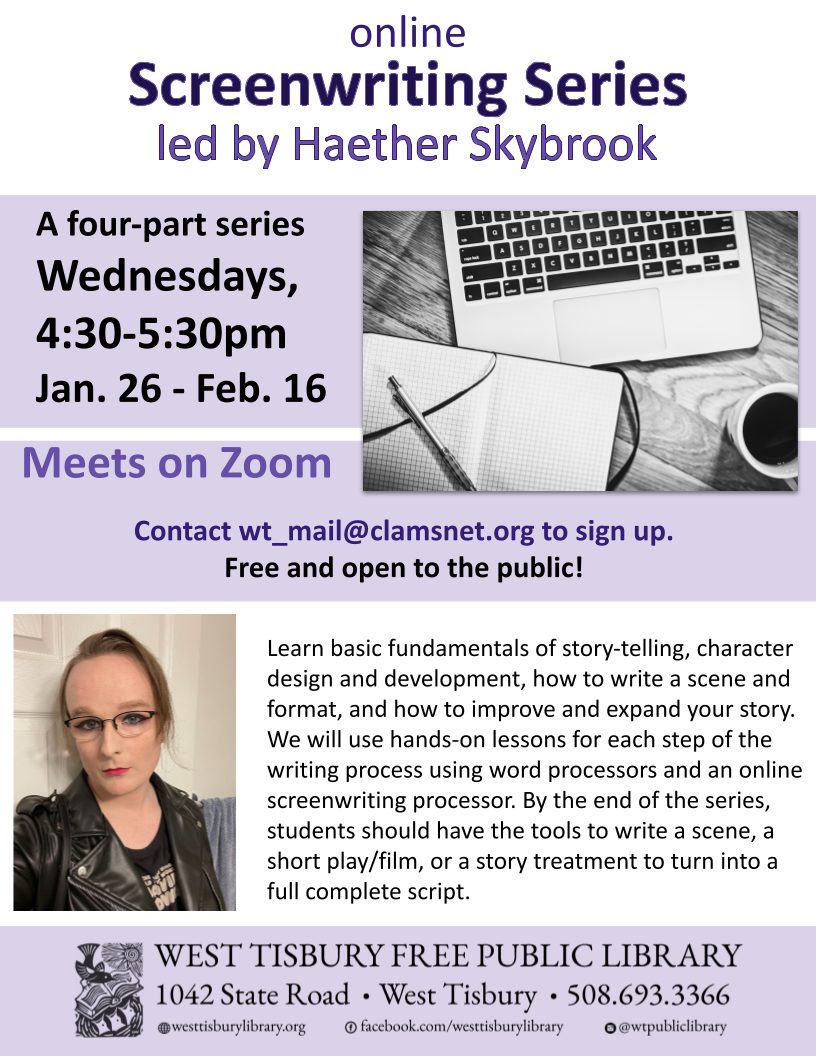 Online Screenwriting Class
Screenwriting Class on Zoom with Haether Skybrook
The West Tisbury Library will host a four-part screenwriting class led by Haether Skybrook. Classes will meet Wednesdays on Zoom from 4:30-5:30pm on 1/26, 2/2, 2/9, and 2/16.  Free and open to the public!
In this class, students will learn basic fundamentals of story-telling, character design and development, how to write a scene and format, and how to improve and expand your story. This online series uses hands-on lessons for each step of the writing process using word processors and an online screenwriting processor. By the end of the series, students should have the tools to write a scene, a short play/film, or a story treatment to turn into a full complete script.
Please contact wt_mail@clamsnet.org to sign up and receive the Zoom invitation. 
Haether has worked as an independent musician, audio engineer, and freelance website designer for the past seven years. In addition to screenwriting, her specialities include film scoring and mixing and mastering sound.
Class schedule:
Week 1
Story-telling: What story do you want to tell? What kind of story is it? How can we get your message across?
Week 2
Character Design: Going over protagonist, antagonist, foils, and supporting characters. What are their goals? How will they get them?
Week 3
Scene writing and Formatting: How to format a screenplay or stage play. Flow. Purpose.
Week 4
How to improve: What can be cut? What needs to be expanded upon? Does this make sense?