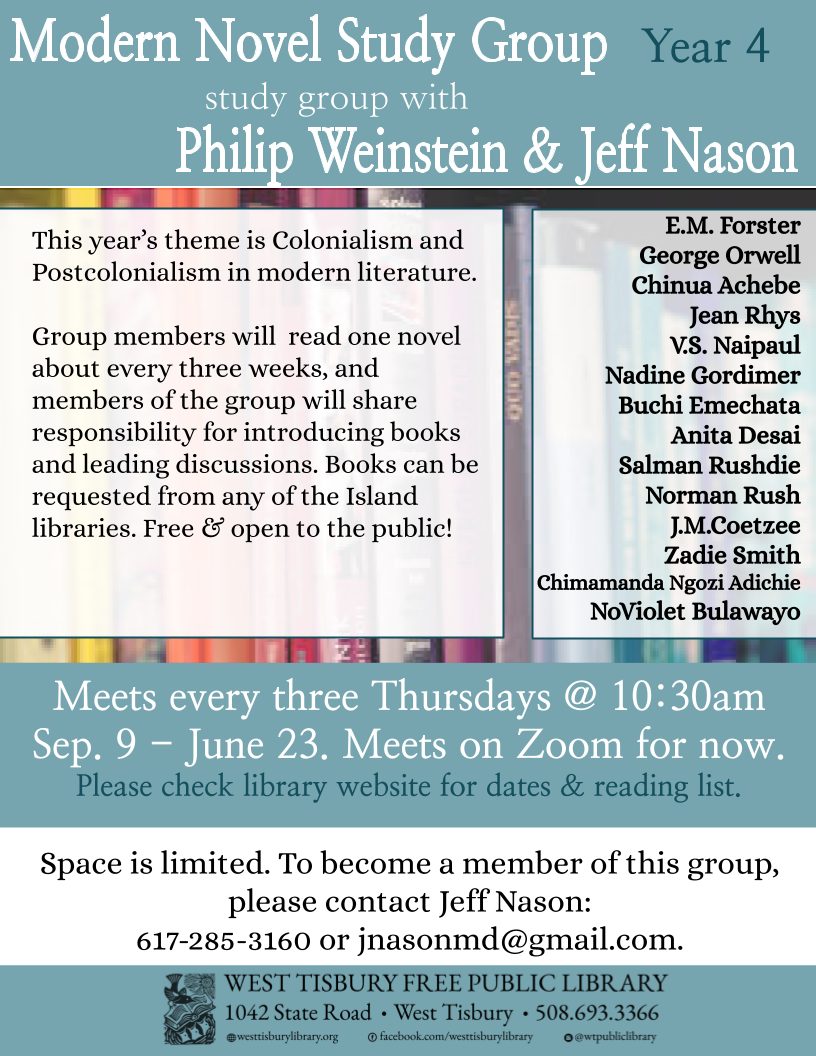 Online – Modern Novel Study Group
Please join us for Year Four of the Modern Novel Group! This is an informal discussion group of committed readers who want to better understand each book's history, context, assumptions, and resonance. Free and open to the public. Meets on Zoom for now.
This group will meet for 90 minutes about every three Thursdays from September 9 to June 23, 10:30am-12pm. Group members can expect to read one novel (or its equivalent) every three weeks, and members of the group will share responsibility for introducing books and leading discussions. Books can be requested from any of the Island libraries.
Philip Weinstein, a well-known and highly respected literature teacher on our Island and Professor Emeritus at Swarthmore College, is the co-organizer of this discussion group. Phil will not lecture or formally teach the group, but he will be an active member.
Space is limited. If you are interested in becoming a member in this group, please contact co-organizer Jeff Nason. You can reach Jeff at 617-285-3160 or jnasonmd@gmail.com.
Reading list:
September 9, E.M. Forster, A Passage to India
September 30, George Orwell, Burmese Days
October 21, Chinua Achebe, Things Fall Apart
November 18,, Jean Rhys, Wide Sargasso Sea
December 9, Nadine Gordimer, Burger's Daughter
January 6, VS Naipaul, A Bend in the River.
January 27, Buchi Emechata, The Joys of Motherhood
February 17, Anita Desai, Clear Light of Day
March 10, Norman Rush, Mating
March 31, Salman Rushdie, Midnight's Children
April 21, JM Coetzee, Disgrace
May 12, Zadie Smith, White Teeth
June 2, Chimamanda Ngozi Adichie, Americanah
June 23, NoViolet Bulawayo, We Need New Names