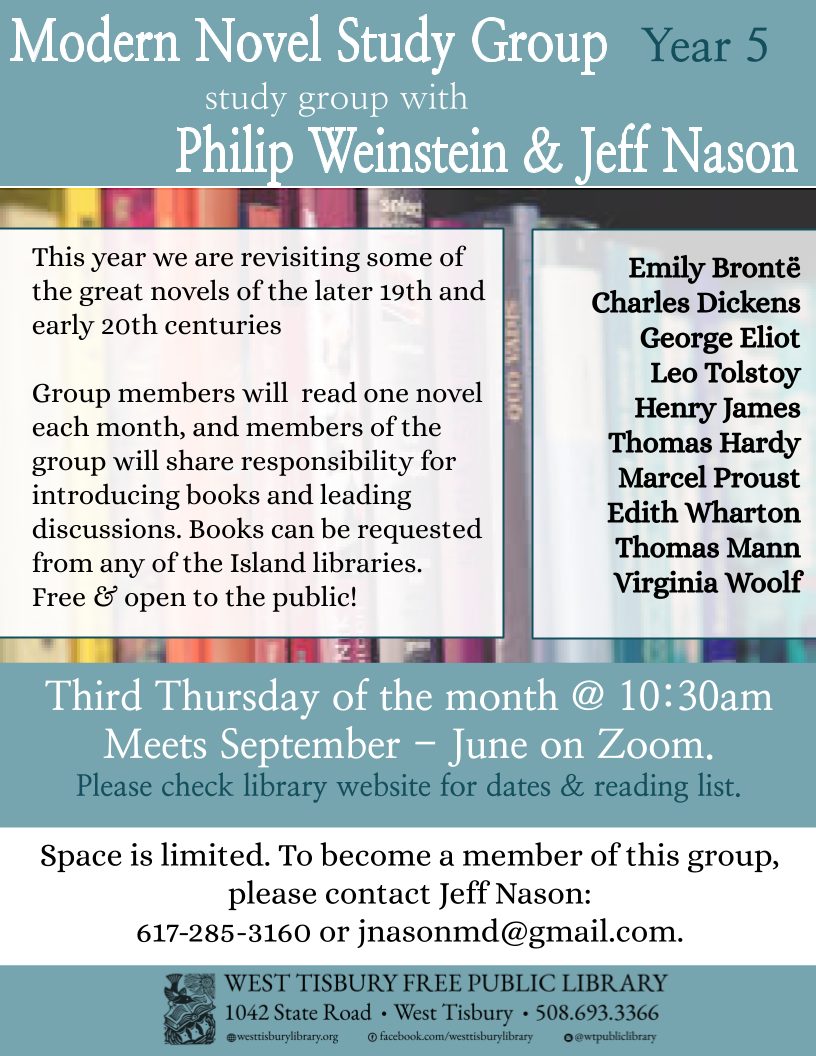 Online – Modern Novel Study Group
Please join us for Year Five of the Modern Novel Group! This is an informal discussion group of committed readers who want to better understand each book's history, context, assumptions, and resonance. Free and open to the public. Meets on Zoom.
This group will meet on the third Thursday of each month, from September to June, 10:30am-12pm. Group members can expect to read one novel each month, and members of the group will share responsibility for introducing books and leading discussions. Books can be requested from any of the Island libraries.
Philip Weinstein, a well-known and highly respected literature teacher on our Island and Professor Emeritus at Swarthmore College, is the co-organizer of this discussion group. Phil will not lecture or formally teach the group, but he will be an active member.
Space is limited. If you are interested in becoming a member in this group, please contact co-organizer Jeff Nason. You can reach Jeff at 617-285-3160 or jnasonmd@gmail.com.
Reading list:
September 15, Emily Brontë, Wuthering Heights (1847)
October 20, Charles Dickens, David Copperfield (1850)
November 17, George Eliot, Middlemarch (1872)
December 15, Leo Tolstoy, Anna Karenina (1878) (tr. by Richard Pevear Larissa Volokhonsky)
January 19, Henry James, The Portrait of A Lady (1881)
February 16, Thomas Hardy, Jude the Obscure (1895)
March 16, Marcel Proust, Swann's Way (1913) – (tr. by Lydia Davis; or earlier tr. by CK Scott-Moncrieff)
April 20, Edith Wharton, The Age of Innocence (1920)
May 18, Thomas Mann, The Magic Mountain (1924) (tr. by John Wood or earlier tr. by H. Lowe-Porter)
June 15, Virginia Woolf, To the Lighthouse (1927)