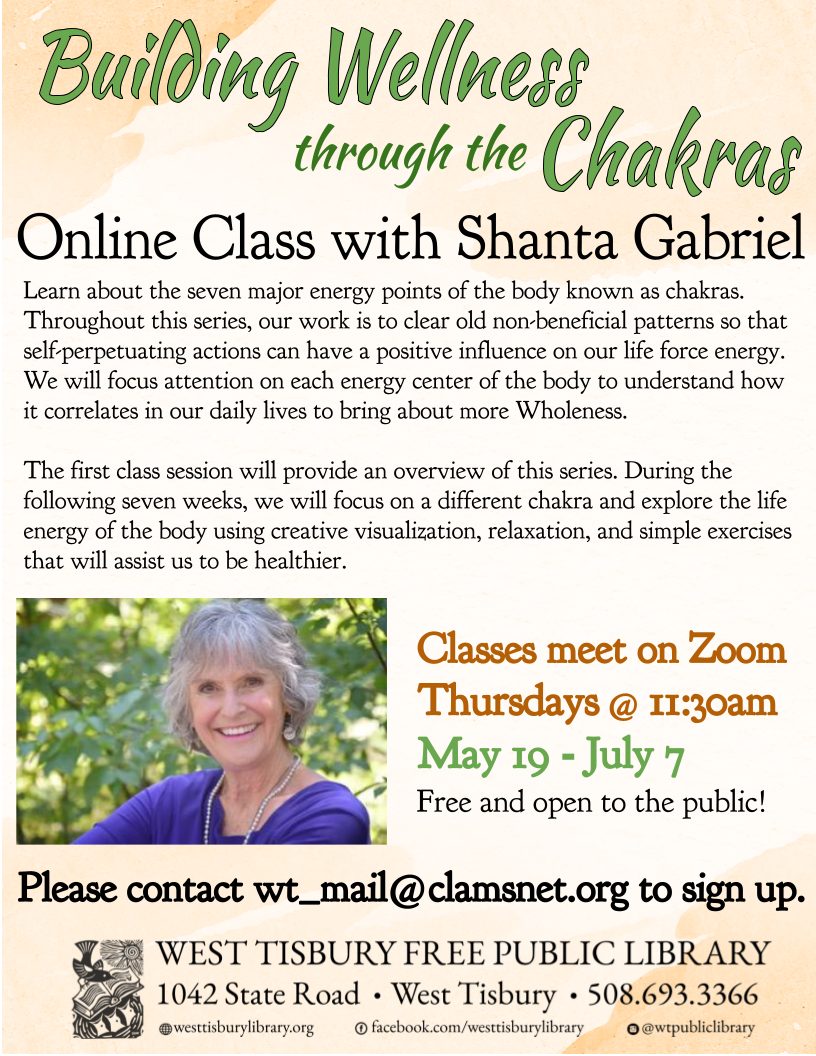 Online Class Series: Building Wellness through the Chakras
The West Tisbury Library invites you to join Shanta Gabriel's new eight-week class series, "Building Wellness through the Chakras." Classes meet online through Zoom on Thursdays from 11:30am-12:30pm. Attend one, some, or all sessions. Meets May 19 through July 7. Free and open to the public. Please email wt_mail@clamsnet.org to sign up.
Class description:
In this class, we will learn about the seven major energy points of the body known as chakras. These energy points have been studied for centuries in India, and spoken about in many different cultures, such as Tibetan, Hopi, Chinese and others. Chakras are organizational centers for reception, assimilation and transmission of life energy. Throughout this series, our work is to clear old non-beneficial patterns so that self-perpetuating actions can have a positive influence on our life force energy. We will focus attention on each energy center of the body to understand how it correlates in our daily lives to bring about more Wholeness.
The first class session will provide an overview of this series, and we will experience how the energy of each of these centers is related to our physical life. During the following seven weeks, we will focus on a different chakra and explore the life energy of the body using creative visualization, relaxation, and simple exercises that will assist us to be healthier.
About the instructor:
Shanta Gabriel is an author and teacher, who has been an energy healer for over 40 years using a variety of modalities to strengthen well-being in daily life.