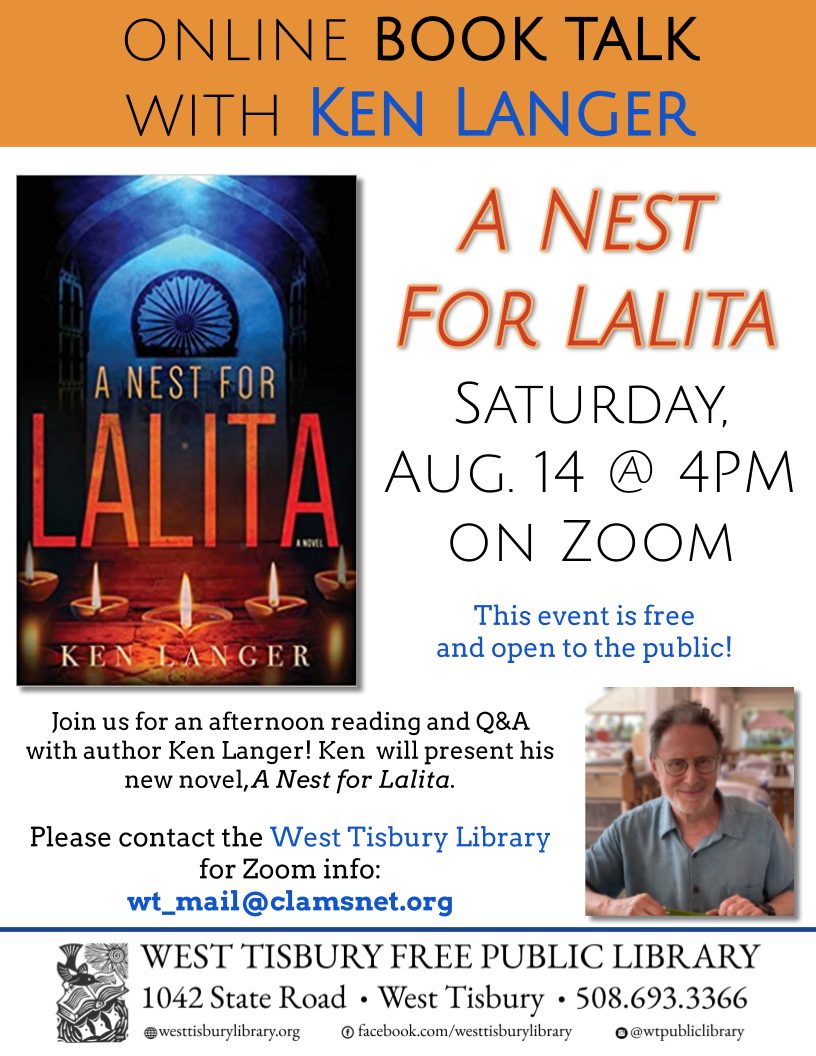 Online Book Talk: A Nest for Lalita By Ken Langer
On Saturday, August 14 at 4pm, the West Tisbury Library presents an online book talk with author Ken Langer. This is a live event that meets on Zoom. Join us as Ken presents his new novel, A Nest for Lalita. Q&A to follow. Please email wt_mail@clamsnet.org to receive your Zoom invitation to join. Please write in the subject line: "Register me for Langer talk." This event is free and open to the public.
About the author:
Ken Langer's love of India began when he spent a college year in Varanasi. After earning his Ph.D. in Sanskrit and Indian Studies from Harvard, he spent two years in Pune, India translating Sanskrit love poetry. In his next incarnation, Ken worked in New Delhi as a consultant to high-tech and renewable energy companies. Thereafter, he served as Special Assistant to the Dean of Harvard's Graduate School of Arts and Sciences, Vice President of Brandeis, and special consultant to the US Department of Energy. In 2000, Ken founded EMSI, an international green building consulting company, which pioneered the green building industry in China. His writing has appeared in the Harvard Review, The Satirist, The Woven Tale, the Vineyard Gazette, Taj Mahal Review, and the Journal of the American Oriental Society. Visit https://www.kenlanger.net/ for more information.
About the book:
Meena Kaul is riding high in her position as director of Behera House, a safe haven in India for women who have survived domestic violence. But when the stock market crashes, Meena loses her funding for a new campus. The right-wing Hindu Democratic Party (HDP), seeing an opportunity to win women's votes before a national election, steps in with a multimillion-dollar grant.
Meena's worst fears come to pass when the HDP wins the election and begins to chip away at a hundred years of progress on women's rights. Meanwhile, Simon Bliss, America's foremost "green" architect, arrives to design the flagship building of the new campus. Trapped in a stalled marriage, Simon falls for the bright and alluring Meena and is quickly sucked into the perilous world of Indian politics.
In his attempt to loosen the HDP's grip on Meena and win her affection, Simon takes on reactionary politicians, shady priests, and crooked businessmen. In the process, he comes face to face with disturbing truths about his past, while Meena finds herself trapped in ways she never could have expected.
Langer has written an emotionally charged novel complete with forbidden love, murder, and corporate greed—all against the backdrop of an ancient country trying to find its identity in a fast-changing world.