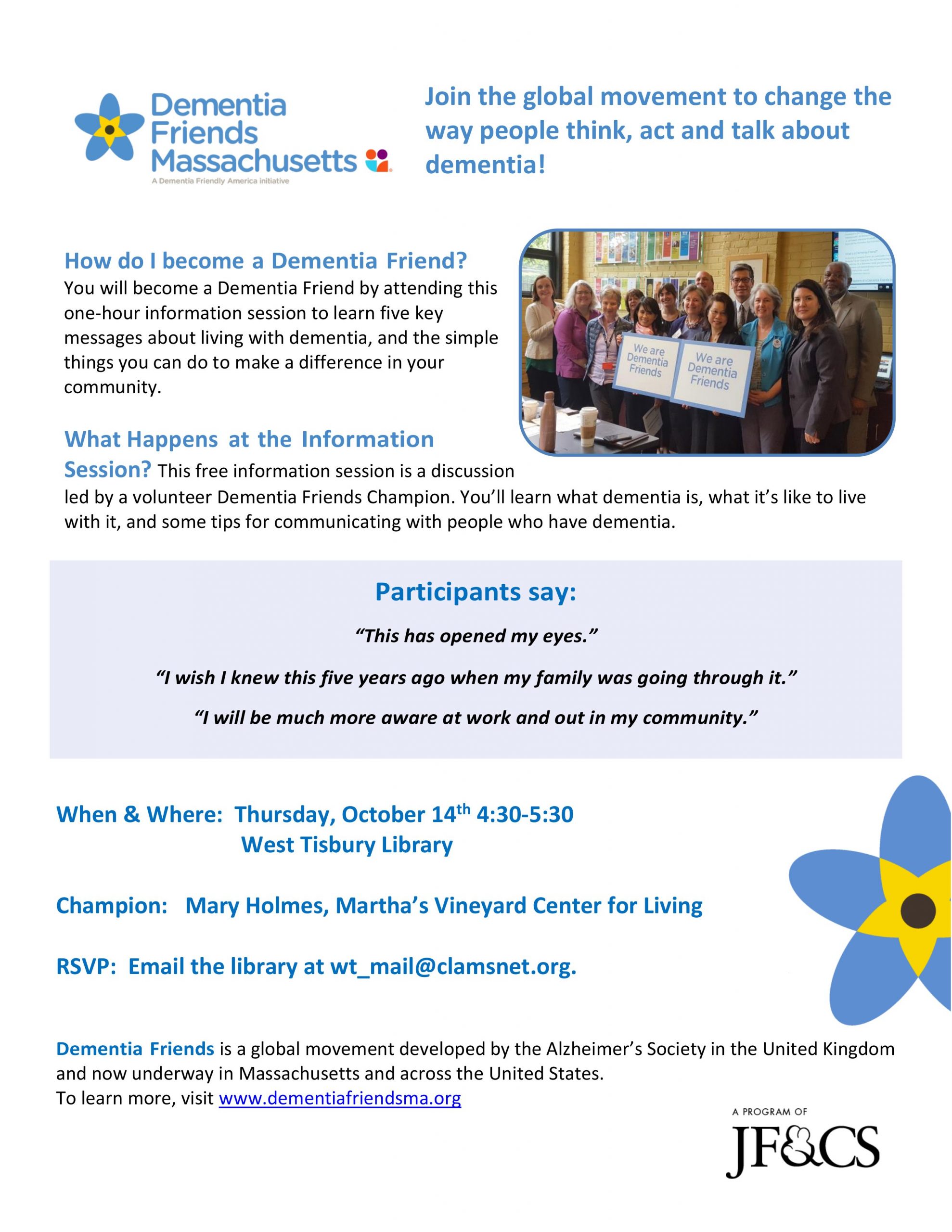 Dementia Friends Information Session
In-person event!
On Thursday, October 14 at 4:30pm, the West Tisbury Library will host an in-person Dementia Friends MA information session. Join the global movement to change the way people think, act, and talk about dementia. Dementia Friends gives people an understanding of dementia and the small things you can do that make a difference. You will become a Dementia Friend by attending this one-hour information session to learn five key messages about living with dementia, and the simple things you can do to make a difference in your community. This event will be led by a Dementia Friends Champion Mary Holmes of Martha's Vineyard Center for Living. Come learn what dementia is, what it's like to live with it, and some tips for communicating with people who have dementia. For more information, please visit dementiafriendsma.org.
Please sign up to reserve your space by emailing wt_mail@clamsnet.org. Masks required. Free and open to the public.
About the presenter:
Mary Holmes is currently the Supervisor for the Supportive Day Program, a daily activity program for individuals who are at risk if left alone or may experience memory challenges at the Martha's Vineyard Center for Living (MVC4L). MVC4L has been dedicated to providing support to Island seniors for the past 30 years with services that create an age friendly environment, promote dignity, reduce stigma, support independence and foster community engagement.
A resident of Martha's Vineyard for more than 15 years working, Mary earned her MSc. in Gerontology from UMass Boston in 2011. She has worked in many areas of elder care on island including care management, housing, caregiver support, disability services, and caregiver training.  
Mary's first love in this vast field is working with and for people living with dementia. She has served as Program Coordinator at Windemere Nursing and Rehab and now Supervisor for MVC4L Supportive Day Program; training countless staff and volunteers on assisting individuals with dementia to live their best lives. Mary says the guiding light of her work is to elevate and model the role of Dementia Care professional.  Mary is an End of Life Doula, a former trainer for the evidence based program Powerful Tools for Caregivers and the Alzheimer's Association, and has served on many committees and social service organizations on the island.  
She is most committed as a Dementia Friend Champion to give people an understanding of dementia and the small things we can all do to make a difference for people living with dementia in our communities.