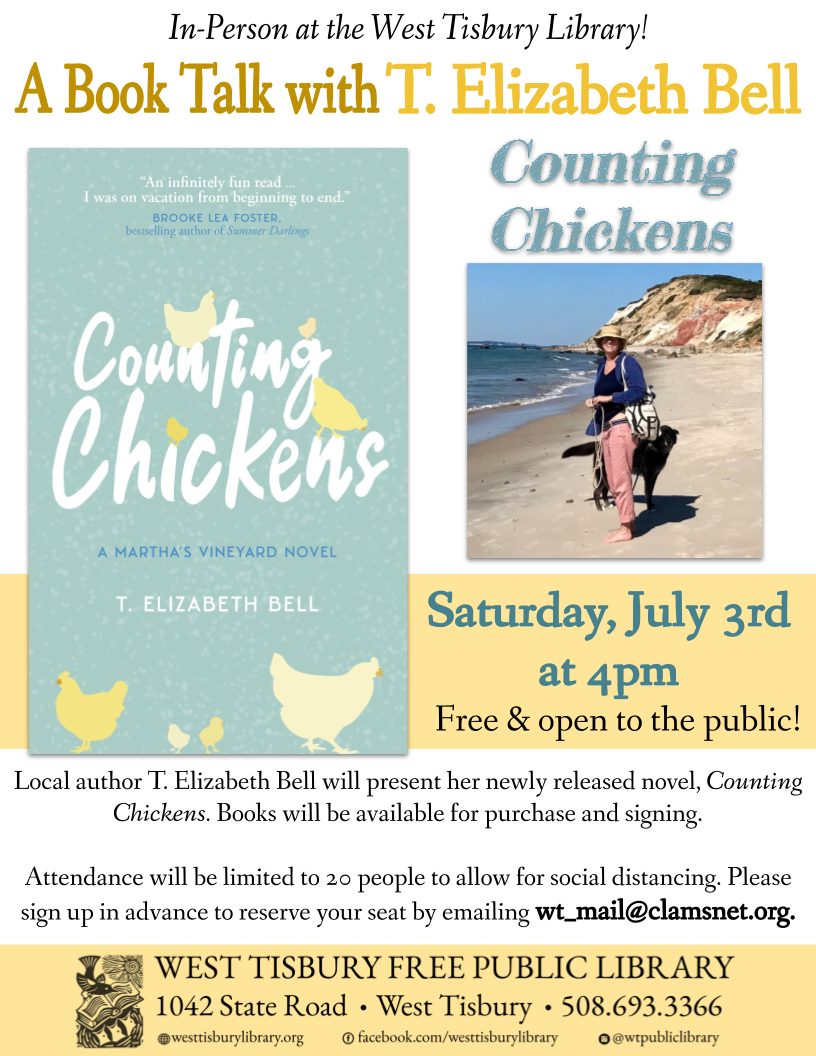 Counting Chickens Book Talk with T. Elizabeth Bell
In-person event!
On Saturday, July 3rd at 4pm, the West Tisbury Library will host their first in-person book event of 2021! Please join us for a talk with local author T. Elizabeth Bell as she presents her newly released novel, Counting Chickens. Books will be available for purchase and signing. This event is free and open to the public. Attendance will be limited to 20 people to allow for social distancing. Please sign up in advance to reserve your seat by emailing wt_mail@clamsnet.org.
About the book:
"I immediately fell in love with her compelling cast of characters…as I followed their various mishaps, I found myself laughing out loud, gasping in surprise, and often tearing up with emotion…Counting Chickens made me feel…the bliss of a quintessential Vineyard day." Julia Spiro, bestselling author of Someone Else's Secret
"… a lovely, vivid picture … a stunning protagonist…" Kirkus Reviews
When you hire Nest, you are hiring 24-7, personalized attention to your every need. Our goal is to ensure that you, your family, and your guests have the best possible vacation while on Martha's Vineyard. (Marketing brochure for Nest, a Bespoke Concierge Service)
Back on Martha's Vineyard after a failed marriage, Remy Litchfield is struggling to launch her high-end concierge service. Her business plan is complete down to the fresh eggs provided courtesy of her very own flock of designer chickens. What she didn't count on was the return of her high school crush, Jake Madden, or the suggestion by her impossibly handsome and wealthy client, Eli Wolff, that he is interested in having Remy do more than his shopping.
With the help of an escaped dog and her gang of eccentric and loyal friends, Remy must find a way to balance all the demands of her new life. But will catering to the whims of her high-end clients leave time for anything else?  
This immensely satisfying novel from the author of Goats in the Time of Love brims with romance and humor.
ELIZABETH BELL is the author of two novels, Goats in the Time of Love and Counting Chickens. She has a husband, three children, and a very old dog—but no chickens (or goats!) and splits her time between West Tisbury and Washington, D.C.  Passionately in love with the Vineyard, she shares her photography and more about her life on @tb.dc.mv (Instagram), @telizabethbell (Facebook), and telizabethbell.com.