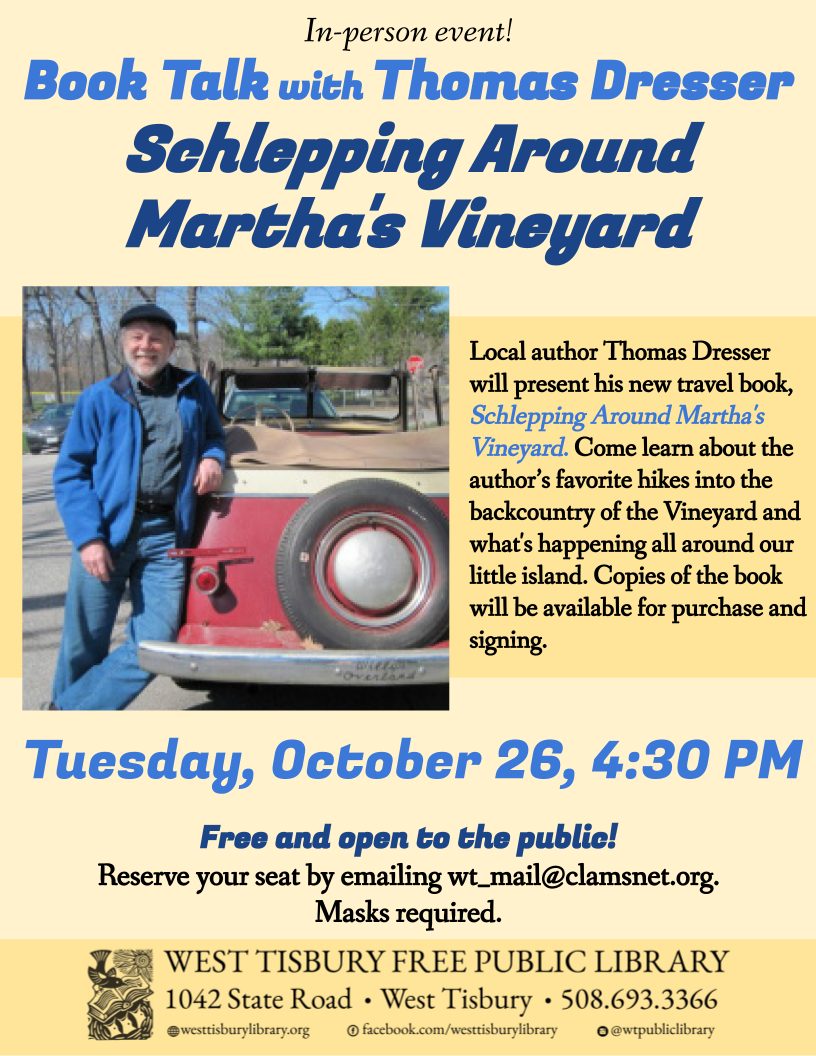 Book Talk with Thomas Dresser: Schlepping Around Martha's Vineyard
In-person event!
On Tuesday, October 26 at 4:30pm at the West Tisbury Library, local author Thomas Dresser will present his new travel book, Schlepping Around Martha's Vineyard. Come join us for this in-person book talk and learn about the author's favorite hikes into the back-country of the Vineyard and what's happening all around our little island. Copies of the book will be available for purchase and signing. Masks required. This event is free and open to the public. Please email wt_mail@clamsnet.org to reserve your seat.
Thomas Dresser taught elementary school for ten years, was a nursing home administrator for twenty years, and drove a school bus for fifteen years. He has enjoyed writing all his life, but found his niche on the Vineyard, joining Island writing groups, writing for the local press, and publishing a number of books on Vineyard history. He lives in Oak Bluffs with his wife Joyce, a retired West Tisbury teacher.
About the book:
"The idea for Schlepping Around Martha's Vineyard was conceived by the late Herb Foster. He thought a casual drive around the Vineyard, pointing out highlights and popular sites, would interest the Vineyard visitor.
Herb was intrigued by the Federal Writers Project from the Depression era of the 1930s. The FWP was devised to provide work for aspiring writers by composing guides for each state, delving into every town and describing unique aspects to the area. We tried to do that with Schlepping Around Martha's Vineyard.
A third element of the book includes several walks or hikes on Martha's Vineyard, culled from the several land conservation organizations awaiting our footsteps. Over the first six months of the pandemic, I walked nearly every day, taking more than a hundred hikes. Schlepping Around Martha's Vineyard includes a few of these.
The book has numerous photographs to enliven the story and brighten the page.
A fifth goal was to link this printed publication, Schlepping Around Martha's Vineyard, with a program I recently teamed up with. BuiltStory.com offers inexpensive self-taking tours, through your phone. I have prepared five tours: Wesleyan Grove and Ghosts of Edgartown are walking tours. The Martha's Vineyard Railroad, World War II on Martha's Vineyard and the African American Historic Tour of Oak Bluffs require an automobile to get to the fifteen sites per tour. Each tour costs $10 and includes photos, text and a video of the 15 sites per tour. The tour is navigated through your iPhone and can be retaken for thirty days. It's a good deal.
The five BuiltStory tours are described in Schlepping Around Martha's Vineyard.
The booklet Schlepping Around Martha's Vineyard was printed locally, by DaRosa's and released on July 1.
Schlepping Around Martha's Vineyard is available at Edgartown Books, Bunch of Grapes, the Corner Store, and the Campground Museum in Oak Bluffs. Contact thomasdresser.com to order a copy or email me at thomasdresser@gmail.com for more information."