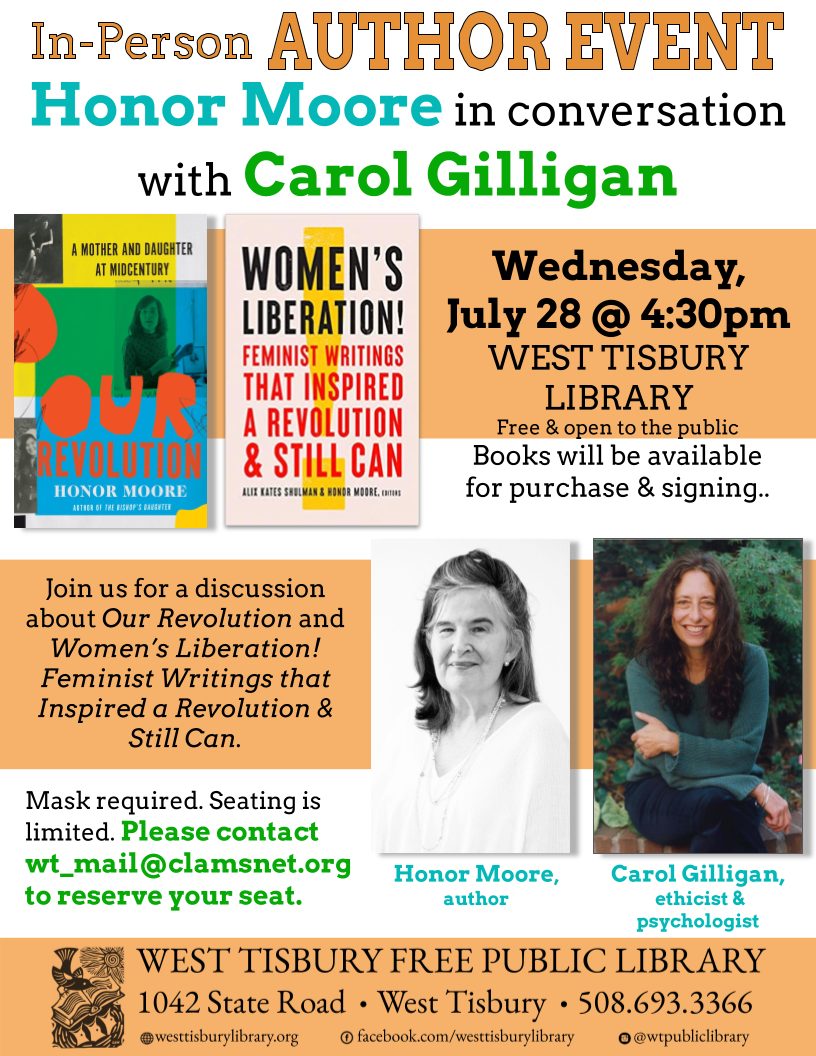 EVENT FULL! Book Talk: Honor Moore in Conversation with Carol Gilligan
EVENT FULL! We've reached our capacity limit and are no longer taking sign ups.
In-person event!
On Wednesday, July 28 at 4:30pm, the West Tisbury Library presents an in-person book talk with Honor Moore in conversation with Carol Gilligan. Join us for a discussion of Honor's memoir, Our Revolution: A Mother and Daughter at Midcentury and the anthology Women's Liberation! Feminist Writings that Inspired a Revolution & Still Can, edited by Honor and containing work by Carol. This event is free and open to the public. Books will be for sale at the event by Bunch of Grapes Bookstore.
Attendance will be limited to 20 people to allow for social distancing. Please sign up in advance to reserve your seat by emailing wt_mail@clamsnet.org. Masks are mandatory for all.
Honor Moore is a celebrated poet and author. Her works include The Bishop's Daughter, a National Critics Circle Award finalist; The White Blackbird, a New York Times Notable Book; and three collections of poetry. She teaches in the MFA writing program at the New School, where she directs the nonfiction concentration. She lives in New York City.
Carol Gilligan is an American feminist, ethicist, and psychologist. She is best known for her 1982 work, In a Different Voice. Carol's work has been credited with inspiring the passage of the 1993 Gender Equity in Education Act. In 1996, Time magazine listed her among America's 25 most influential people.
About the books:
Our Revolution, vivid and rich, reads like a nineteenth-century novel as we follow the love story of a woman and her family through the twentieth-century civil rights, antiwar, and feminist movements. Born into Boston society in 1923, Jenny Moore rebelled by going to college and later emerged as a writer. At twenty-one, she married Paul Moore, a decorated war hero who became Bishop Paul Moore, and joined him in a socially radical ministry. Eventually, they had nine children. "Everything was just starting," Jenny protested—meaning a new independent life inspired by the women's rights movement—when she was diagnosed with cancer at fifty.
Jenny bequeathed her eldest daughter her unfinished writing, and there Honor Moore finds the mother whose loss had long haunted her. Our Revolution is a gripping account of two women navigating the twentieth century and a daughter's story of the mother who shaped her life as an artist and a woman. 
"Gripping and profoundly moving, Our Revolution is also a signal contribution to feminism." —Carol Gilligan, coauthor of Why Does Patriarchy Persist?
Women's Liberation!: Feminist Writings that Inspired a Revolution & Still Can is an anthology edited by Alix Kates Shulman and Honor Moore. These two pioneering feminists present a groundbreaking collection recovering a generation's revolutionary insights for today.
When Betty Friedan published The Feminine Mystique in 1963, the book exploded into women's consciousness. Before the decade was out, what had begun as a campaign for women's civil rights transformed into a diverse and revolutionary movement for freedom and social justice that challenged many aspects of everyday life long accepted as fixed: work, birth control and abortion, childcare and housework, gender, class, and race, art and literature, sexuality and identity, rape and domestic violence, sexual harassment, pornography, and more. This was the women's liberation movement, and writing—powerful, personal, and prophetic—was its beating heart. 
Fifty years on, in the age of #MeToo and Black Lives Matter, this visionary and radical writing is as relevant and urgently needed as ever, ready to inspire a new generation of feminists. Activists and writers Alix Kates Shulman and Honor Moore have gathered an unprecedented collection of works—many long out-of-print and hard to find—that catalyzed and propelled the women's liberation movement. Ranging from Friedan's Feminine Mystique to Backlash, Susan Faludi's Reagan-era requiem, and framed by Shulman and Moore with an introduction and headnotes that provide historical and personal context, the anthology reveals the crucial role of Black feminists and other women of color in a decades long mass movement that not only brought about fundamental changes in American life—changes too often taken for granted today—but envisioned a thoroughgoing revolution in society and consciousness still to be achieved.