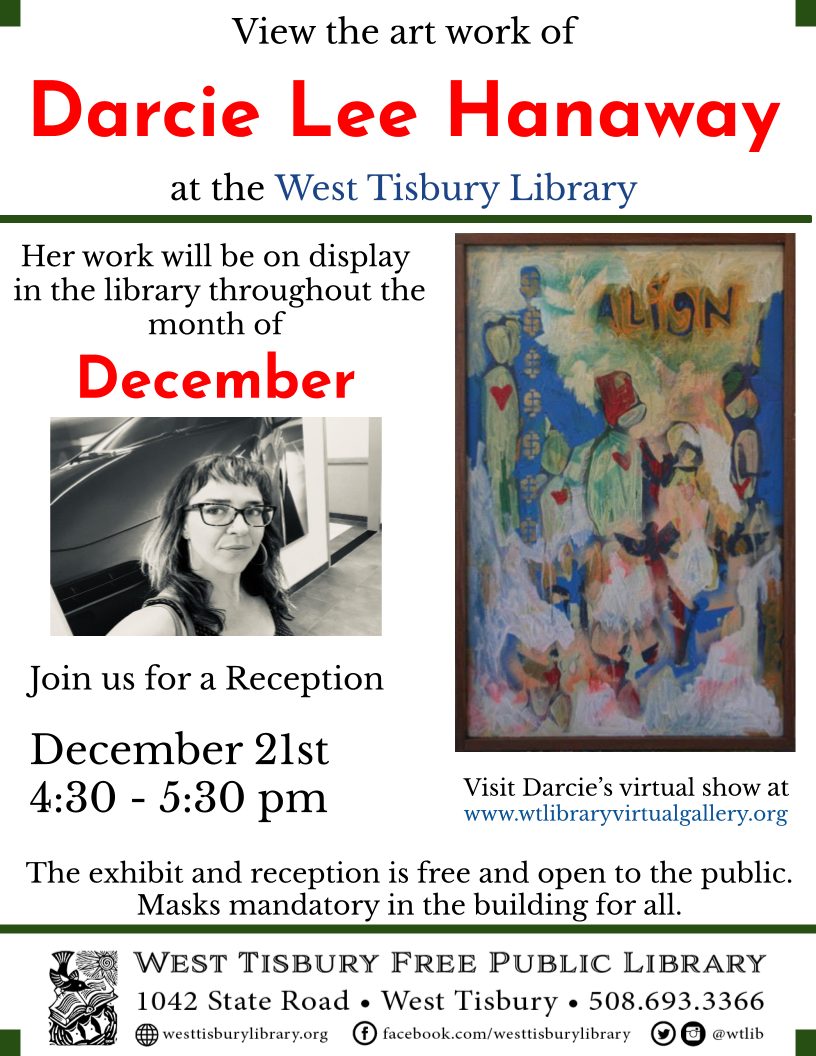 Artist Reception: Darcie Lee Hanaway
Mixed media artist Darcie Lee Hanaway is showing her big, bold and stimulating paintings in December in the West Tisbury Library Community Room gallery and on the West Tisbury Library Virtual Gallery. The show, titled Energetic Response, reflects the artist's reaction, captured on canvas and wood panel, to a stimulus, a moment in time.
Inspired by fragments that speak of history, family and love, Darcie Lee scours thrift shops and yard sales for texture to add to her paintings. She sees these fragments as stories that desire to keep being told. Darcie Lee says her pieces come alive thanks to the layering of this psychic scaffolding, her own energetic response to the physical pieces as she works, and a moment of serendipity, emotional connection or release.
Darcie Lee has been living and working on Martha's Vineyard for over 15 years. In addition to her art, Darcie Lee owns and operates a garden design and maintenance company that focuses on empowering women through occupational opportunity and horticultural therapy. She believes the way to a more unified future is through environmental consciousness and connection, as well as instilling confidence, faith, courage and community to women. "Women are the mechanism to nurture all of the world's people, and to restore the mental disfiguration that results from fear-driven societies," she says.
Darcie Lee is currently pursuing a master's degree in The Business of Art and Design from The Maryland Institute College of Art, (MICA) in Baltimore. She is the mother of a 5 year old son and lives in West Tisbury. As the show was installed in the Community Room, Darcie Lee was busy at sea, transporting a 62' Oyster yacht from Bermuda to Tortola.
The art show is free and open to the public during library hours, which are from 10 a.m. to 6 on Monday through Thursday, 10 to 5 on Friday and Saturday, and noon to 4 p.m on Sunday. The public is also welcome to join us for an artist's reception to be held on December 21 from 4:30 to 5:30 p.m.