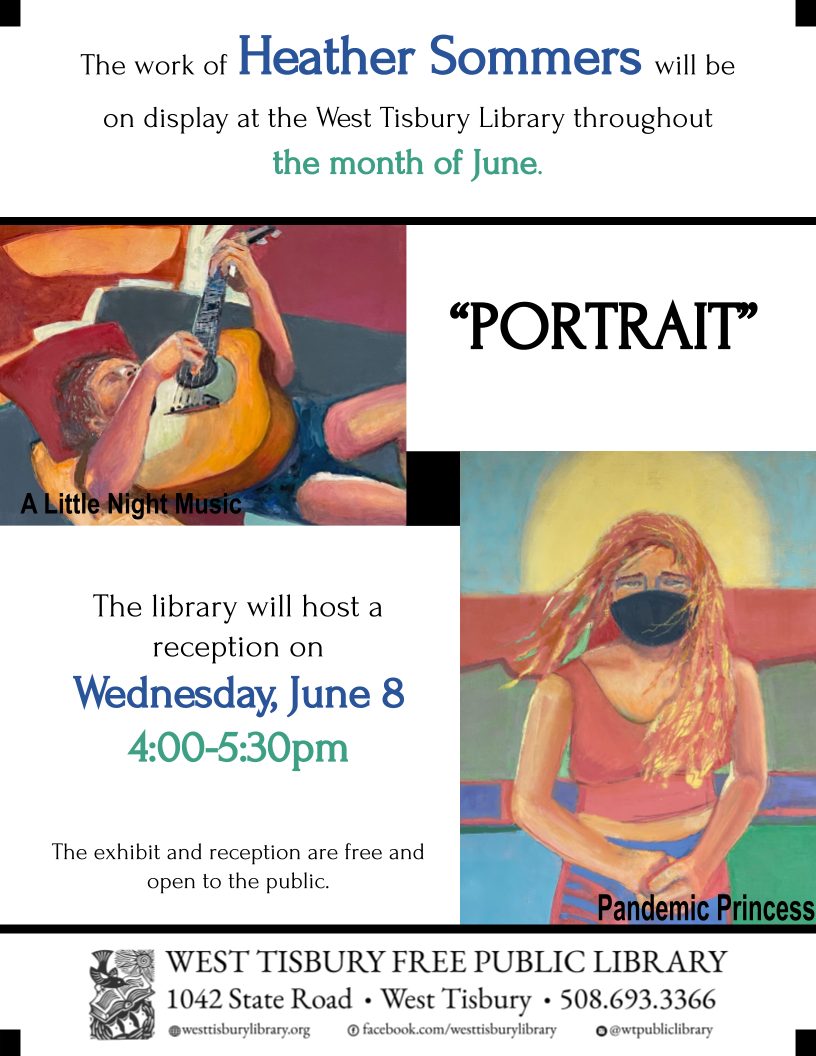 Art Reception: Heather Sommers
On Wednesday, June 8, from 4-5:30pm, the West Tisbury Library will host a reception featuring the artwork of Heather Sommers. Heather's paintings will be on display in the Community Room throughout the month of June. The exhibit and reception are free and open to the public.
---
 A REFRESHING CHANGE
Heather Sommers, Chilmark resident and sculptor, will show her new paintings, Portraits, for the month of June in the West Tisbury Library Community Room gallery.
In 2021, Heather turned away from clay sculpture, dismantled her studio and took up painting, switching from a 3-dimensional medium to a 2-dimensional medium. Working in cold wax and oil paint, she chose portraiture as a subject, and family members for the personal connection.
As a professional artist, Heather exhibited her sculpture in local and regional galleries, participated in craft fairs and juried national shows, helped curate exhibits in galleries and museums, and taught art.
 "Those years of self-promotion are now over," she says. "I am onto a new trajectory. I enjoy the challenge of mastering a new skill. During my years as a sculptor I was thinking in volume, weight, and surface texture. I was very aware of objects in space.  Now that I paint I am seeing color like I never did before. I have a richer  visual experience  of the world around me and a new outlet for creative expression."
The art show Portraits is free and open to the public during library hours, which are from 10 a.m. to 6 on Monday through Thursday, 10 to 5 on Friday and Saturday, and noon to 4 p.m on Sunday. A public reception for the artist will  be held Wednesday, June 8 from 4 to 5:30 p.m.
The show can also be viewed online at  www.wtlibraryvirtualgallery.org