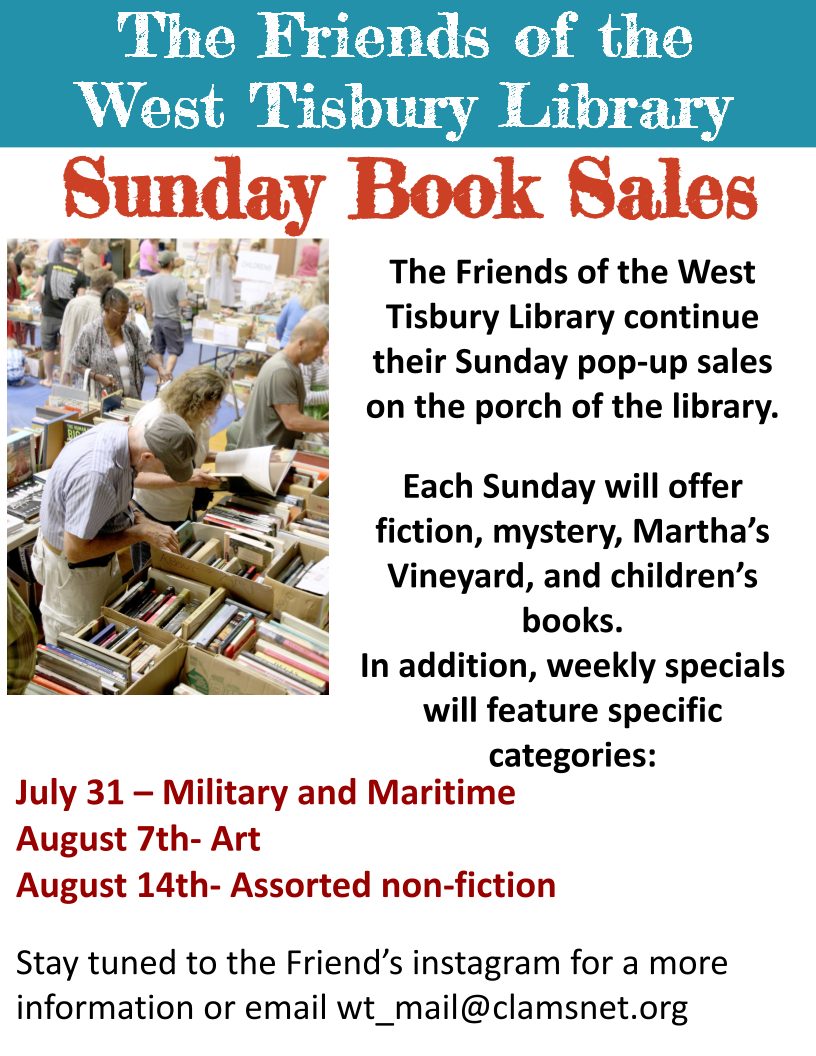 Annual Friends of the West Tisbury Library Book Sale (outdoors at the library, weather permitting)
The annual Friends of the West Tisbury Library book sale will be back but in a different format, location, and schedule.  For those who wish to continue supporting the library, we will be selling gently-used books through smaller sales.
Beginning Sunday, July 10, 2022, 12-4 p.m., weather permitting, weekly pop-up sales will be held in the parking lot and on the porches of the West Tisbury Library on State Road opposite Alley's General Store. 
Each Sunday will offer fiction, mystery, Martha's Vineyard, and children's books.  
In addition, weekly specials will feature specific categories:  
July 10 – Cookbooks

July 17 – Biography

July 24 – Gardening

July 31 – Military and Maritime

August 7 – Art
August 14 – Assorted non-fiction
On the final book sale date, August 14, books will be sold by the bag! Fit all the books you can in your paper shopping bag ($15), recyclable shopping bag ($20), large boat bag ($25), or Ikea bag ($30). Please bring your own bag.
Follow the Friends on Instagram at https://www.instagram.com/friendsofthewesttisburylibrary/
For more information, also check the West Tisbury Library at https://westtisburylibrary.org/publiclibrary/