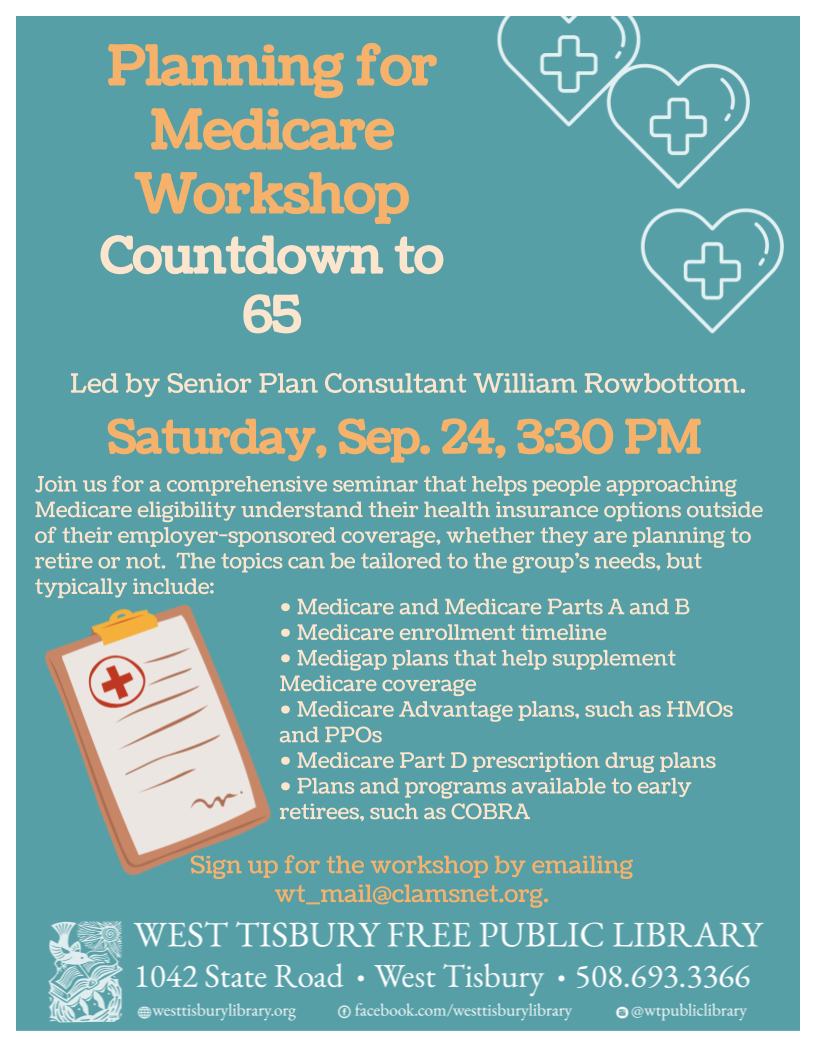 Planning for Medicare – Countdown to 65
On Saturday, September 24, 3:30pm, at the West Tisbury Library, Senior Plan Consultant William Rowbottom will lead a workshop, "Planning for Medicare – Countdown to 65." Please sign up by emailing wt_mail@clamsnet.org. Free and open to the public.
Planning for Medicare-Countdown to 65 is a comprehensive worksite seminar that helps people approaching Medicare eligibility understand their health insurance options outside of their employer-sponsored coverage, whether they are planning to retire or not. Many employees need help understanding the coverage options available to them when they approach Medicare eligibility. This is especially true for those that plan to retire and are leaving their employer-sponsored coverage. For these employees, retirement may be the first time they don't have a Human Resources representative helping to explain their health plan. The Planning for Medicare— Countdown to 65 seminar helps your employees make an informed decision about their individual health coverage options.
The topics can be tailored to your group's needs, but typically include:
Medicare and Medicare Parts A and B

Medicare enrollment timeline

Medigap plans that help supplement Medicare coverage

Medicare Advantage plans, such as HMOs and PPOs

Medicare Part D prescription drug plans

Plans and programs available to early retirees, such as COBRA
About the speaker:
Bill Rowbottom has worked for Blue Cross Blue Shield for the past 20 years.  The first 17 years as an Account Service Consultant working with both active and retired municipal employees educating them about their benefits and any changes that may occur from year to year.  He has also co-presented with representatives from Social Security and is well educated on Medicare.  Three years ago, Bill transferred into the Senior Market area as a Senior Market Consultant.  He travels all over the state visiting Council on Aging as well as Senior Centers doing presentations on Medicare and insurance that you can add to medicare.  He also offers presentations on Blue Cross products for Blue Cross at events held at local hotels and libraries throughout Massachusetts, educating people who are approaching Medicare age or even Seniors who already have obtained Medicare and may be looking to make a change to their current additional insurance that they have added to Original Medicare.