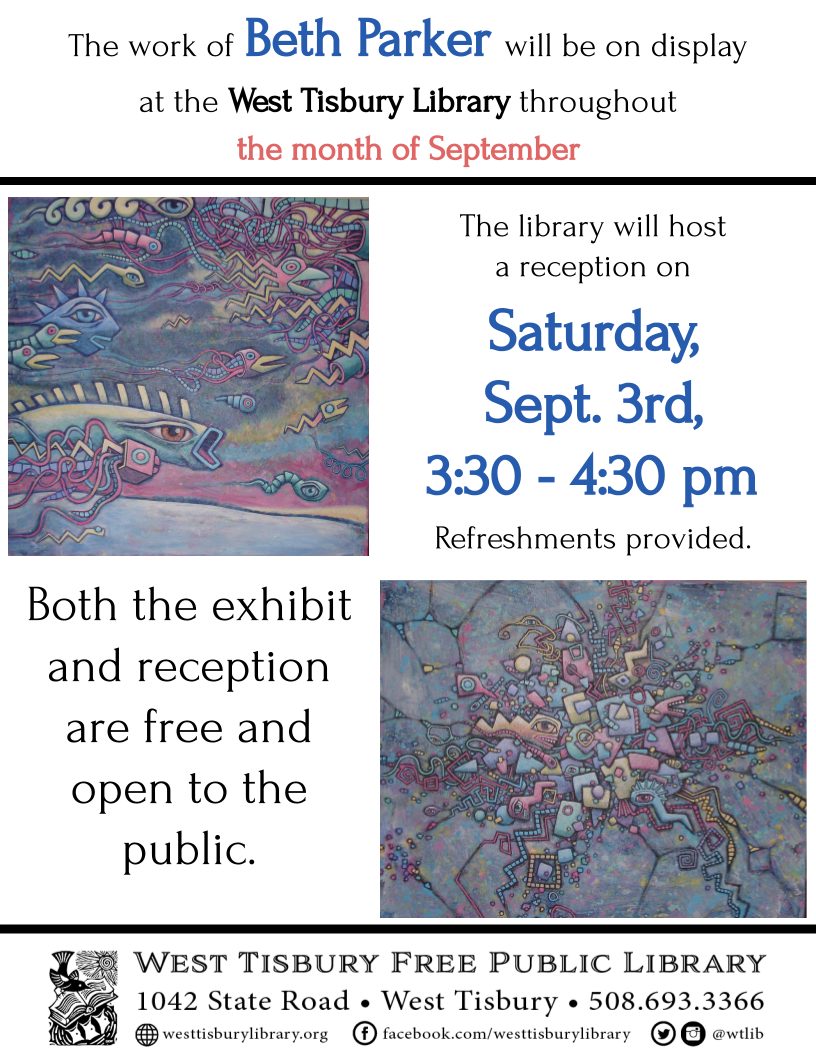 Art Reception: Beth Parker
On Saturday, September 3rd from 3:30-4:30 pm, all are invited to an art reception at the West Tisbury Library featuring the work of Island artist Beth Parker. Beth's paintings will be on display in the library's Community Room throughout the month of September. The reception is free and open to the public. Refreshments will be served. 
About the artist:
"I studied art at the Corcoran School of Art in Washington, DC. in the 1970s. At present I work seasonally as a gardener and nursery-worker, painting a little during the growing season and a lot during the winter. The Covid lockdown was a particularly productive time. 
The same basic forms have been showing up in my paintings and drawings since I was in my teens. Periodically the objects depicted are houses, animals or plants, but they reside in the same world as the more abstract forms. The paintings of all my phases, to me, are landscapes. Of somewhere.
Lots of things flit through my mind as I paint—outer space, underwater, alien aquariums, sci-fi rush-hour. The Big Bang, floor sweepings, junk DNA, virus fragments, microscopic views of beach sand or household dust. Creatures on the move, running away, running toward. I don't have names for these characters and abstract forms. Just these guys and those guys. Creatures not ruled by gravity.  
Ultimately, the painting, rather than some notion of what it depicts, determines the next move.
The paintings are acrylic paint & sealed pastel on canvas.
My work is in various private collections, and ten paintings are at the MV Hospital."
Previous Shows:
1976  Image Gallery, Stockbridge, MA
1977  Art Worker's Guild, Vineyard Haven
1983  Henri Gallery, Washington DC
1986, 1989  On The Vineyard Gallery, Vineyard Haven
1991  Wrenn Gallery, Vineyard Haven
1995  Café Moxie, Vineyard Haven
2015  Chilmark Free Public Library
2016, 2019  A Gallery, Oak Bluffs & West Tisbury
2020  West Tisbury Free Public Library (show taken down early because of Covid lockdown!)
2021  Pathways Arts, Chilmark
2019-present  Dark Horse, Scarsdale, NY
2022 various group shows at Featherstone Center for the Arts