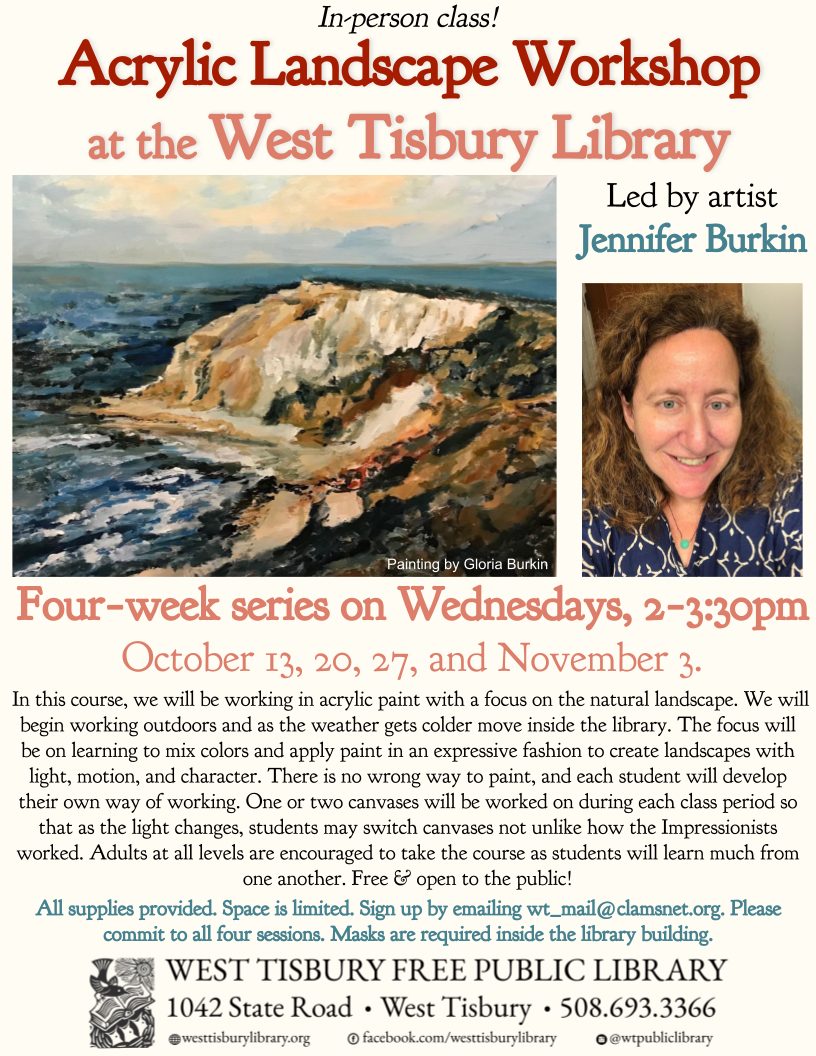 CLASS FULL! Acrylic Landscape Workshop
CLASS FULL!
Starting October 13th, the West Tisbury Library will host a four-week, in-person acrylic landscape painting workshop series with Jennifer Burkin on Wednesdays from 2-3:30pm. Most classes will meet outdoors. Masks will be required inside the library. Please contact wt_mail@clamsnet.org to sign up. Space is limited to 10 participants. Participants are asked to commit to all four sessions: 10/13, 10/20, 10/27, and 11/3. All supplies will be provided. Free and open to the public!
About the class:
In this course, we will be working in acrylic paint with a focus on the natural landscape. We will begin working outdoors and as the weather gets colder move inside the library. The focus will be on learning to mix colors and apply paint in an expressive fashion to create landscapes with light, motion, and character. There is no wrong way to paint, and each student will develop their own way of working. One or two canvases will be worked on during each class period so that as the light changes, students may switch canvases not unlike how the Impressionists worked. Adults at all levels are encouraged to take the course as students will learn much from one another.
About the instructor:
Jennifer Burkin has been an artist and an art educator for over thirty years. She lives in Chilmark making art and teaching drawing, painting, printmaking and mixed media to both children and adults. Her own work focuses on images from her childhood, the natural world, as well as her black lab. During the winter of 2020, she designed a line of nautical themed notecards that are for sale on the Island in more than 12 stores.