"Wednesday Night and All that Jazz" with WMVY's Dave Kish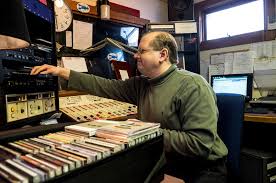 "Wednesday Night and All that Jazz"
Wednesday, July 27 at 5:00pm, the West Tisbury Library and WMVY present his monthly jazz-themed evening.   Dave will show the film Thunder Soul with a discussion to follow. Refreshments will be served. This lively event is free and open to the public.
Thunder Soul is the inspiring, music filled true story of high school band leader "Prof" Johnson, who took a ragtag jazz band and transformed them into the legendary funk powerhouse that took the nation by storm. Now decades later, "Prof's" students prepare to gather and celebrate the man who taught them about pride, honor and the power of a deep groove in this unforgettable true story
Dave has hosted "Sunday Morning & All That Jazz" since the spring of 1997, and has always been a champion of all types of jazz, old and new, from all parts of the globe. Always willing to take chances, Dave has greatly expanded his range to include extensive features on jazz vocalists, Bossa Nova, African funk, vintage soul, Latin and European jazz, among many other types of improvised music. A summer resident of the Vineyard since the late Sixties, Dave settled here in 1989. He wrote music reviews for the Martha's Vineyard Times for many years, and hosted a weekly Sunday afternoon Jazz jam at the Wintertide Coffeehouse in Vineyard Haven, acting as an emcee for many talented musicians, and spinning many gems from his collection in between sets.