Virtual Yoga: All-Levels Kripalu Flow Class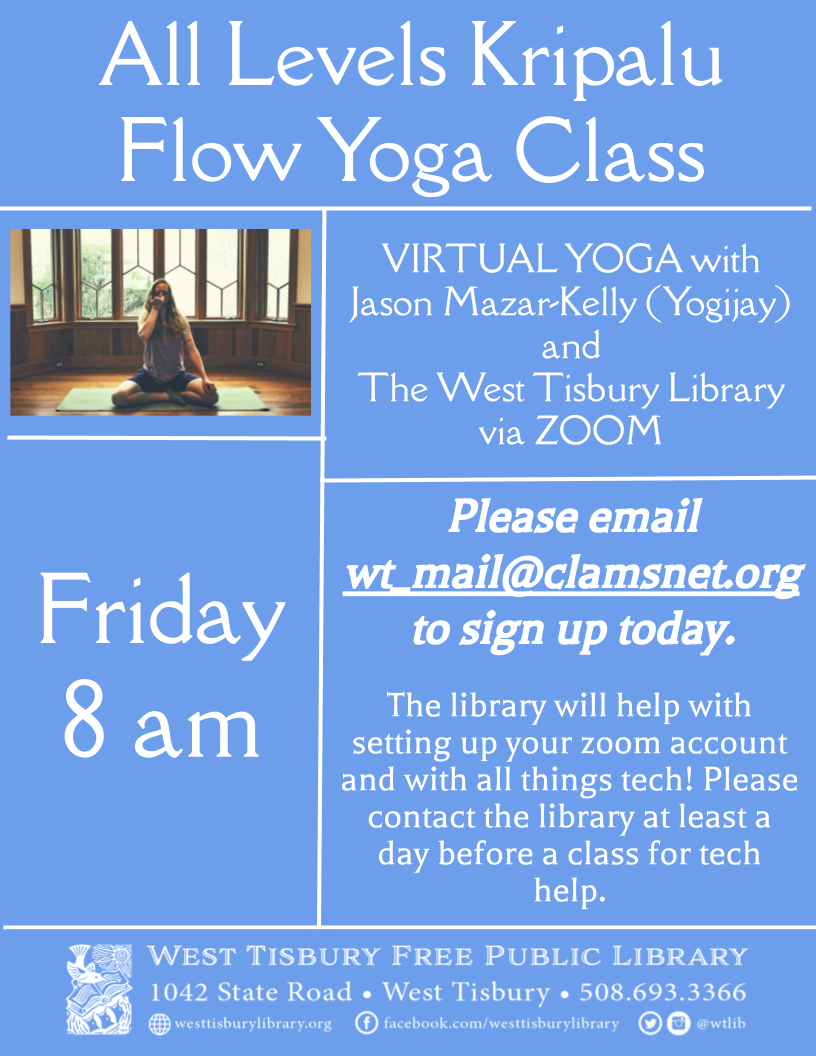 All-Levels Kripalu Flow Class
Virtual Yoga Hosted by the West Tisbury Library
Starting Friday, March 27 at 8am, the West Tisbury Library will host an online all-levels Kripalu Flow Class led by Jason Mazar-Kelly (Yogijay). Classes will meet virtually through Zoom on Fridays at 8am. This class is focused on soothing the nervous system through a combination of movement, breathwork, and meditation. This class is accessible to all levels and is a fun way to wake up while starting the day with a sense of peace in these times of uncertainty. Sign up is required. Please contact wt_mail@clamsnet.org to sign up. Free and open to the public!
About the instructor:
Jason is a certified yoga instructor, mindfulness consultant, business consultant, private chef, and CPA. From meditation and breathwork to hot vinyasa and pranic flows, Jason likes to share a variety of tools and techniques with practitioners at all levels. At the age of 12, Jason was diagnosed with severe obsessive compulsive disorder (OCD). For the majority of his teenage years he struggled with OCD until finding yoga and mindfulness therapy. The practices he shares are practices he has worked with since 2011. Since 2014, he has shared these practices with communities around New England. His practices have been discovered through personal inquiry as well as through training, research, and mentorships. He will not only challenge you physically but will also challenge you to go deeper, to step into rigorous personal inquiry, and to engage with sensation. Discover the sweetness that comes from stepping outside of your comfort zone and into being fully alive.