Teen/Tween Art Class!
Is yo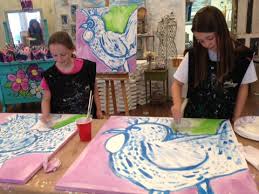 ur teen feeling creative or needing creative inspiration? Beginning Wednesday, July 20th at 4:00pm, the West Tisbury Library will host a 4 week free tween/teen art class with Mariah MacGregor.
July 20th Drawing: fantasy & reality experimenting with traditional drawing techniques such as perspective and shading we will draw things from observation as well as from our imaginations.
July 27th Collage/mixed media: self portrait using collage techniques such as ripping, cutting, layering and mixing media we will create some sort of 'self portrait'.
August 3rd Watercolor: galaxies and oceans learn some of the many watercolor techniques such as masking, washes, salt and dry vs wet. Some of these techniques lend themselves to painting galaxies and oceans.
August 10th Collaborative recycled materials sculpture: Trash into treasure. Artists are constantly transforming materials. What can we make out of objects that other people consider trash? We will be working as a group to create a sculpture out of recycled objects
Pre-register at the library as class space is limited. All art supplies are included.
This event is free and open to the public.