Storytime Yoga!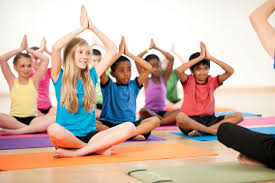 STORYTIME YOGA AT THE WEST TISBURY LIBRARY
Thursday, July 7th and August 4th at 10:30, the West Tisbury Library will host a Pre-school Storytime Yoga for children 4 and younger. Stories and songs and yoga! Come and join yoga instructor Fallon Aiello who will guide this fun class! This event is free and open to the public. Please pre-register at the front desk as space is limited.
Born and raised on Martha's Vineyard, Fallon moved out west to Albuquerque to attend college at the University of New Mexico. While studying Health Education in school, Fallon continued to practice yoga and dance and after earning a BS in Health Education, she moved back east before embarking on a journey overseas to Bali and India to study yoga and immerse herself in the culture. She is a certified yoga instructor through Radiantly Alive Yoga, based out of Ubud, Bali, and specializes in prenatal, Mom & Baby and children's yoga. Studying and teaching prenatal/postpartum yoga has given her the utmost respect for women's bodies and she is thrilled to be a part of the powerful connection found in motherhood. Her playful, energetic spirit always carries through to her teachings, and she has seen first hand the numerous benefits that yoga can bring to a child's life. Fallon is a DONA trained birth doula and is honored to support women through the birth process. She is also a proud member of the Vineyard Birth Collective, a collaborative effort between a group of Island women who have created a website for everything pregnancy and birth related on MV. When she isn't yoga-ing, Fallon can be found spending time with her family, including her 2 kids that keep her on her toes(literally!).