cancelled – Killer Cover Letters: A Workshop with Abby Remer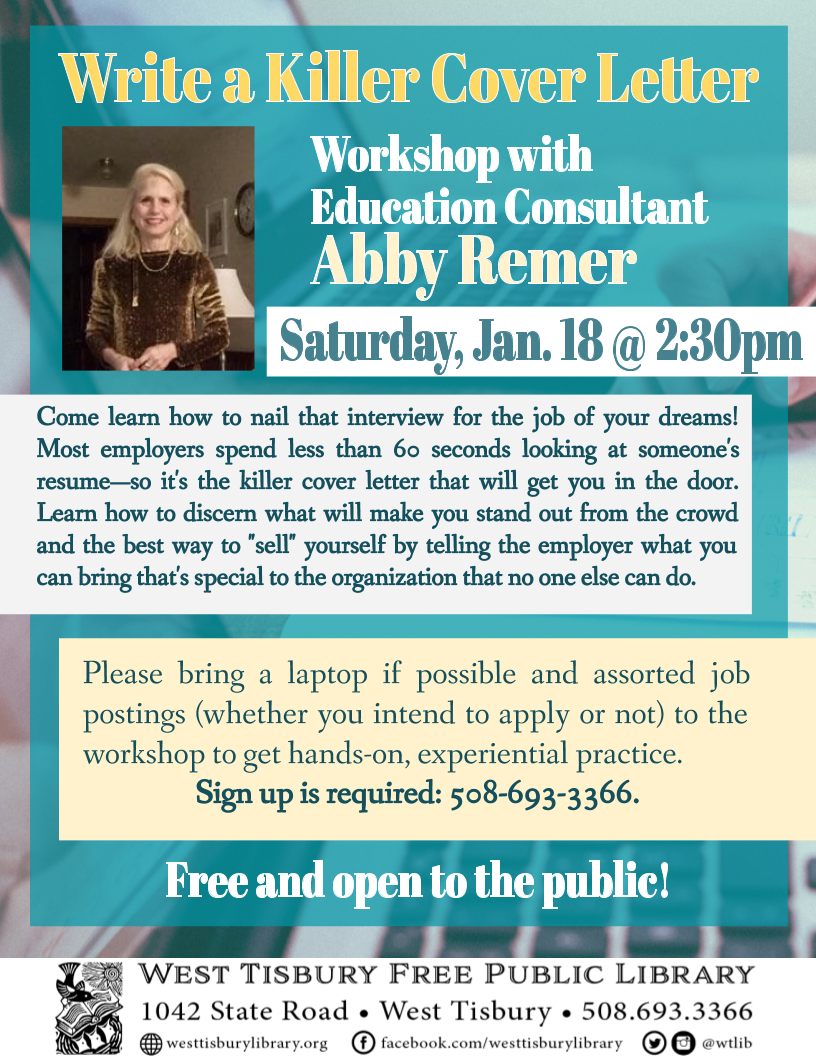 Cancelled. New date TBA!
Killer Cover Letters: A Workshop with Abby Remer
On Saturday, January 18 from 2:30-4:30pm, education consultant Abby Remer will lead a cover letter writing workshop at the West Tisbury Library. Come learn how to nail that interview for the job of your dreams! Most employers spend less than 60 seconds looking at someone's resume—so it's the killer cover letter that will get you in the door. Learn how to discern what will make you stand out from the crowd and the best way to "sell" yourself by telling the employer what you can bring that's special to the organization that no one else can do.
Please bring a laptop if possible and assorted job postings (whether you intend to apply or not) to the workshop to get hands-on practice. Sign up is required. Please contact the library to reserve your space: 508-693-3366. This event is free and open to the public.
About the instructor:
As an education consultant since 1987, Abby Remer offers a wide range of interactive career and workplace workshops that address exploring careers, where to look for and how to apply for jobs, and work readiness skills to become a model employee.
She is also the founding director and lead consultant for the Career Internship Network (CIN), in which she works with some 35 high school career development programs in museums, libraries, corporations, community centers, hospitals, nature conservancies, and others.