Guest Post: Helen M. DeBlase on SMALLER AND SMALLER CIRCLES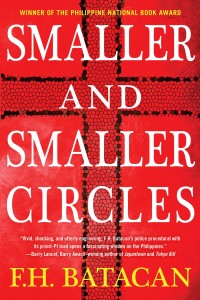 Smaller and Smaller Circles (Soho Crime August 2015) by F.H. Baracan was not the easiest book to read. The murders and gruesome abuse of young boys, the abject poverty, the corruption of government officials and the cynical disregard of Catholic leaders – all in the first chapter – made it difficult to keep reading. However, the appealing main protoganists – two priests, one a forensic anthropologist (I think) – who set out to solve the killings, made the rest of the book more palatable. Plus the writing was very good.
The book is set in the Philippines and Baracan imbues the story with a strong sense of place, as well as a good sense of how people live. I would read more by this author but I hope the next book won't be so gritty.