Guest Post: ChrisD on THE BEEKEEPER'S APPRENTICE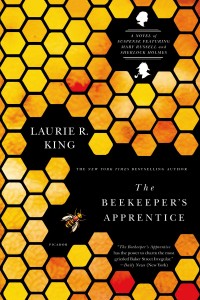 The Beekeeper's Apprentice: or On the Segregation of the Queen by Laurie R. King
The first line of any novel should tantalize, it should make the reader want to keep reading.
"I was fifteen when I first met Sherlock Holmes, fifteen years old with my nose in a book as I walked the Sussex Downs, and nearly stepped on him." This sentence, the first line of "The Beekeeper's Apprentice: or On the Segregation of the Queen," by Laurie R. King, immediately sets up the two main characters and the locale: a young person, a reader, and Sherlock Holmes. What is Sherlock Holmes doing almost prostrate on the ground? He is watching bees, some of which are marked with a red spot and some with a blue. Mary Russell watches with him for a time and then and gives her fluent assessment where he should next place his hives. "My God," he said in a voice of mock wonder, "It can think."
And so begins the first book in a series of the adventures and relationship between the retired detective in his fifties and Mary, a young girl more than thirty years his junior but with an intelligence and curiosity equal to his own. For the two years prior to Mary's entrance to Oxford University the pair meet frequently. Sherlock becomes her tutor in the many sciences and arts of detecting. At Oxford, Mary reads both Chemistry and Religion becoming involved in the Drama Society where she expands her adeptness at makeup and disguise.
Although almost all of Sir Arthur Conan Doyle's stories of Holmes are set in the late 19th century, this novel takes place in the early 20th century. Laurie R. King gives the reader an excellent characterization of those years both in relation to Holmes' use of the early technology of the time – the telegraph, the automobile and the use of fingerprints to solve a case – and the status and limitations of women with which Mary Russell must deal.
This novel tells the journey of Mary Russell from student, to apprentice, to true partner. The subsequent novels in the series portray the adventures the pair embark on.
chrisd