"Transforming Our Approach to Health" Talk w/ Alison Rose Levy & Liz Witham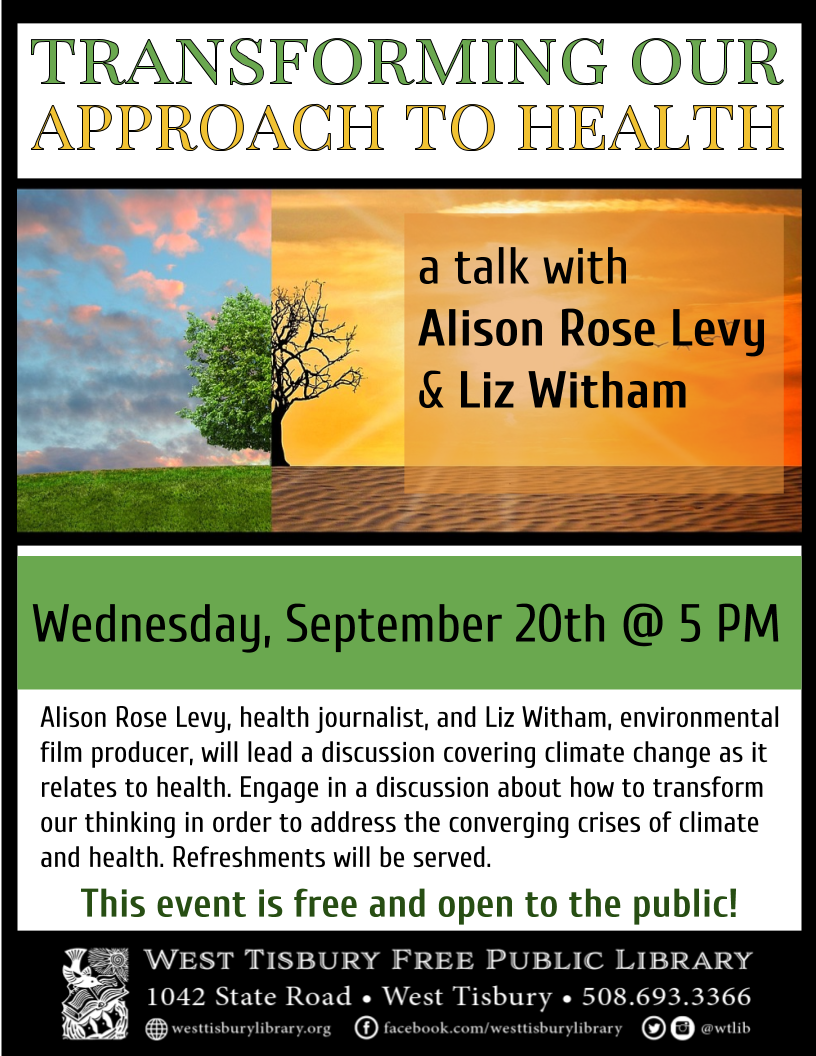 "Transforming Our Approach to Health"
A Discussion with Alison Rose Levy & Liz Witham
Wednesday, September 20th from 5-6pm at the West Tisbury Library, Alison Rose Levy, health journalist, and Liz Witham, environmental film producer, will lead a discussion covering climate change as it relates to health. Levy asks, "Why are we slouching towards health crisis and climate change and unable to do anything effective to intervene?" Engage in a discussion about how to transform our thinking in order to address the converging crises of climate and health. Refreshments will be served. This event is free and open to the public.
Alison Rose Levy is a journalist covering health, food and the environment since 1995. She hosts the weekly radio podcast, Connect the Dots, which features hour-long conversations with journalists, scientists, advocates, doctors, authors, and thought leaders exploring the symbiotic connection between the state of our health and the ecological stability of the earth.
Liz Witham is a co-founder of Film-Truth productions, and has produced and directed many films on the environment, climate, local sustainability, and the local food movement. She and her husband Ken Wentworth are currently fundraising to complete Keepers of the Light, a documentary on the Gay Head Lighthouse.