The Power to Heal: Medicare and the Civil Rights Revolution – Film Screening & Discussion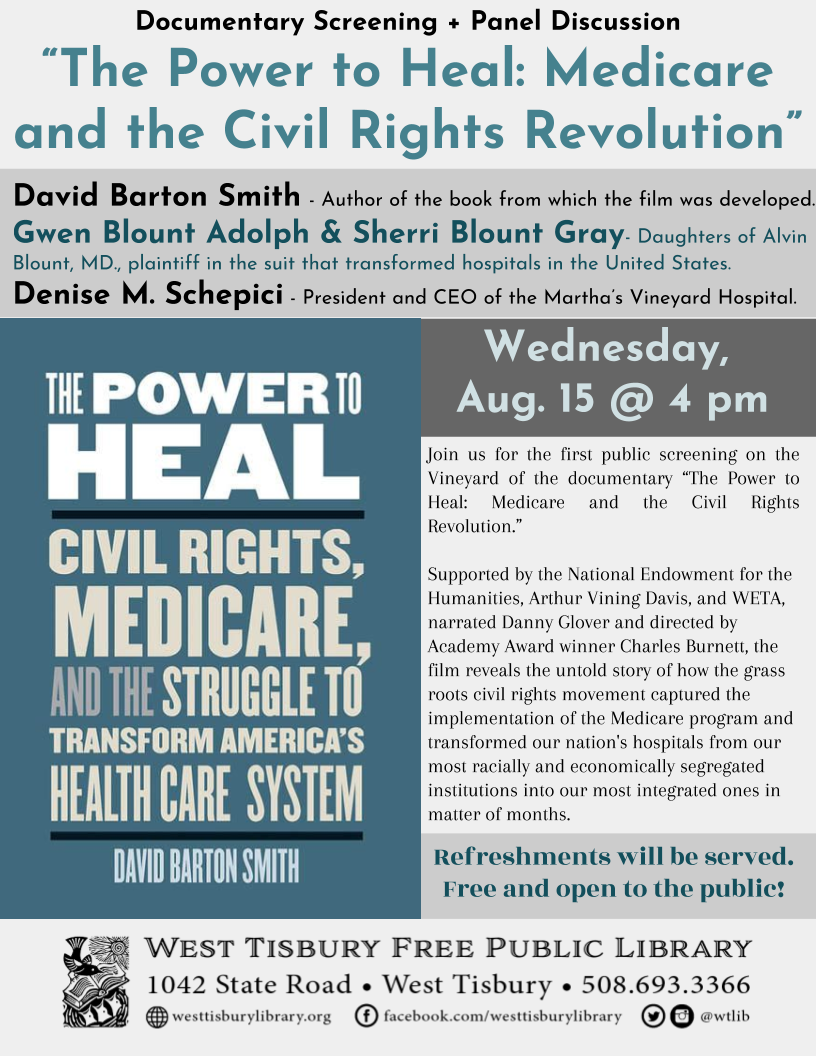 The Power to Heal: Medicare and the Civil Rights Revolution
A Film Screening & Discussion
Wednesday, August 15th at 4:00 pm at the West Tisbury Library, David Barton Smith will present the first public screening on the Vineyard of the documentary, "The Power to Heal: Medicare and the Civil Rights Revolution." Supported by the National Endowment for the Humanities, Arthur Vining Davis, and WETA, narrated Danny Glover and directed by Academy Award winner Charles Burnett, the film reveals the untold story of how the grass roots civil rights movement captured the implementation of the Medicare program and transformed our nation's hospitals from our most racially and economically segregated institutions into our most integrated ones in matter of months.
A panel discussion and question and answer session will follow. The panel will include:
David Barton Smith – Author of the book, The Power to Heal, from which the film was developed.
Gwen Blount Adolph & Sherri Blount Gray- Daughters of Alvin Blount, MD., plaintiff in the suit that transformed hospitals in the United States.
Denise M. Schepici – President and CEO of the Martha's Vineyard Hospital.
Copies of the book The Power to Heal will be available for purchase and signing. Refreshments will be served. This event is free and open to the public.
David Barton Smith is an Emeritus Professor at Temple and Research Professor at Drexel's Health Management and Policy Department. He was the recipient of a 1995 RWJ Health Policy Research Investigator Award to study the racial desegregation of America's hospitals. His most recent book, The Power to Heal: Civil Rights, Medicare and the Struggle to Transform America's Health System, Vanderbilt University Press, received the Goldberg Prize for the year's best book in the area of medicine. He assisted in the development of the related documentary.