"The Opportunity of Chronic Illness" Workshop: How Chronic Illness, Cancer & Lyme Disease Can Be An Opportunity for Self Transformation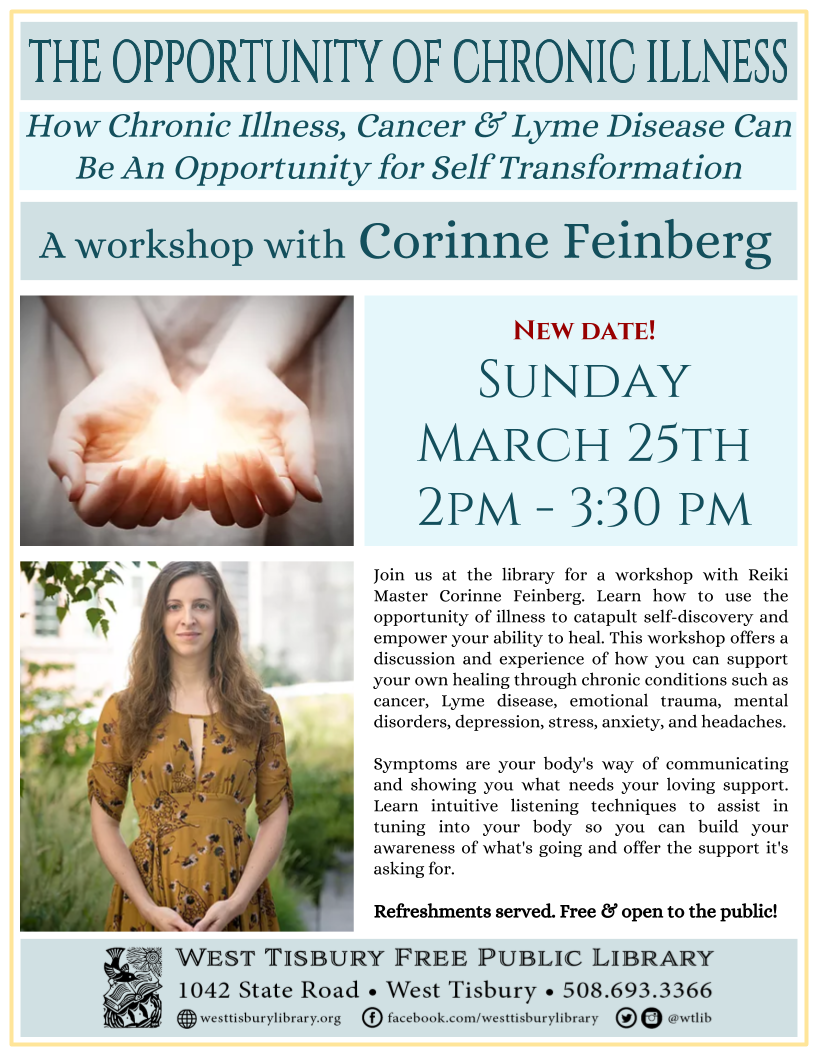 New date! On Sunday, March 25 from 2-3:30pm, join us at the West Tisbury Library for a workshop with Reiki Master Corinne Feinberg. Learn how to use the opportunity of illness to catapult self-discovery and empower your ability to heal. This workshop offers a discussion and experience of how you can support your own healing through chronic conditions such as cancer, Lyme disease, emotional trauma, mental disorders, depression, stress, anxiety, and headaches. Symptoms are your body's way of communicating and showing you what needs your loving support. Learn intuitive listening techniques to assist in tuning into your body so you can build your awareness of what's going and offer the support it's asking for. No sign up required! This workshop is free and open to the public. Refreshments will be served.
The workshop will begin with Corinne's journey with Chronic Lyme Disease and how Reiki energy healing helped her to find relief from symptoms and ultimate healing from the disease within 3 short months. She has been symptom free for 5.5 years and now supports others going through challenging illnesses to find their ability to heal. Corinne will share her experience working with clients moving through chronic illness, cancer, Lyme Disease, and trauma, and the common chakra imbalances they share as well as how to use illness as an opportunity for self-empowerment. The class will then be guided through exercises to quiet the mind and tune into feeling to communicate with what the body is trying to share through symptoms, how to decipher a yes and no response in the body to tap into intuition and provide guidance from a place of higher awareness, and a Holy Fire Reiki experience to provide healing, connection with Divine Source, and turn off fight or flight in the body. There will be time to share your experience from the exercises and ask questions throughout the workshop.
Corinne Feinberg of Pathlight Healing is a certified Reiki Master and Teacher in the tradition of Usui/Holy Fire II Reiki® and Karuna Holy Fire II Reiki®, an herbalist trained in the Wise Women tradition of plant spirit medicine, Kripalu-certified yoga teacher & apprenticed crystal bowl sound healer. Corinne's passion for the healing arts began with seeking alternative modalities to support her journey through Chronic Lyme Disease. It was the gift of Reiki energy healing that lead Corinne to experience freedom from her symptoms and ultimately healed her from the disease. Since then, Corinne has found her passion in offering the gift of alternative healing methods to those who are open, ready, and willing to move through a deep healing process. Her clientele includes those working through chronic illness, autoimmune disorders, emotional and childhood trauma, sexual abuse, and intuitive awareness and self-discovery to lead a purpose-driven life. Corinne travels throughout New England, New York state and southern California offering classes and seeing clients privately in addition to working with clients remotely across the country and internationally. She has been fortunate to share her work at places like Space by Mama Medicine in New York City and Spaulding Rehabilitation Network's Dean Center for Tick Borne Illness in Boston, and to have been featured in Reiki News Magazine's Fall 2013 issue for her journey through Lyme Disease, as well as interviewed on Mind Body Green and Garden Collage. For more information, please visit pathlighthealing.com.