The Gaze from the Bicycle: Photography Presentation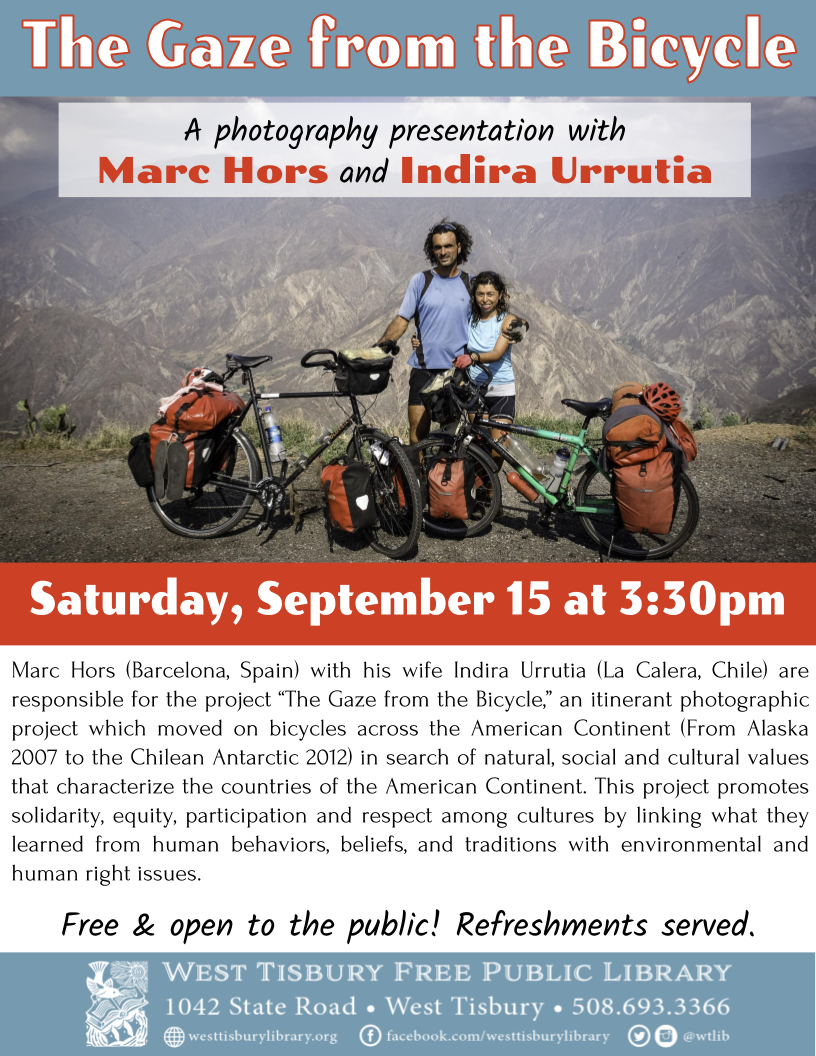 The Gaze from the Bicycle:
A Photography Presentation
On Saturday, September 15 at 3:30pm, the West Tisbury Library will host "The Gaze from the Bicycle," a presentation with special guest photographers, Marc Hors and Indira Urrutia. Marc (Barcelona, Spain) with his wife Indira (La Calera, Chile) will present their photographic project that was created as they traveled on bicycles across the American Continent (from Alaska 2007 to the Chilean Antarctic 2012) in search of natural, social, and cultural values that characterize the countries of the continent. Their project promotes solidarity, equity, participation, and respect among cultures by linking what they learned from human behaviors, beliefs, and traditions with environmental and human right issues. Marc and Indira have presented in schools, cultural centers, and universities in order to motivate society to develop a shared sense of awareness, understanding, and respect. This event is free and open to the public. Refreshments will be served.
Marc Hors is a documentary photographer and storyteller dedicated to capturing the social and cultural fabric of our contemporary society in all its splendor, nuance, and terrible beauty. Marc grew up in the outskirts of Barcelona, Spain, and as a teenager, his innate capacity to observe his environment drew him to the art of photography. For him, the act of composing an image from light, and capturing it, was a lifeline to a dream of stepping into many different horizons.

Indira Urrutia is a Chilean born immigrant who moved to New Haven, Connecticut in 1986 with her family. Indira received her B.S. in Studio Art with a focus on photography from Southern Connecticut State University in 1994. Since then, she has followed her passion for photography and explored other formats such as mixed media, installation art, experimental video, and most recently, metal weaving. Her passion for teaching allows her to transmit the importance of free artistic expression in a safe environment and guide the students in experimenting with their own creativity.