Spiritual Entrepreneurship: Contributing, Earning and Thriving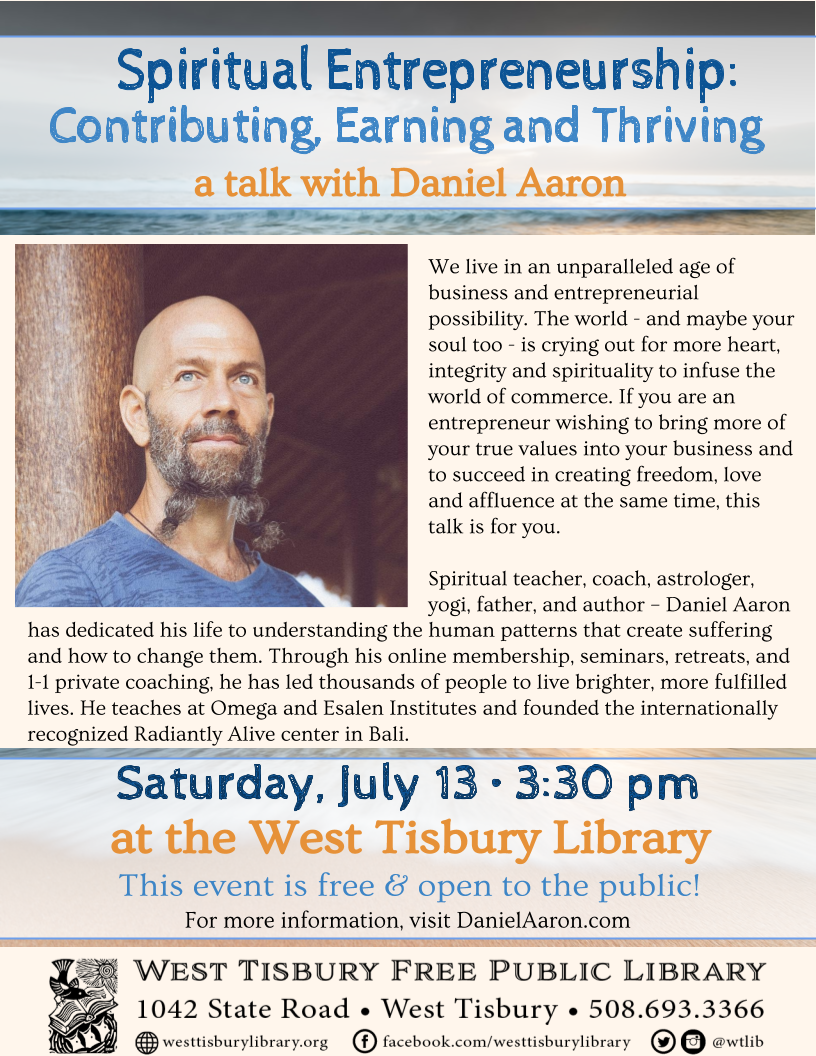 Spiritual Entrepreneurship: Contributing, Earning and Thriving
A Talk with Daniel Aaron
On Saturday, July 13 at 3:30pm, join us at the West Tisbury Library for a presentation about Spiritual Entrepreneurship with Daniel Aaron. We live in an unparalleled age of business and entrepreneurial possibility. The world – and maybe your soul too – is crying out for more heart, integrity and spirituality to infuse the world of commerce. If you are an entrepreneur wishing to bring more of your true values into your business and to succeed in creating freedom, love and affluence at the same time, this talk is for you. Refreshments will be served. This event is free and open to the public.
About the speaker:
Spiritual teacher, coach, astrologer, yogi, father, and author – Daniel Aaron has dedicated his life to understanding the human patterns that create suffering and how to change them. Through his online membership, seminars, retreats, and 1-1 private coaching, he has led thousands of people to live brighter, more fulfilled lives. He teaches at Omega and Esalen Institutes and founded the internationally recognized Radiantly Alive center in Bali.
He's hardcore about awakening and helping all of us to greater freedom, love and happiness. His experience includes decades of training with the modern masters; ruthless personal and spiritual development; radical therapies, courses and mentorships with enlightened teachers; his own constant self-inquiry, most commonly derived from the ordinary human challenges of his own commitment to kindness, authenticity and masterful service; fathering a 12 year old angel; and founding, running and selling businesses.