CLASS FULL! Reading Great Modern Novels Study Group
When:
February 19, 2020 @ 4:00 pm – 5:30 pm
2020-02-19T16:00:00-05:00
2020-02-19T17:30:00-05:00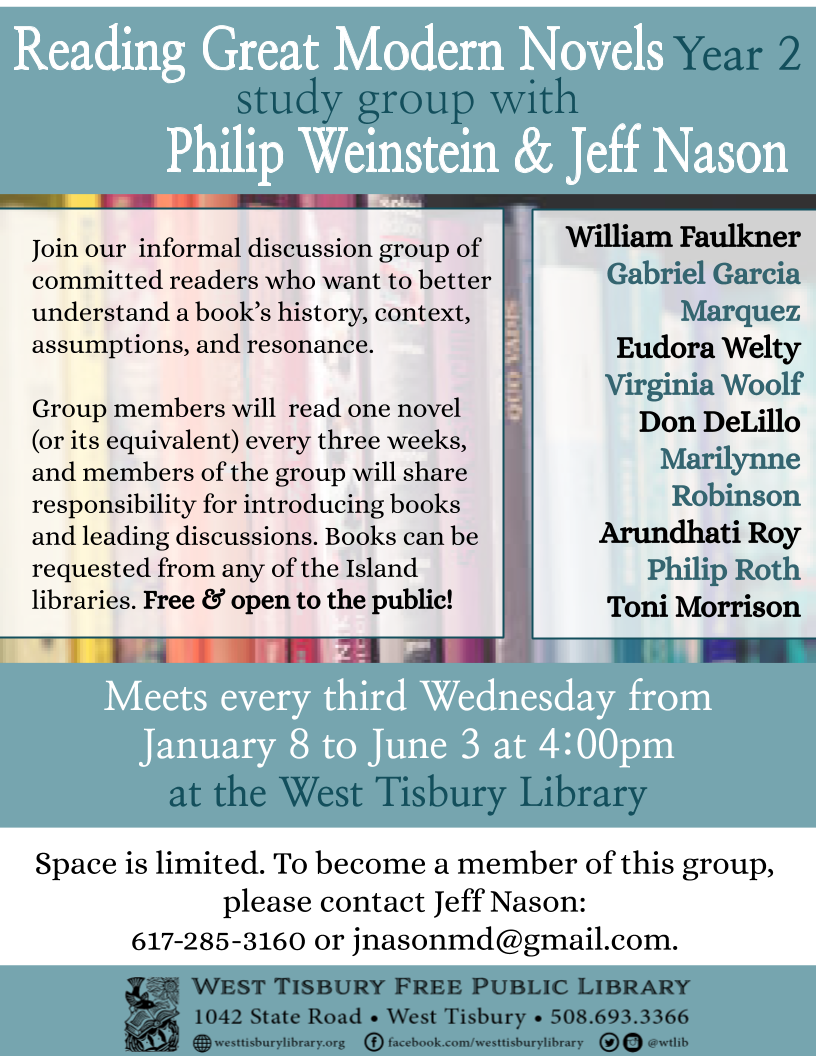 CLASS FULL!
Reading Great Modern Novels Group: Year 2
The West Tisbury Library is pleased to announce Year 2 of the Great Modern Novels Study Group beginning January 8, 2020. This group, organized by Professor Philip Weinstein and Jeff Nason, is a peer study group for people who love to read great modern literature. Last year we read eight books beginning with Flaubert's Madame Bovary and ending with William Faulkner's Light in August. This year we will begin with Faulkner's Absalom, Absalom and then read great novels of the second half of the twentieth century, ending with Toni Morrison's Beloved. The reading list and schedule are below.
This group will meet every three Wednesdays from January 8 to June 3 from 4:00 to 5:30. It is a peer based group, and we will share responsibility for introducing the reading. These discussions are lively and stimulating. As of now, all 12 participants from last year have chosen to continue, but there are a few available spaces for new participants. This group is free and open to all. If you are interested in joining, please contact Jeff Nason as soon as possible: jnasonmd@gmail.com or 617-285-3160.
Reading List and Schedule:
January 8, William Faulkner, Absalom, Absalom.
January 29, Gabriel Garcia Marquez, One Hundred Years of Solitude.
February 19, Eudora Welty, The Optimist's Daughter.
March 11, Don DeLillo, White Noise.
April 1, Marilynne Robinson, Housekeeping.
April 22, Arundhati Roy, The God of Small Things.
May 13, Philip Roth, American Pastoral.
June 3, Toni Morrison, Beloved.