Class Full! "Reading Great Modern Novels" Study Group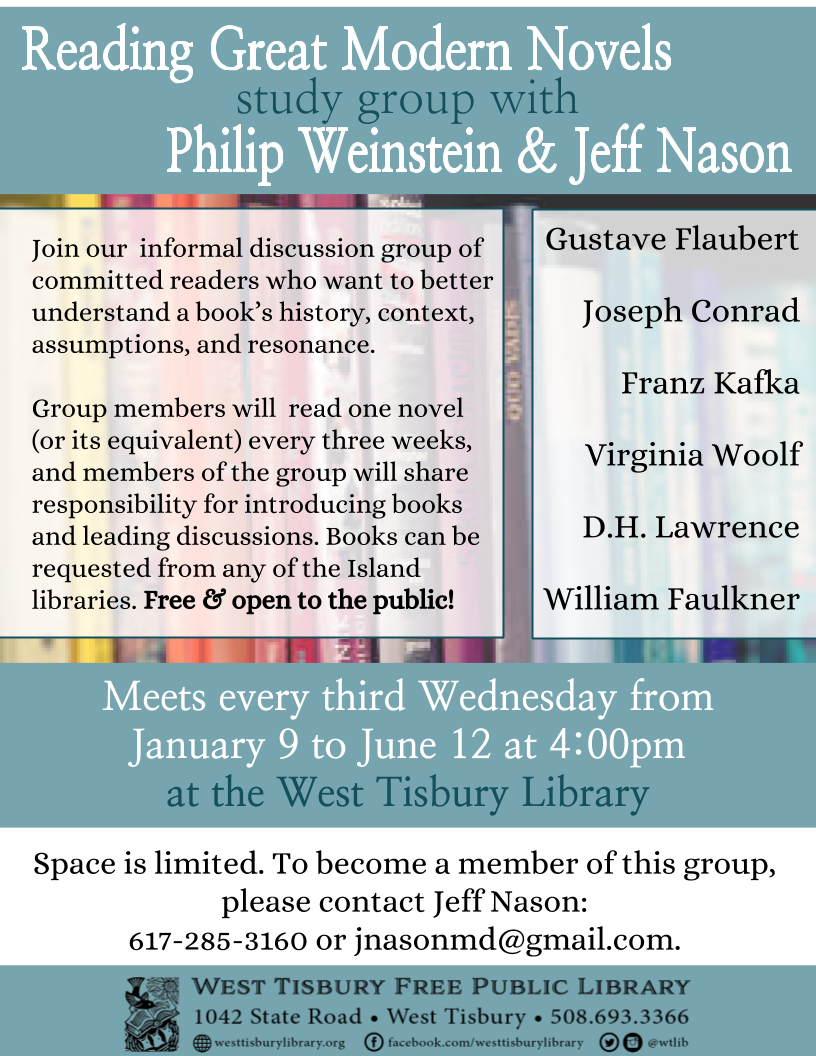 CLASS FULL!
Reading Great Modern Novels
Study Group
Starting Wednesday, January 9th at 4pm, join us at the West Tisbury Library for Reading Great Modern Novels Group! The library is pleased to announce this new reading group, which will meet in the winter and spring of 2019. This will be an informal discussion group of committed readers who want to better understand each book's history, context, assumptions, and resonance. Free and open to the public.
This group will meet for 90 minutes every three Wednesdays from January 9 to June 12 from 4:00 to 5:30. Group members can expect to read one novel (or its equivalent) every three weeks, and members of the group will share responsibility for introducing books and leading discussions. Books can be requested from any of the Island libraries.
Philip Weinstein, a well-known and highly respected literature teacher on our Island and Professor Emeritus at Swarthmore College, is the co-organizer of this discussion group. Phil will not lecture or formally teaching the group, but he will be an active member.
If you are interested in becoming a member in this group, please contact co-organizer Jeff Nason. Membership will be limited to approximately twelve participants. You can reach Jeff at 617-285-3160 or jnasonmd@gmail.com.
Reading list:
January 9 – Gustave Flaubert, Madame Bovary.

January 30 – Joseph Conrad, Heart of Darkness.

February 20 – Joseph Conrad, Lord Jim.

March 13 – Franz Kafka, Metamorphosis, The Judgment, Report to an Academy, The Hunger Artist, A Country Doctor.

March 27 – Franz Kafka, The Trial.

April 24 – D.H. Lawrence, Women in Love.

May 15 – Virginia Woolf, Mrs. Dalloway.

June 12 – William Faulkner, Light in August.