Canceled- Read to Rosebud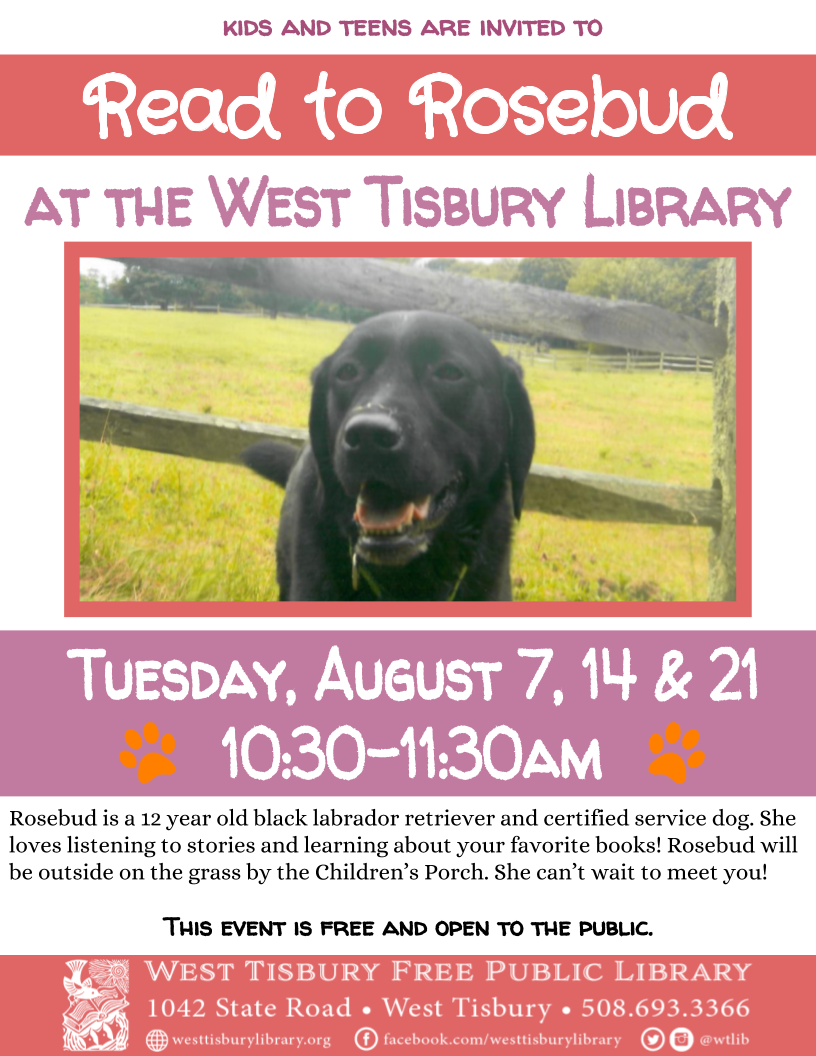 Canceled!
Read to Rosebud at the West Tisbury Library!
This August, kids and teens are invited to the West Tisbury Library to read to Rosebud, a 12 year old black labrador retriever and certified service dog. Rosebud loves listening to stories and learning about your favorite books! Rosebud will be at the library on three Tuesdays – August 7, 14, and 21 from 10:30am-11:30am. This event will be outside on the grass by the Children's Porch. Free and open to the public.
Rosebud's owner is The Honorable Ann Brown, a children's safety advocate and summer resident of the Vineyard for 40 years. She ran a grassroots Consumer Advocacy group in the 1980s and specialized in children's issues. Her group's Christmas Toy Safety Survey was televised nationally and bought children's safety to the national consciousness. She was Chair of the U.S. Consumer Product Safety Commission for 7 years during the Clinton Administration and has won many awards including a Public Safety Advocate's Award from the American Academy of Pediatrics and Government Communication..She is a mother of 2, a grandmother of 4 and a great grandmother of 2.
Rosebud wears an official vest with small corsage. Her speciality is comforting sick children in hospitals.
Reading to dogs programs are commonly offered at public libraries and schools to help strengthen children's reading abilities and love for books. These programs provide a safe space for children to read aloud without the fear of judgement. Reading to dogs has been shown to help boost children's self-esteem, focus, motivation, and confidence, while reducing their anxiety surrounding reading.
From Public Libraries Online:
"The first formal reading-dog program, Reading Education Assistance Dogs (R.E.A.D.), began in late 1999 when the Salt Lake City Public Library began offering "Dog Day Afternoons" to kids ages four to eleven featuring six dogs. Sandi Martin, a critical care nurse and board member of Intermountain Therapy Animals, originated the program, which brought certified therapy dogs into the public library who had previously worked in hospital rehab programs. The program quickly expanded to area elementary schools and can now be found in schools and libraries nationwide."
For more information, please visit: publiclibrariesonline.org/2013/04/paws-for-reading-north-carolina-libraries-go-to-the-dogs/