Online Book Talk with Alice C. Early and Nancy Star
When:
August 4, 2020 @ 4:00 pm – 5:00 pm
2020-08-04T16:00:00-04:00
2020-08-04T17:00:00-04:00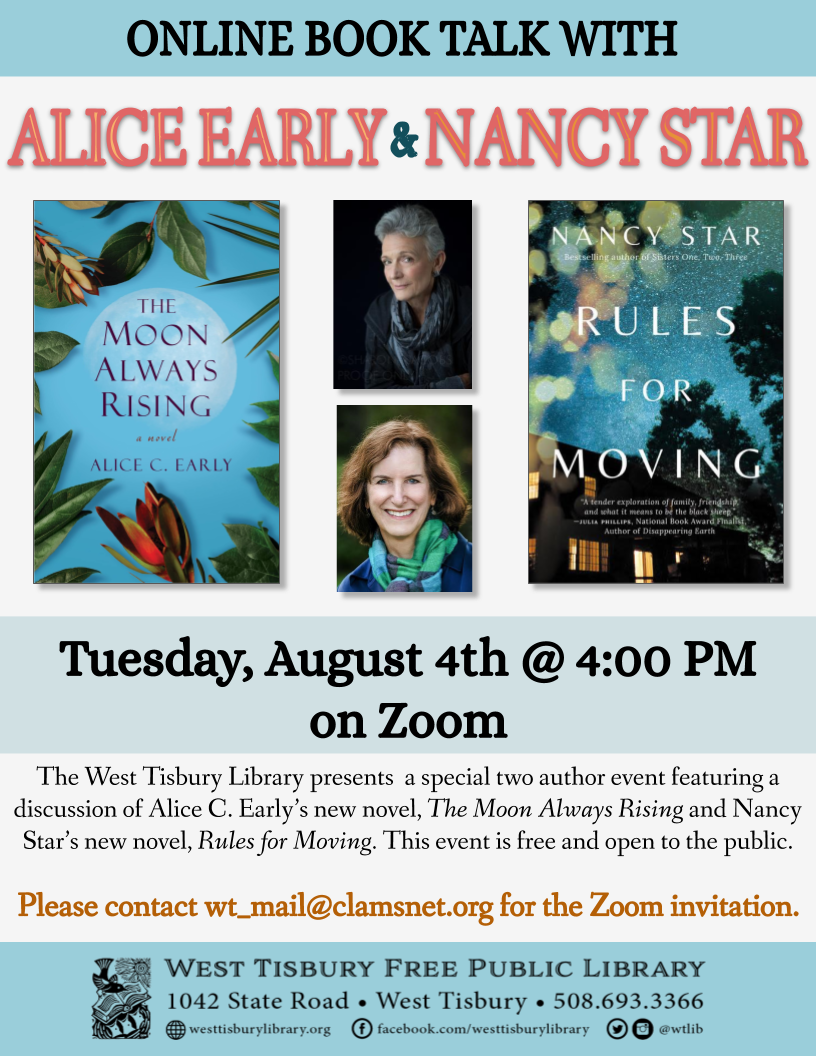 Online: Two Author Event!
Alice C. Early and Nancy Star
On Tuesday, August 4 at 4:00pm, the West Tisbury Library presents an online book talk with local authors Alice C. Early and Nancy Star. This is a live event that will meet on Zoom. Join us for a discussion of Alice's newly released novel, The Moon Always Rising and Nancy's newly released novel, Rules For Moving. Please email wt_mail@clamsnet.org to receive your Zoom invitation to join. This event is free and open to the public.
Alice C. Early's career spans academia, commercial real estate, international executive recruiting, and career-transition coaching. Her college English/creative writing major and professional roles requiring listening and shaping stories eventually pointed her back to her first love—writing fiction. Within the Martha's Vineyard island community she cherishes, Alice sings in a local chorus and fosters sustainability and women's rights and voices. An avid cook, she nurtures friends and neighbors with local bounty and her experiments in gluten-free baking. Alice and her husband have visited Nevis annually since 1996 and otherwise share a hand-built life in view of the sea. For more info, please visit aliceearly.com.
Best-selling author Nancy Star's sixth novel, Rules For Moving, came out this Spring from Lake Union Publishing. Her previous novel, Sisters One, Two, Three landed on Publishers Weekly's list of Top Ten Bestsellers of 2016. Nancy's essays have appeared in The Washington Post, The New York Times, and The Forward, among other places. Before turning to writing fiction full time, Nancy worked as a movie executive at the Samuel Goldwyn Company, dividing her time between New York and London. She now lives in Chilmark and New Jersey. For more info, please visit nancystarauthor.com.