Online Book Talk: Miriam Feldman in Conversation with Tony Shalhoub
When:
August 12, 2020 @ 4:30 pm – 5:30 pm
2020-08-12T16:30:00-04:00
2020-08-12T17:30:00-04:00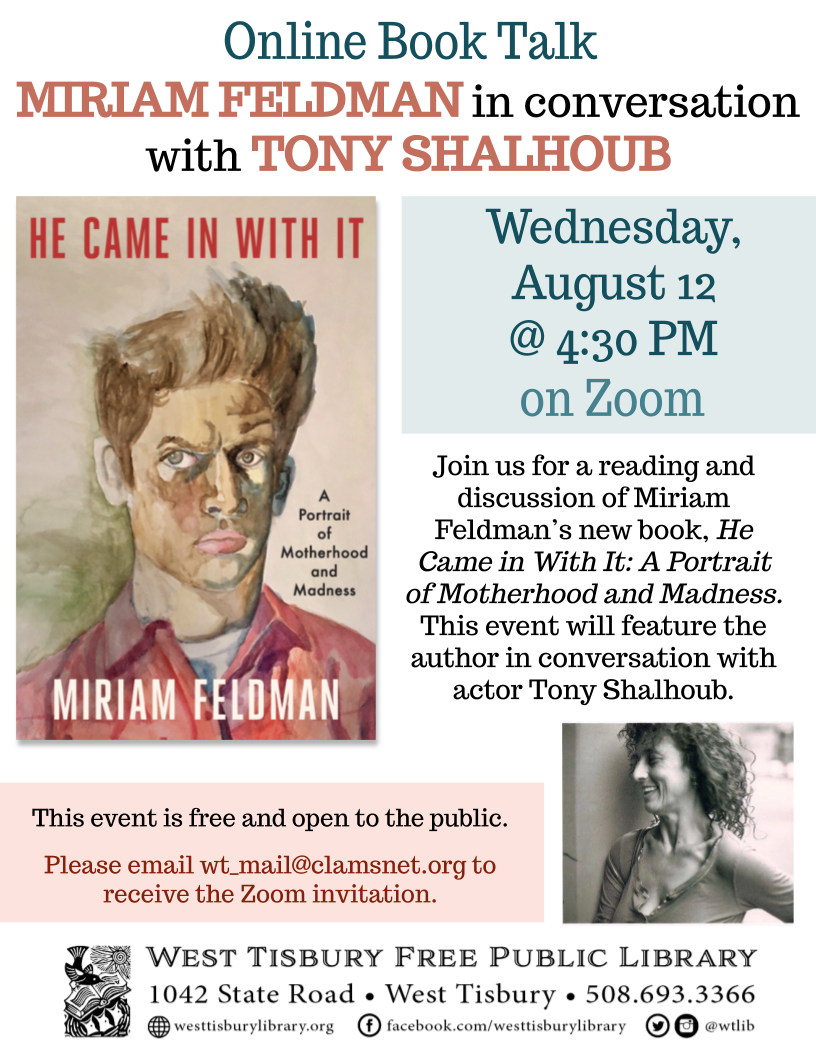 Online Book Talk: Miriam Feldman in Conversation with Tony Shalhoub

On Wednesday, August 12 at 4:30pm, the West Tisbury Library presents an online book talk with Miriam Feldman in conversation with Tony Shalhoub. This is a live event that will meet on Zoom. Join us for a discussion of Miriams's newly released book, He Came in With It: A Portrait of Motherhood and Madness. Please email wt_mail@clamsnet.org to receive your Zoom invitation to join. This event is free and open to the public.
About the book:
In an idyllic Los Angeles neighborhood, where generations of families enjoy deep roots in old homes, the O'Rourke family fits right in.
Miriam and Craig are both artists and their four children carry on the legacy. When their
teenage son, Nick, is diagnosed with schizophrenia, a tumultuous decade ensues in which the family careens permanently off the conventional course.
Like the ten Biblical plagues, they are hit by one catastrophe after another; violence,
evictions, arrests, a suicide attempt, a near-drowning, even cancer and a brain tumor play
against the backdrop of a wild teenage bacchanal of artmaking and drugs. With no time for
hand-wringing, Miriam advances, convinced she can fix everything. This is the story of how
mental illness unspools an entire family. As Miriam fights to reclaim her son from the ruthless, invisible enemy, we are given an unflinching view into a world few could imagine. He Came In With It is the legacy of, and for, her son Nick.
"At its heart, Miriam Feldman's stunning memoir is a war story. One of indefatigable heroism… artfully told with raw and unmitigated honesty. At once heartbreaking, cathartic and startlingly funny, He Came in With It thoroughly redefines our conception of unconditional love."
—Tony Shalhoub, actor, "The Marvelous Mrs. Maisel" and "Monk"
About the author:
Miriam Feldman is an artist, writer, and mental health activist who splits her time between her Los Angeles atelier and her farm in rural Washington state. She has been married to her husband Craig O'Rourke, also a successful artist, for 34 years and they have four adult children. Their 33- year-old son, Nick, has schizophrenia.
With an MFA in painting from Otis Art Institute, Miriam founded Demar Feldman Studios, Inc., a wildly successful mural and decorative art company, in 1988. With a clientele of business and entertainment elite in Los Angeles and abroad, her work can be found everywhere from Wolfgang Puck's Spago Beverly Hills to Jay Leno's Beverly Hills home. Her work has been commissioned by William Shatner, Faye Dunaway and Patricia Heaton, among others. DFS's work has been published in Elle Décor, Architectural Digest, Harper's Bazaar, and People Magazine. At the same time, Miriam built a strong career as a fine artist. She is represented by Hamilton Galleries in Santa Monica, CA and has a long list of collectors including Tony Shalhoub and Samuel L. Jackson.
When Nick was diagnosed with schizophrenia in 2004, Miriam became an activist and a writer. With first-hand knowledge of the woeful state of our mental health system, she decided to be an advocate for those who have no voice. She serves on the advisory board of Bring Change 2 Mind, Glenn Close's organization, and writes a monthly blog for the website bringchange2mind. Miriam is active in leadership at NAMI Washington and her story is featured on the cover of their current national newsletter. She is a frequent guest on mental health podcasts and is active on Instagram where she is building a community of family and loved ones dealing with mental illness.
Please visit https://www.miriam-feldman.com/ for more information.