Livestream Course: "Sourdough for Slackers"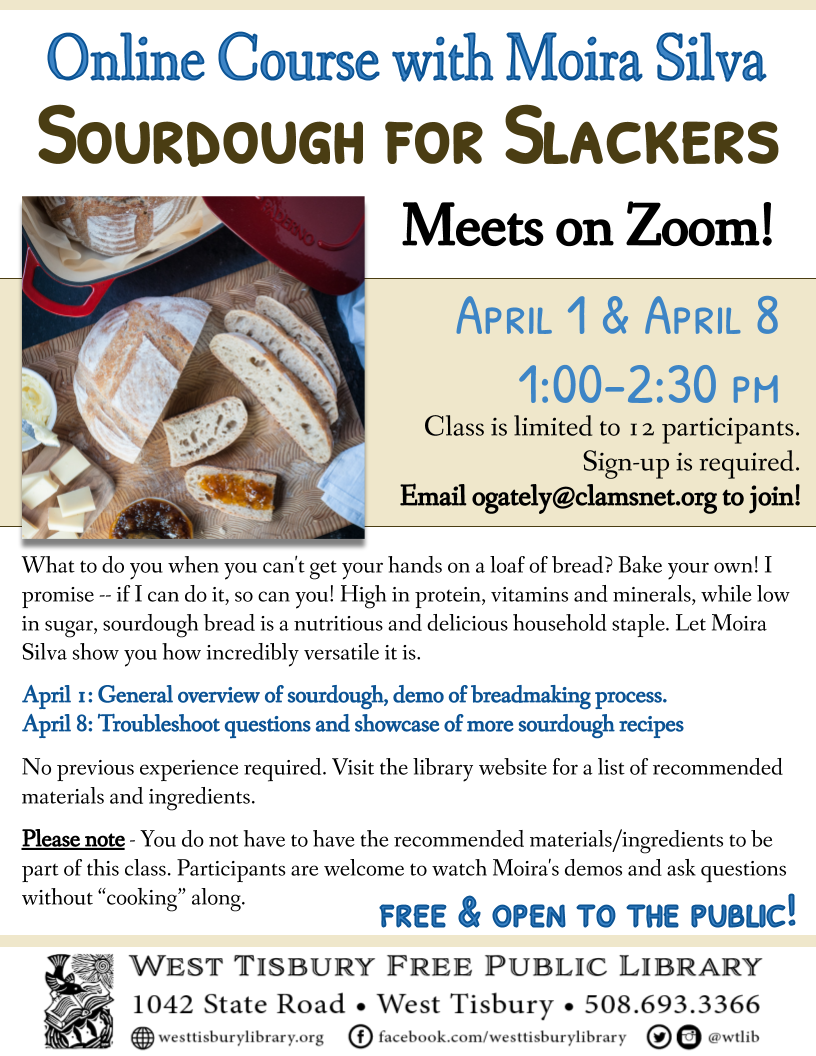 Livestream Course: "Sourdough for Slackers"
Led by Moira Silva
Starting Wednesday, April 1st from 1-2:30pm, the West Tisbury Library will host a two-part livestream instructional sourdough course led by Moira Silva. Classes will meet virtually through Zoom April 1st and April 8th from 1-2:30pm. Class will be limited to 12 participants. Please contact the library's program coordinator Olivia to sign up: ogately@clamsnet.org. Free and open to the public!
About the class:
What to do you when you can't get your hands on a loaf of bread? Bake your own! I promise — if I can do it, so can you!
High in protein, vitamins and minerals, while low in sugar, sourdough bread is a nutritious and delicious household staple. Let Moira Silva show you how incredibly versatile it is. Sourdough bread freezes well and only requires flour, salt, maple syrup, and water. Your sourdough starter can be used to make egg-free staples like biscuits, pizza dough, and more. Make your home smell amazing while learning something new!
April 1: General overview of sourdough, demo of breadmaking process.
April 8: Trouble-shoot questions and showcase of more sourdough recipes
No previous experience required. See below for a list of recommended materials and ingredients.
Please note! – You do not have to have the recommended materials/ingredients to be part of this class. Participants are welcome to watch Moira's interactive demos and ask questions without "cooking" along.
About the instructor:
Moira Silva is a mother, writer, teacher, and activist. Her writing has appeared in numerous publications, including Edible Vineyard, The Boston Globe and Women's Running. She enjoys fooling around in her kitchen and at the West Tisbury Farmer's Market with her two young sons; together they once self-published a pancake cookbook focused on seasonal, local flapjacks
Optional materials for this class:
For Best Success, Equipment You Will Want to Have:
Measuring cups and spoons
2 1-quart wide-mouth Ball jars
spatula
King Arthur Organic All-Purpose flour (or whatever you prefer)
Rye flour (preferably heirloom, e.g. Anson Mills Abruzzi Rye, medium grind)
Whole Wheat flour (preferably heirloom, e.g. Anson Mills Red Fife; Einkorn, etc.)
Waxed paper and large rubber bands
Misting bottle (or glass of water)
Parchment paper
Knife or razor for scoring dough
Starter
– Option# 1 (Best option for now): Order starter from https://shop.kingarthurflour.com/items/classic-fresh-sourdough-starter-1-oz
– Option#2: If you can trust a friend to sanitize a jar and leave it on their porch, you might try that. Many Islanders bake with sourdough.
– Option #3: Try making it on a warm day from https://cooking.nytimes.com/recipes/1013152-sourdough-starter?utm_source=sharetools&utm_medium=email&utm_campaign=website
Nice to have:
Stand mixer with dough hook (unless you choose to hand-kneed)
3.2 qt. Lodge Pot, Combo Cooker– for baking bread in. If not, you can make rolls on a cookie sheet
Cooling rack
Rolled Oats (Thick, Long-Cooking is best) and/or cornmeal
Digital scale (e.g. Salter) for weighing flour
Bread Proofer (e.g. Brod & Taylor from King Arthur online}
2 Brotforms (from King Arthur)