Kids' Natural Wood Workshop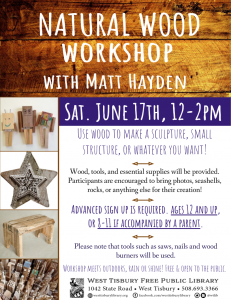 Kids' Natural Wood Project
At the West Tisbury Library
Join us at the West Tisbury Library on Saturday, June 17th from 12-2pm for an afternoon of creativity! Matt Hayden, Lego Club coordinator and Boy Scout leader, will lead a natural wood project for families and kids, where participants can create a sculpture, structure, small stand, or whatever they feel inspired to make! Wood, tools, and essential supplies will be provided. Participants are encouraged to bring photos, seashells, rocks, additional wood, or anything else they would like to incorporate into their creation! This event will be located outdoors near the library's children's room, rain or shine! Free and open to the public.
Advanced sign up is required. This event is designed for kids ages 12 and up, or 8-11 if accompanied by a parent. Contact the library to sign up! Please note that tools such as saws, nails and wood burners will be available for all participants to use.
Matt Hayden is a father, Boy Scout Leader, and Charter School chef who resides in West Tisbury. He frequently offers programming for kids and families at the West Tisbury Library, and developed the library's Lego Club. Matt will be leading several creative workshops at the library this summer.