CLASS FULL! In the Poetry Garden: An Online Poetry Workshop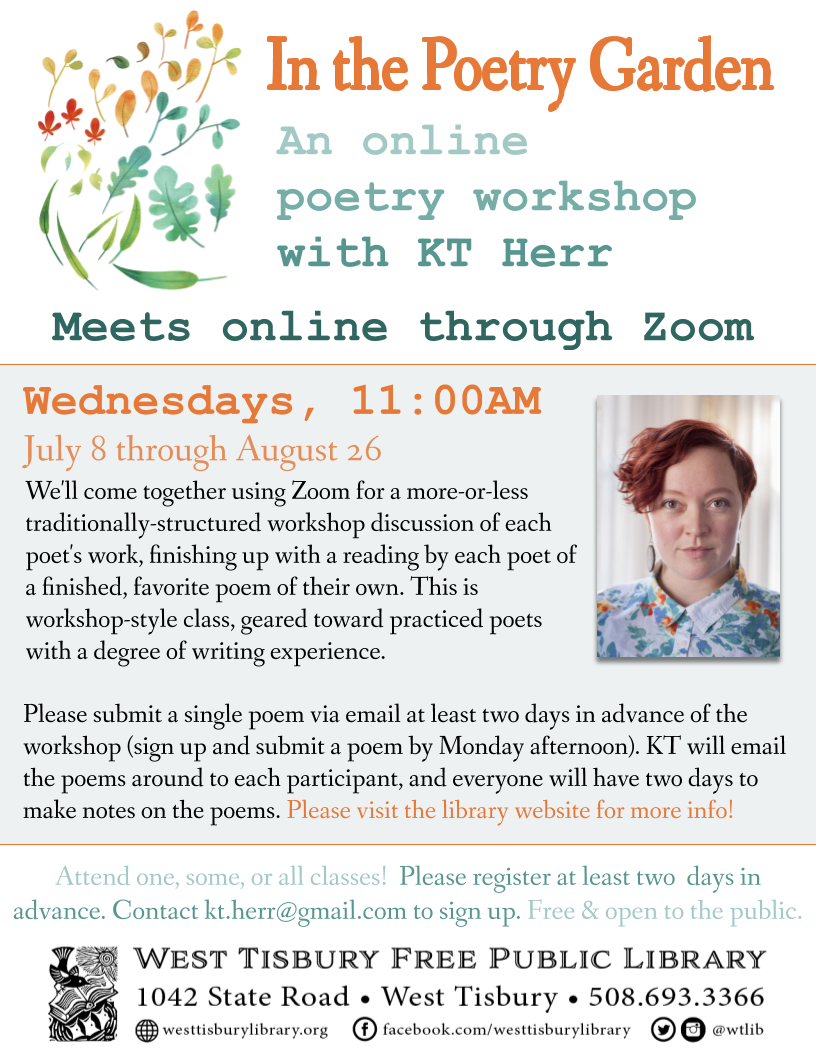 CLASS FULL!
Starting Wednesday, July 8 from 11am-1pm, the West Tisbury Library will host "In the Poetry Garden," a weekly online poetry gathering led by KT Herr. We'll come together using Zoom for a more-or-less traditionally-structured workshop discussion of each poet's work, finishing up with a reading by each poet of a finished, favorite poem of their own. This is workshop-style class, geared toward practiced poets with a degree of writing experience. Meets virtually through Zoom on Wednesdays at 12pm (7/8 through 8/26). Join one, some, or all sessions. Each session will be limited to six participants. Free and open to the public!
Contact KT to register by emailing kt.herr@gmail.com, and please submit a single poem via email at least two days in advance of the workshop (sign up and submit a poem by Monday afternoon). KT will email the poems around to each participant, and everyone will have two days to make notes on the poems, keeping in mind the following analogy:
Poems are green, living things. What is the seed from which this poem grew? Where are the moments of blooming, fruiting? What is the structure of the stems supporting these blooms? How might the poet prune and train the foliage toward a more fruitful, more pleasing result? Good writing communities function like a healthy ecosystem; on the basis of exchange. Participants will be expected to give thoughtful feedback as well as receive it.
About the teacher:
KT Herr (she/her/hers) is a poet, songwriter, and grilled cheese enthusiast who grew up in Lancaster, PA and West Tisbury, MA. She is a 2020 MFA candidate at Sarah Lawrence College, where she is a Jane Cooper Fellow and 2019-2020 Thomas Lux Scholar. Previously, she lived in Grand Rapids, MI, where she was board secretary for Write616, poetry editor at The 3288 Review, and host of Electric Poetry on WYCE. While pursuing her graduate degree, KT has served as a Right-to-Write incarcerated writers workshop coordinator, Sunnyside college prep teaching artist, Firefly Podcast co-producer, Lumina Journal reader, member of the SLC Graduate Writing Program Diversity Committee, co-founder of the MFA Community Potluck series, and co-director of the 2020 Sarah Lawrence Poetry Festival. The recipient of a 2017 Pushcart nomination and a 2019 Pabst Fellowship from the Atlantic Center for the Arts, KT was also named one of four 2018 Featured Women Poets with Punch Drunk Press. She currently works as a publishing intern for Black Lawrence Press, and her poems have appeared or are forthcoming in Frontier Poetry (OPEN Prize Finalist), Quarter After Eight, SWWIM, Pilgrimage Magazine, and others.