From Ancient Greece to (Ancient) Martha's Vineyard: On the Nature of Sacred Sites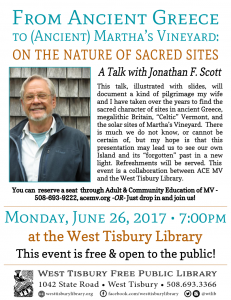 On Monday, June 26 at 7 pm, Jonathan Scott will give a talk and slideshow documenting his pilgrimage over the years to find the sacred character of sites in ancient Greece, megalithic Britain, "Celtic" Vermont, and the solar sites of Martha's Vineyard.
Jonathan is a professor of art and architectural history who lives with his wife on the Vineyard and in Castleton, Vermont. He has taught for over 28 years at Castleton State College.
This talk is free and open to the public. Sign up for the talk is through Adult & Community Education of MV, acemv.org  – OR – just drop in and join us!