Feminist Book Group
When:
December 6, 2019 @ 5:15 pm – 7:00 pm
2019-12-06T17:15:00-05:00
2019-12-06T19:00:00-05:00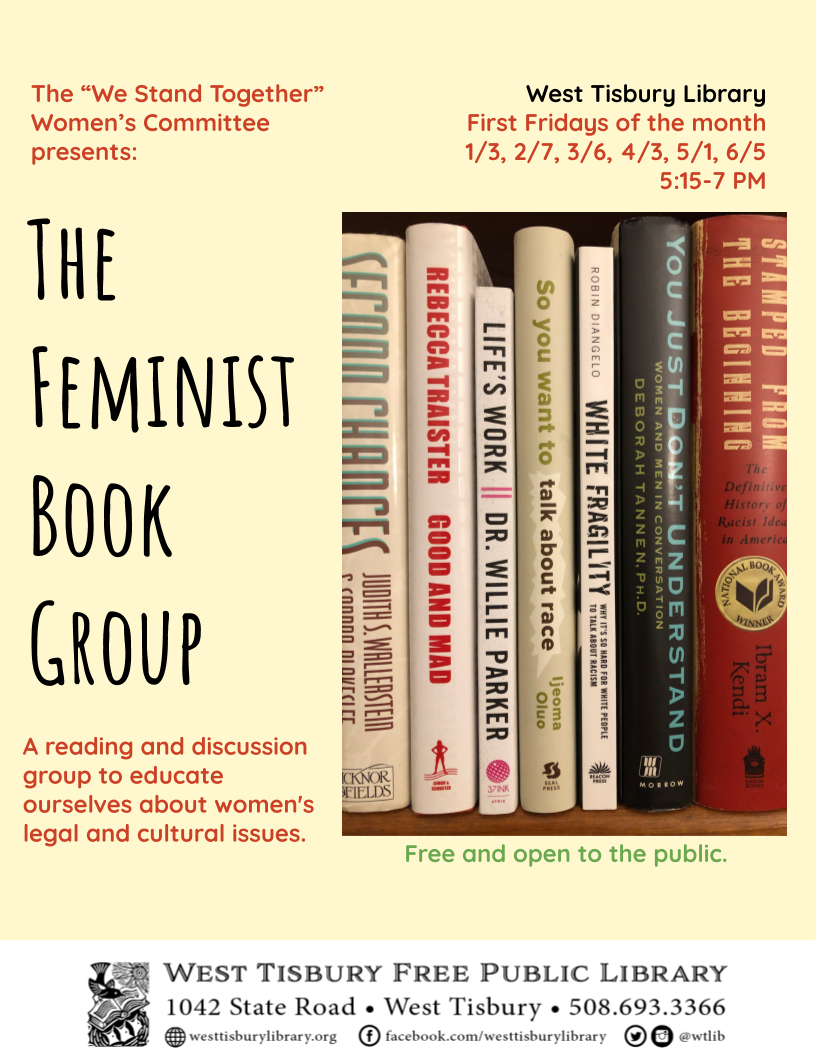 The Feminist Book Group
Presented by the Women's Committee of "We Stand Together"
On the first Fridays of the month from 5:15-7pm, the Women's Committee of "We Stand Together/Estamos Todos Juntos" will host a feminist book discussion group at the West Tisbury Library. All are welcome to join. A different book will be discussed each month, and books can be requested from any of the Island libraries. Please check the library website each month for upcoming titles. This group is free and open to the public. Meeting dates: 9/6, 10/4, 11/1, 12/6, 1/3, 2/7, 3/6, 4/3, 5/1, 6/5.
Recommended January Reading:
The Woman's Hour: The Great Fight to Win the Vote by Elaine Weiss,
Why They Marched: Untold Stories of the Women Who Fought for the Right to Vote by Susan Ware
The Women's Suffrage Movement edited by Sally Roesch Wagner, with a foreword by Gloria Steinem
Alice Paul: Claiming Power by Amelia Fry and Diane Zahniser
Century of Struggle by Eleanor Flexner and Ellen Fitzpatrick
All Bound Up Together: The Woman Question in African-American Public Culture 1830-1900 by Martha S. Jones.