'Extraordinary Lives of Ordinary People': A conversation with Dan Waters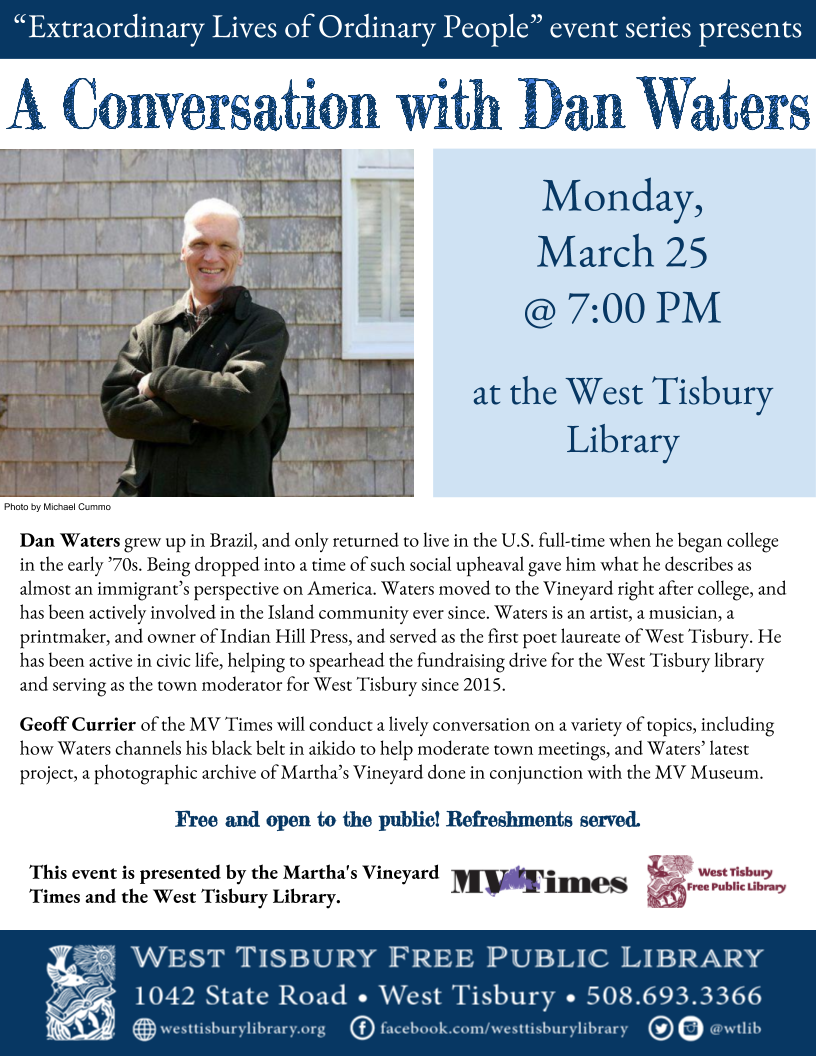 'Extraordinary Lives of Ordinary People': A conversation with Dan Waters
On Monday, March 25 at 7 pm, there will be the first of a series of conversations with Islanders titled "Extraordinary Lives of Ordinary People," presented by the West Tisbury library in collaboration with The MV Times. The first conversation will be with Dan Waters, and be conducted by Geoff Currier of the Martha's Vineyard Times.
Waters grew up in Brazil, and only returned to live in the U.S. full-time when he began college in the early '70s. Being dropped into a time of such social upheaval gave him what he describes as almost an immigrant's perspective on America. Waters moved to the Vineyard right after college, and has been actively involved in the Island community ever since. Waters is an artist, a musician, a printmaker, and owner of Indian Hill Press, and served as the first poet laureate of West Tisbury. He has been active in civic life, helping to spearhead the fundraising drive for the West Tisbury library and serving as the town moderator for West Tisbury since 2015.
One can expect a lively conversation on a variety of topics, including how Waters channels his black belt in aikido to help moderate town meetings. And of special interest will be Waters' latest project, a photographic archive of Martha's Vineyard done in conjunction with the Martha's Vineyard Museum. Waters is in essence putting photographs of the Vineyard in a time capsule to give people 50 or 100 years from now a sense of what we look like.
The conversation with Dan Waters will be held in the community programs room at the West Tisbury library, and begin at 7 pm. Free and open to the public.