Empowered Vaginas Speak: A Creative Afternoon Inspired by The Vagina Monologues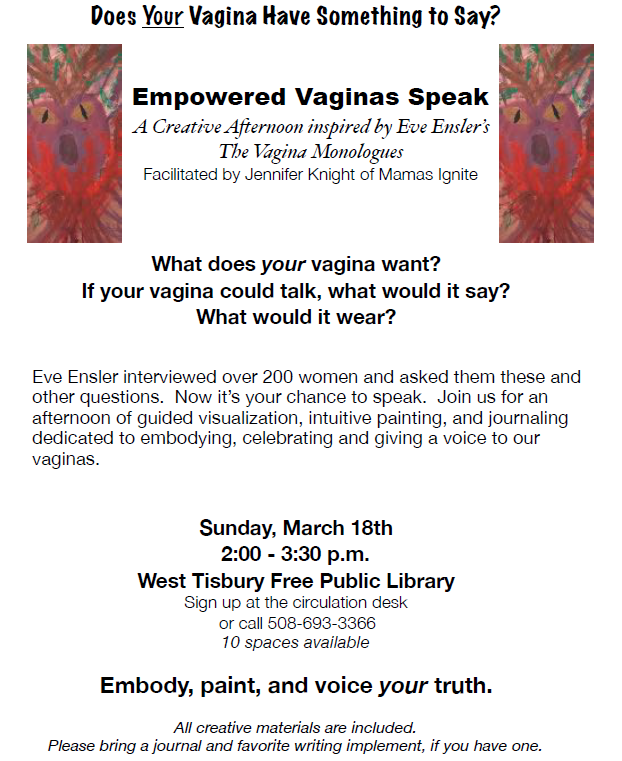 Empowered Vaginas Speak:
A Creative Afternoon Inspired by The Vagina Monologues
On Sunday, March 18 from 2-3:30pm, join Jennifer Knight of Mamas Ignite for an afternoon of guided visualization, intuitive painting, and journaling dedicated to embodying, celebrating and empowering vaginas. This workshop is inspired by Eve Ensler's The Vagina Monologues and will address questions such as "What does your vagina want?" and "If it could talk, what would it have to say?" Ensler interviewed over 200 women and asked them these questions. Now it's your chance to speak!
All creative materials will be supplied. Participants are invited to bring a favorite writing implement and a journal, if they have one. Refreshments will be served. Sign up is required. Please contact the library to sign up! 508-693-3366. This event is free and open to the public. For more information, please visit https://www.vday.org and www.mamasignite.com.
Jennifer L. Knight is a Creative Catalyst, Life Coach, and Mother on a mission to nourish and inspire mothers everywhere to ignite and trust their creative inner fire; to fulfill their own needs, wants, and desires; and to birth an empowered world.
Her background in teaching, health coaching, pre/postnatal Pilates, expressive arts, and Motherhood enables her to incorporate a wide variety of tools to invigorate and reconnect your body-mind-and-spirit. She is consciously embracing her own metamorphosis and is actively creating the life of her dreams. She is delighted to share this transformative process with other mothers with the goal of creating a heart-centered world for our children–one mother, one family at a time.