DIY Wellness Series: Sleep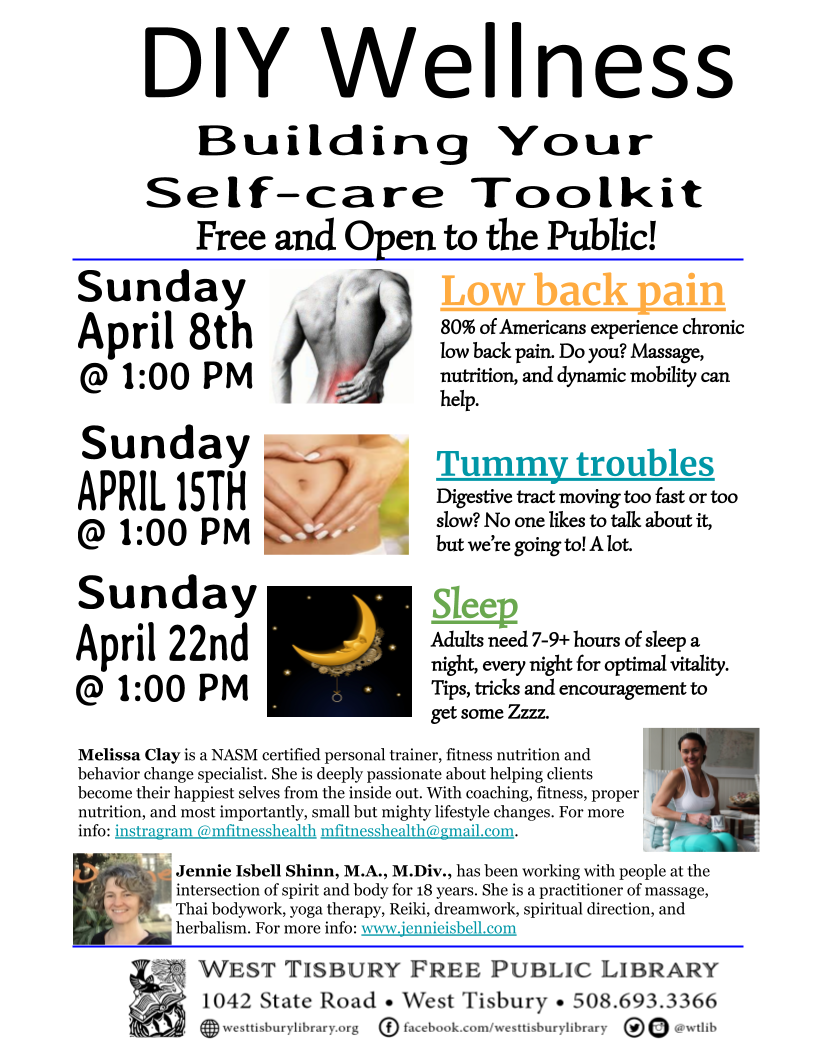 DIY Wellness Series: Building Your Self-Care Toolkit
with Jennie Isbell Shinn and Melissa Clay
The West Tisbury Library will be hosting a series of DIY Wellness workshops on three April Sundays. Herbalist Jennie Isbell Shinn and personal trainer Melissa Clay will guide participants through self-care methods on the topics of low back pain, tummy troubles, and sleep. This series is free and open to the public. No sign up required! Attend one, some, or all three dates:
Sunday, April 8th at 1pm, Low Back Pain:

80% of Americans experience chronic low back pain. Do you? Learn how massage, nutrition, and dynamic mobility can help.

Sunday, April 15th at 1pm, Tummy Troubles:

Digestive tract moving too fast or too slow? No one likes to talk about it, but we're going to!

Sunday, April 22nd at 1pm, Sleep:

Adults need 7-9+ hours of sleep each and every night for optimal vitality. Learn some tips, tricks, and encouragement to get some Zzz.
Jennie Isbell Shinn, M.A., M.Div., has been working with people at the intersection of spirit and body for 18 years. She is a practitioner of massage, Thai bodywork, yoga therapy, Reiki, dreamwork, spiritual direction, and herbalism. For more info about Jennie: www.jennieisbell.com

Melissa Clay is a NASM certified personal trainer, fitness nutrition and behavior change specialist. She is deeply passionate about helping clients become their happiest selves from the inside out. With coaching, fitness, proper nutrition, and most importantly, small but mighty lifestyle changes. For more info about Melissa: instragram @mfitnesshealth mfitnesshealth@gmail.com.