Deep Dive: A Poetry Craft Class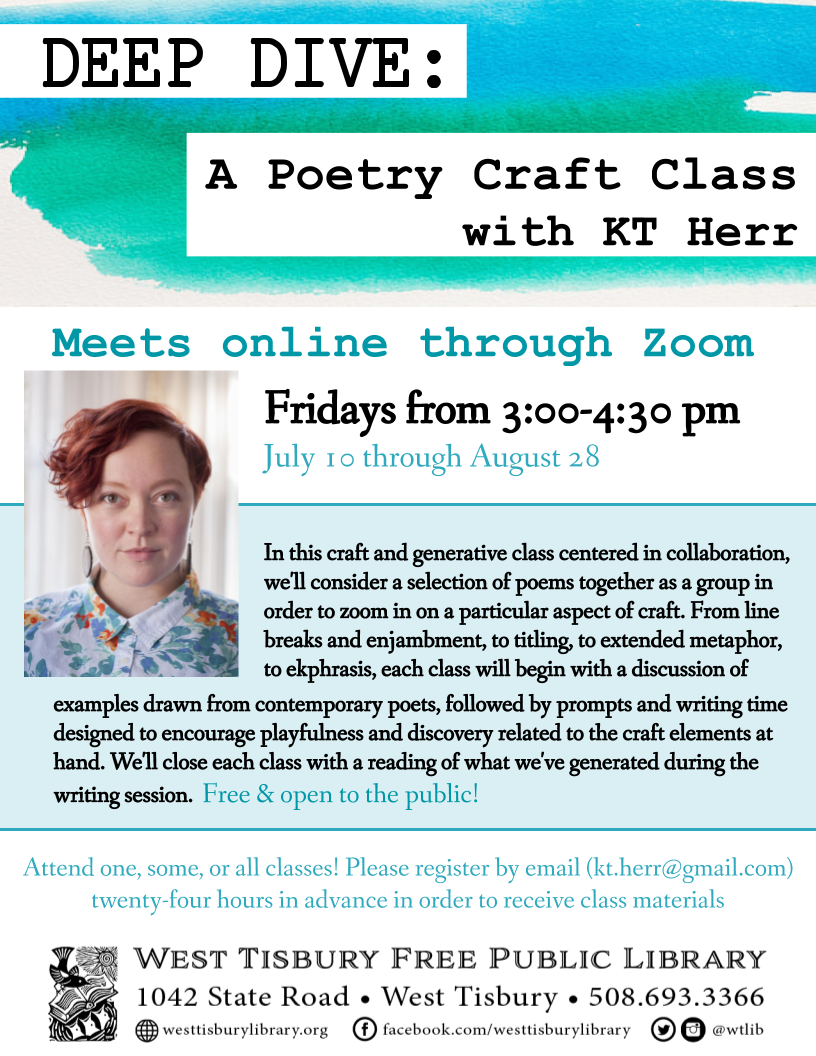 Deep Dive: A Poetry Craft Class
Starting Friday, July 10 from 3-4:30pm, the West Tisbury Library will host a weekly online poetry craft class led by KT Herr. In this craft and generative class centered in collaboration, we'll consider a selection of poems together as a group in order to zoom in on a particular aspect of craft. From line breaks and enjambment, to titling, to extended metaphor, to ekphrasis, each class will begin with a discussion of examples drawn from contemporary poets, followed by prompts and writing time designed to encourage playfulness and discovery related to the craft elements at hand. We'll close each class with a reading of what we've generated during the writing session. Please register by email (kt.herr@gmail.com) twenty-four hours in advance in order to receive class materials.
These classes meet virtually through Zoom on Fridays at 3pm. Join one, some, or all sessions. Free and open to the public!
About the teacher:
KT Herr (she/her/hers) is a poet, songwriter, and grilled cheese enthusiast who grew up in Lancaster, PA and West Tisbury, MA. She is a 2020 MFA candidate at Sarah Lawrence College, where she is a Jane Cooper Fellow and 2019-2020 Thomas Lux Scholar. Previously, she lived in Grand Rapids, MI, where she was board secretary for Write616, poetry editor at The 3288 Review, and host of Electric Poetry on WYCE. While pursuing her graduate degree, KT has served as a Right-to-Write incarcerated writers workshop coordinator, Sunnyside college prep teaching artist, Firefly Podcast co-producer, Lumina Journal reader, member of the SLC Graduate Writing Program Diversity Committee, co-founder of the MFA Community Potluck series, and co-director of the 2020 Sarah Lawrence Poetry Festival. The recipient of a 2017 Pushcart nomination and a 2019 Pabst Fellowship from the Atlantic Center for the Arts, KT was also named one of four 2018 Featured Women Poets with Punch Drunk Press. She currently works as a publishing intern for Black Lawrence Press, and her poems have appeared or are forthcoming in Frontier Poetry (OPEN Prize Finalist), Quarter After Eight, SWWIM, Pilgrimage Magazine, and others.